August 25th, 2014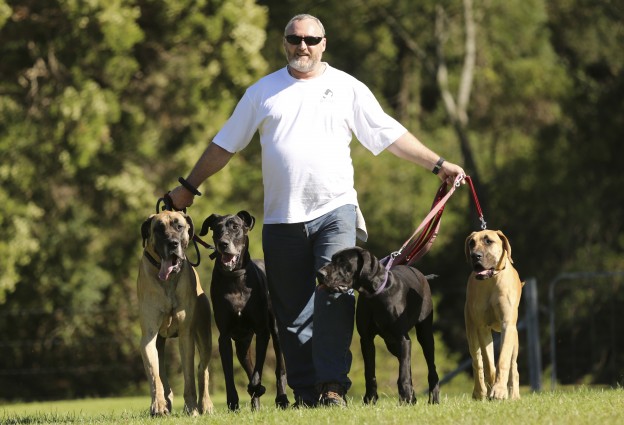 Think one Great Dane makes a huge pet? Try five! Michele Tydd meets a family of Great Danes and discovers what it takes to raise them
NSW MP Noreen Hay grew up in a council flat near London where room was such as issue the family had to take turns at the dinner table.
"I always promised myself that if I ever had room I'd buy myself a Great Dane, and when all my three kids left home four years ago, that's what my husband Lee (Lawler) and I did," says Hay, the State Member for Wollongong. They did quite a bit of research and settled on a male pup they named Montgomery from New Zealand who they viewed at six weeks and imported at 12 weeks.
Up until Monty's arrival, the couple had owned smaller dogs, the most recent two Shih Tzus.
Growing the family
Not only did they adapt to the oversized pup and his rapid growth spurts; soon they matched Monty with a companion, Stella, to grow a family of their own. That now stands at Monty, Stella, Trampus (18 months as at December, 2013) and his half-sisters, Maise and Bronte (six months as at December, 2013).
When you consider that Great Danes grow to between 75 and 90cm at shoulder and weigh on average 75kg, the Hay/Lawler household now has close to 300 kilos of dog flesh bounding down the corridors.
The couple, who began breeding Great Danes under the name Faranree, says the biggest shock in the process of supersizing their dogs was the food bill.
"These guys eat nine cups of food a day — that translates to eight 18 kilo bags of dry food a month, which costs between $500 and $700 a month," says Lawler. Medication to cover worms and fleas is calculated on kilos so that equates to another $1500 a year!
Living with Danes
The couple luckily live in a spacious home just south of Wollongong, but it is not big enough to accommodate the whole clan at once. "It means they have to take turns, but that's not a problem," says Hay.
She has a busy parliamentary schedule but finds time to take care of the obedience training which draws on her successful Crufts background in England.
Lawler, a tall man of 183cm, looks after the more physical tasks like the morning "gallop" with four to five dogs. "Half an hour's good walk and they're pretty right for the day," he says.
"After that Danes are pretty happy to laze around, and when it comes to relaxing with the family they definitely would prefer to be on you rather than beside you," he laughs. "They are gentle giants who are incredibly loyal and who get on well with everyone including kids but there must be supervision."
"We have grandchildren who have all been educated on how to play with them," he adds. "For instance, they've been taught not to stand behind them unless they want a whack from a heavy swishing tail."
Taking it to the road
Transporting dogs this large can be tricky, but they were lucky enough to find a hand-made trailer specially built for tall dogs.
"We considered a van but we do quite a bit of travelling and we didn't want to lose out on the comfort of our sedan," says Lawler. "The trailer is compartmentalised with storage space and air conditioning so that means we are all comfortable."
The two-hourly stops for leg stretches and toileting can also be fun.
"Everywhere we go we attract attention, but that's fine as long as it's not too overwhelming for the dogs," says Lawler.
On the day of interview, Lawler wears one of his novelty accessories — a t-shirt printed with answers to common questions. "I don't mind the curiosity … it comes with the territory," he says.
Rare sightings
While size makes them special, it has seen that big breeds like Great Danes decline in popularity over the past two decades, especially in cities.
"More people these days are choosing apartment living and prefer smaller dogs," says secretary of the Great Dane Club of New South Wales, Eva Vasak.
The club has 48 members, a number which Vasak says despite the decline in popularity has remained steady over the past 10 years. "I think that's because once you've owned a Great Dane you rarely go back," she says. "They are a personal dog; they love their owners and they look after them."
Vasak and her late husband bought their first Great Dane in 1978, and after a series of dogs began breeding in 2000.
Vasak, who is retired and lives in the Southern Highlands, has owned both males and females but now has one bitch named Mia. "I find females more than males are far more questioning when it comes to commands — the boys just follow a command, but the girls tend to give it more thought," she says.
"Mia is so strong-willed that when I bought a new car recently because my Ford station wagon was getting old, she refused to go in the new car. "Nothing I did changed her mind so now we have two cars," she laughs.
Vasak says there are many misconceptions about dogs like Great Danes. "The food they eat, for example, is not is not that excessive if you have one," she says. "I give Mia one cup of dry food mixed with 750g of cooked mince each day and divide it into two servings. They can suffer from bloat, so most owners find they avoid trouble if they settle on good diet and remain consistent."
Great Danes are not particularly active dogs but do need one to two walks of about 30 minutes per day. "All dogs need training and Great Danes respond well to command so that walking is a joy for both the dog and the owner," says Vasak. "I could walk Mia on a thread and still be in control, and she loves the social interaction with everybody we meet."
Vasak says although Great Danes have many good qualities, their surrender rate is higher than many other dogs. It usually comes down to size, she says. "Many owners fall in love with the pups, but the extent of their growth can well exceed the owners' expectations."
The club encourages breeders to take back dogs in these circumstances in an effort to rehome them.
Make sure your furry friend is always looked after at our
DOGSLife Directory