February 4th, 2014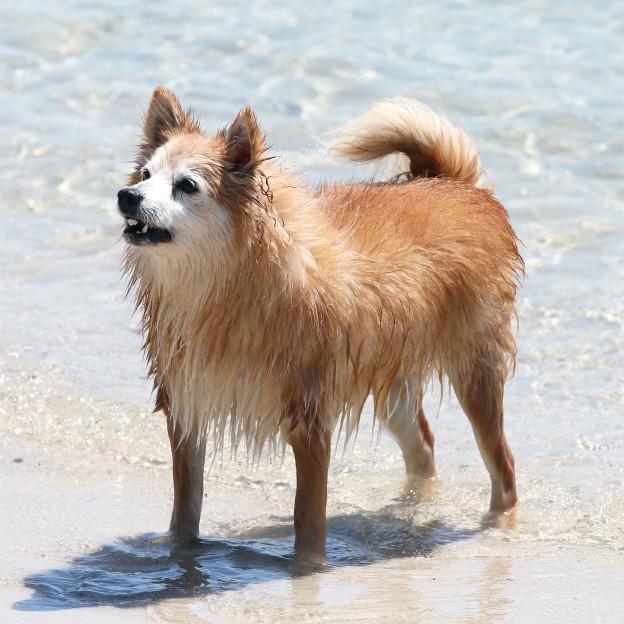 Pet drowning incidents are on the rise, which may surprise you as many owners believe all dogs can naturally swim. Kylie Baracz examines how to provide water safety for dogs.
We all love to sit back near the water in the summer months, be it the backyard pool or the beach. However, how safe are these areas for our pets?
Cheryl Shaw, owner of Dogoverboard in Newcastle, NSW, says owners need to provide water safety for dogs when they are exposed to deep water.
"Most dog owners assume that dogs can swim naturally and thus fail to provide even basic pool training and supervision," explains Shaw. "Many dogs cannot swim naturally and can drown if left unattended in a pool area."
Shaw's experience with dogs in water, during her hydrotherapy and fun swimming classes at Dogoverboard, means she knows the importance of basic swim training.
"As well as being a style groomer, I have qualifications in CPR, first aid, canine massage, myofunctional therapy and I am a companion animal hygienist," says Shaw. "I teach puppy preschool and on graduation night every puppy is put into the swimming pool so that we can teach them to swim confidently and to safely exit the pool."
Supervision and safety training is paramount for dogs and their handlers. It is a common misconception that all dogs can 'dog paddle', swim naturally and keep themselves afloat in water. "Obviously dogs with broad chests, short legs or large heads (eg Staffies, Bulldogs, Corgis, Pugs etc) will have difficulty swimming or even staying afloat in water," explains Shaw.
How to teach your dog to swim
During the puppy preschool graduation ceremony, Shaw gets the instructors to place the puppy into the water and, once paddling action commences, allows the puppy to swim across the pool to its owner.
The owner stands on the safety exit ramp to ensure that the puppy knows where to exit the pool safely.
"This is repeated a number of times so that the puppy is confident and understands how to find the easy way out of the pool. There have been times when an instructor has jumped into the pool to rescue a sinking puppy. I try to stress to the owners that their puppy may not be able to swim and the puppy must have training on how to exit a pool if it falls in," says Shaw.
Pool safety
It is essential that dog owners closely watch their dog in and around any pool, says Shaw. Supervision for dogs is essentially the same as supervising children around water.
"Even good swimmers can quickly get exhausted from swimming, particularly if the dog is trying to exit the pool away from the steps.
"All dogs must know where to exit a pool and they must be familiar with the exit steps of the pool. If not, they can very quickly and easily drown. Never let a dog swim unattended, ever!"
Dogs that are weak swimmers are likely to sink at the backend and legs. They then begin to frantically splash from their front legs, which is why Shaw recommends owners swim with their dogs and support the back legs and body to give the dog confidence.
"I know many Golden Retrievers that hate water. If dogs hate water and fall into a pool, they will immediately panic, thrash about madly and become exhausted quickly," she says.
Tips for a safe swimming experience
For owners that have pools or like their dog to swim or even sail, Shaw has some tips that can ensure a safe swimming experience for your dog.
Make sure that your dog's claws are not long and are clipped regularly the dog will be less likely to slip on slippery surfaces or pavements around the pool.
There are safety vests and buoyancy jackets that are available for all sized dogs these are particularly important for dogs undergoing hydrotherapy or that are poor swimmers
Swimming pool ramps are available that are specially designed for dogs to exit pools.
A simple aid that is beneficial and safe consists of a long pole with a lead attached to the dog's collar this is used for when coaching the dog to swim laps of the pool to keep it away from the edge.
Again, supervision is always a must to ensure the safety of the dog.
At Dogoverboard, trained staff supervise the activities in the pool at all times. They also have a 'lifeguard' on duty who is constantly monitoring the pool from a viewing area.
"When there is fun-time swimming, there may be over 20 dogs enjoying the benefits of swimming, exercise and water play," says Shaw.
Benefits of swimming and hydrotherapy
For water loving dogs such as Labradors, Golden Retrievers, Border Collies, Springer Spaniels and other working and hunting breeds, swimming is a great way to stimulate and help expend some of the exuberant canine behaviour as well as help settle and calm the dog.
"It is interesting that dogs learn by copy behaviour and many dogs that do not want to swim actually learn to enter the pool and swim by watching other dogs," says Shaw.
Swimming is not load bearing and therefore doesn't stress the dog, which is why hydrotherapy can be a great treatment for rehabilitating dogs after operations or with neurological conditions.
"Hydrotherapy is ideal to treat many conditions such as hip and elbow dysplasia, arthritis, cruciate operation recovery and obesity (which is a common medical disorder in dogs and leads to many other conditions)," says Shaw.
Shaw also mentions that canine hydrotherapy must be carried out by qualified professionals in a managed program that involves the owner.
"The therapist should be a member of international canine hydrotherapy associations and a hydrotherapy pool or a dog swimming pool must be heated and sparkling clean," Shaw says. "The operators must have expert knowledge in pool chemistry and the impact of dogs on the pool chemistry, thus ensuring the dog pool is hygienic and clean."
Dogoverboard
Dogoverboard Canine Care Centre is located in Newcastle, NSW and includes services such as style grooming, dog bathing and drying, DIY dog washing and drying, doggy day care, puppy crèche, puppy preschool, canine massage, myofuntional therapy, hydrotherapy and fun swimming in the centre's indoor 15m heated swimming pool. For more information, visit www.dogoverboard.com.au
Make training easier with help from the professionals - on our
DOGSLife Directory now!