August 22nd, 2013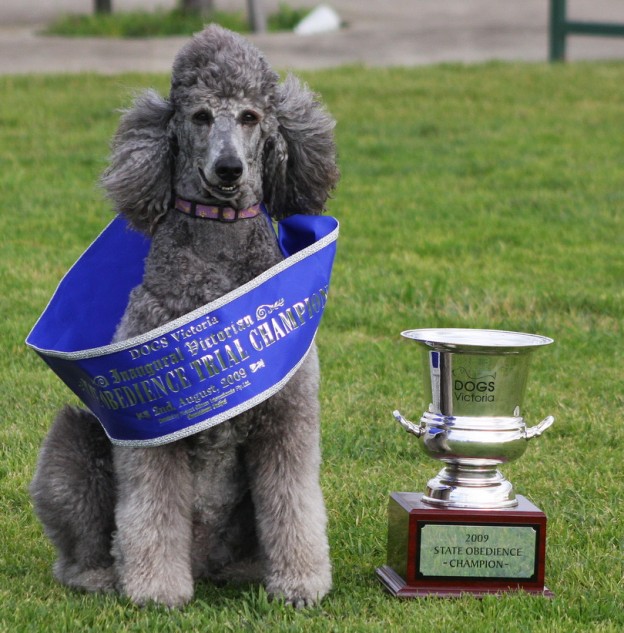 Australia is a sporting nation — and canines are some of our top competitors. Tim Falk meets some champions of dog sports.
The Norwest Thunderdogs
In the fast and furious sport of flyball, the Norwest Thunderdogs have a record that would make even the Harlem Globetrotters envious. From 2005–2010 and again in 2012, this club from Sydney's northwest has taken out the title of national champions.
So what's the secret to their success? "Like the famous quote, 'luck — and the harder we train the luckier we seem to get'," says Brian Lindsay, a member of the 2012 national title-winning team.
"However, there are many secrets to having a consistently fast team. You do need to have the basic talent in the dogs — having three fast-working dogs in a team plus a height dog that will run around the mid-4.5 seconds for the 102-feet course is a basic," Lindsay says, referring to the fact that the height of the jumps on the course is based on the shortest dog on a team.
Training the dogs to run as a team is the next step. "Fitness is also very important for Nationals as it's a two-day competition involving at least 12 races that can be up to five heats each," Lindsay says.
"And finally you need team harmony between the handlers — the dogs are never a problem."
The 2012 national title-winning team consisted of Border Collies Harry, Milo and Bundy, Toy Poodle Jack and a Foxy-cross named Pebbles. "Norwest Thunderdogs do not have permanent teams — teams are selected based on a seeding system that reflects speed and reliability," Lindsay says.
The club normally trains once a week on Tuesday nights, but in the three months leading up to the Nationals training was stepped up to twice a week with a Sunday session added. Training consists of fitness and strength work, skills enhancement and then racing training."
And despite their many national titles and having broken the Australian flyball record five times, the Thunderdogs are showing no signs of slowing down. The next target: lowering their Australian record time, this currently stands at 17.138 seconds. "You always strive to get better," Lindsay says.
For more information on the Norwest Thunderdogs, head to groupspaces.com/norwestflyball. To find out more about flyball, visit www.flyball.org.au.
Kwyk
Meet Kwyk: she's a Border Collie, five years old and full of beans. She's also an absolute gun at the sport of agility.
"She is a crazy girl that just loves playing with me," says Kwyk's owner, Maria Thiry. "Often people talk about whether their dogs have an on/off switch; well, Kwyk is always on standby and is ready to leap for action at any moment. I just love her to bits."
Training a dog for agility starts when they are puppies, and Kwyk began competing at the minimum age of 18 months. "When I train a young dog it's always all about teaching them that it's a fun game with me and I reward highly with toys or food," Thiry says.
"Kwyk loves games with me, so it wasn't long before she loved agility with me too. Then she gets to competitions and takes it up to a whole new level. She gets such an adrenalin rush just while waiting for her turn and often her teeth will be chattering in excitement or she will start squealing."
And Kwyk's love of agility has translated into plenty of success. She was the Excellent Agility Champion at the ANKC Nationals in 2010, and in 2011 she achieved her Australian Agility Champion title through the Agility Dog Association of Australia (ADAA). Also in 2011, Kwyk took out the all-round champion title in the midi class at the 2011 Nationals.
"I was over the moon when we won this," Thiry says. "The all-round challenge is over four events, so it was a big ask for Kwyk and I. I knew coming into the last event that I just needed to go clear and was so excited when we did it."
And Kwyk will most likely be tearing up agility courses for a long time to come. "Hopefully Kwyk is only about halfway through her agility career, so there is plenty more to come and usually they really hit their peak when they are five or six," Thiry says. "I'm looking forward to our future and have a heap of goals I'd like to achieve with her still.
"But first and foremost I just want to enjoy every moment with her as you never quite know how long we get to have them with us."
Based in southeast Queensland, Maria Thiry teaches agility through Red Dog Agility. Website: www.users.on.net/~gmthiry/Red_Dog_Agility.htm/Home.html
Violet
When a dog achieves a title in the sport of obedience, their success is reflected by adding letters after their name — just like how a doctor has the letters "MD" after their name. For 10-year-old Poodle Violet, the list of letters after her name reads like a veritable alphabet soup of obedience titles.
Playful, happy and full of energy, Violet has won a swag of titles in the obedience ring, and has even taken out the Dogs Victoria Top Obedience Dog of the Year title on three occasions. Violet's owner, Linda Johnson, fondly remembers the first time she and Violet took out the title. "I think I burst into tears. I was so proud of Violet," she says.
"I also felt that I had accomplished a major goal, which took a lot of dedication and focus on my part. I worked hard to improve myself as a trainer and a competitor over quite a few years," Johnson says.
And although Violet is partial to curling up on the lounge in front of TV, there's nothing she loves more than her sport. "Violet loves to train and she also loves to compete in trials," Johnson says. "She loves attention and playful interaction with her family.
"She gets 100 per cent of my focussed attention when we are training or trialling — she 'owns' me for that time period. I am very generous with praise/pats. We also get to play the games she has learned to love."
And while Linda plans to keep competing in obedience as long as it is still fun, her dogs usually retire from the sport at 11-12 years of age. "As soon as they start showing signs that they are ready to stop, I retire them and they live their lives out as my adored companion," she says.
Violet's achievements
2009 Victorian State Obedience Champion Winner of Winners
2010 Victorian State Obedience Champion Winner of Winners
2010 Dogs Victoria Top Obedience Dog of the Year
2011 Dogs Victoria Top Obedience Dog of the Year
2011 Melbourne Royal Show Best in Trial
2012 Dogs Victoria Top Obedience Dog of the Year
2012 Melbourne Royal Show Best in Trial
For more information about individual, one-on-one obedience training sessions in Melbourne, log on to www.gidaypoodles.com/coaching.htm or email giday000@gmail.com. Alternatively, go to www.ankc.org.au for a list of local obedience clubs that hold group sessions in your area.
Dock-diving Joey
Reckon your dog might like the splash-tastic sport of dock diving? Well, the Australian national record was set by Joey the Kelpie-cross back in 2009, when she jumped a massive 7.2 metres!
High jump
At the annual Australian Kelpie Muster in Casterton, Victoria, a high-jump competition is held every year. In 2012, a pooch named George won when he cleared an impressive height of 2.71m. The record, however, was set back in 2007 by a Kelpie named Riley — he cleared a remarkable 2.91m.
Make training easier with help from the professionals - on our
DOGSLife Directory now!