November 4th, 2014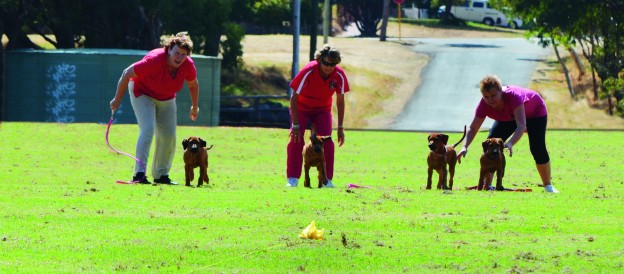 Looking for a fun activity for you and your pooch? Perhaps a great social gathering with other dog enthusiasts? Look no further than Lure Coursing – an ancient event that's making a big comeback across Australia.
In the days of old, sighthounds – or dogs that use their eyes rather than their noses for hunting (think Afghans, Borzois, Greyhounds, Irish Wolfhounds, Ibizan Hounds, Pharaoh Hounds, Deerhounds, Salukis, and Whippets) – would make the most of their skills and hunt small game like hares, foxes and pigs, as well as larger game like deer and antelope.
Today, as with many other breeds with specific-purpose based skills, it's a skill that goes largely unused. Lure Coursing is an artificial means of stimulating this natural instinct for coursing.
The sport involves a "Lure" – usually a bunch of plastic strips, skin or a plastic bag, being tied to a rope that is then pulled around spindles and pulleys by a motorcycle especially designed for this purpose. The course follows an irregular path that is somewhat similar to the way a hare might run in the open field. But animal lovers fear not – the sport is approved by the RSPCA and does not involve cruelty to any animal; live lures are not used.
"The intent behind the sport is to let the dogs use their instincts in a safe and fun environment. The enjoyment we see on their faces as they realise they are really allowed to hunt and chase the way they were bred to do is priceless," says Dee Cole, president of the West Coast Dog Club that runs lure coursing events in WA.
While the sport hails back to older times, the sport itself is relatively young in Australia. The Queensland chapter has been around for almost 20 years, while the WA chapter has only really been around since mid-2013. "I had looked into buying a lure machine for myself as I have Ridgebacks, and many of the breeders get their dogs into lure coursing. I was already part of the West Coast Dog Club and someone posted up a query to see how many people would be interested in starting it up over here. So I put my hand up, we started getting organised and I was voted in as president." Cole says there are clubs popping up in all the states across Australia, and the process of forming a national body is underway.
Who does it suit?
While lure coursing is typically limited to sighthounds, a Queensland Lure Coursing Association spokesperson says they also group Basenjis, Beagles, and Rhodesian Ridgebacks with these hounds, and any other dog (purebred or not) that has a penchant for the chase may compete.
"Honestly, we get a real mix down at the club. We have a few Staffordshire terriers for example that have a great time chasing the lure. In terms of what dogs are best suited to the sport, we suggest any dog that is playful and shows an inclination to chase may well enjoy it," Cole says.
The only real restriction on trying the sport is age – dogs under nine months old aren't able to take part as they have an increased risk of joint and bone injuries. "The course doesn't run on a straight track as it imitates the dodging and doubling back of a hare. At the speeds dogs get up to during the chase, the sudden switches in direction can cause injury to young joints," says Cole.
What are the benefits?
Physical activity is always a must for dogs, and the social benefits are also there. "The biggest factor for us is fun – the owners get such a kick out of seeing their dogs' pure joy at doing what they were born to do, of following their own instincts. The dogs get a great run which is good for their fitness. It's also a great way for people to get out and spend time with other dog lovers and get to know new people."
Sign me up!
The Western Australian and Queensland chapters hold meets roughly once a month, many of which are open to non-members. You can find details of the clubs in your state by calling the Queensland chapter on (07) 3289 1235.
What happens during an official Lure Field Trial?
In an official Lure Field Trial, the dogs are released on the Huntsmaster's call of "Tally Ho" and they follow the lure around the course. Each dog is scored on its enthusiasm, follow, agility, speed and endurance. After the scores are totalled at the end of the day, (each dog is run twice) prizes are awarded to the first, second and third dog in each breed, with the overall winner of the day getting special recognition. These allotted points go towards the title of Field Champion, and for those dogs that already have that title, they are awarded the title of Lure Courser of Merit.
Are there any restrictions to a dog racing?
Any dog with a drive for chasing is welcome. However, puppies under nine months old are not to be coursed in competition but may be trialled during specially designed runs for Novice and puppies, to be taken before and after the official event. For these runs, no written entries are required. Also bitches in season are not to be coursed.
Make training easier with help from the professionals - on our
DOGSLife Directory now!