July 11th, 2013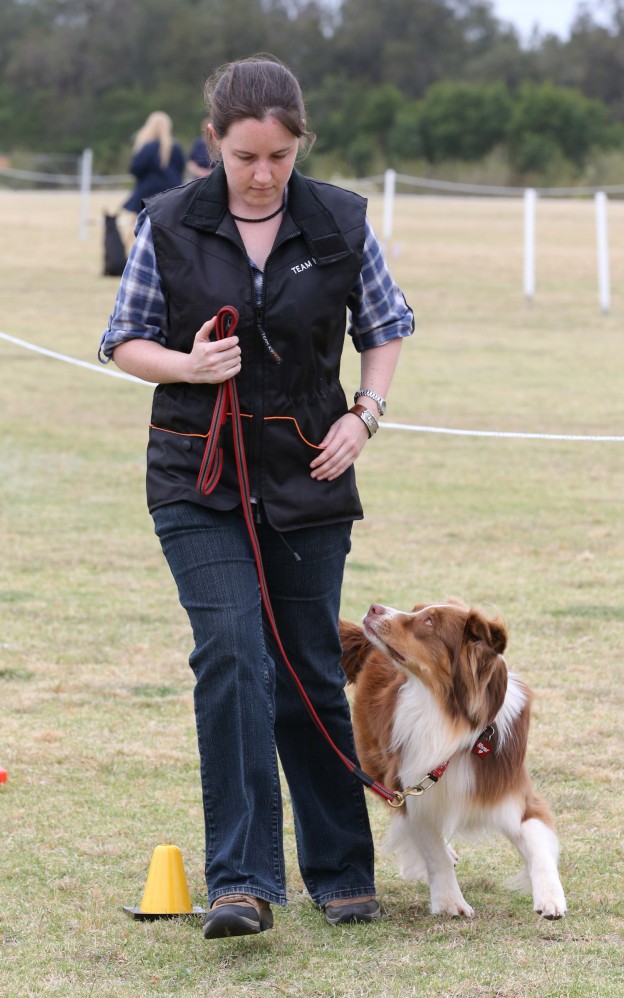 It sounds like the perfect job for dog lovers: teaching our four-legged friends to be well-behaved members of society. Laura Greaves finds out what it takes to be a dog trainer.
Before he became a professional dog trainer, Melbourne's Hans van Heesbeen spent 30 years working in the hospitality industry. He says his former career helped hone the most important skill a dog trainer can have: the ability to work with people.
It may sound strange that, in a profession that's all about dogs, "people skills" tops the list of must-have attributes, but van Heesbeen believes trainers can't help their four-legged clients unless they first connect with their two-legged counterparts.
"People who like dogs often say, 'I want to work with dogs.' But you can't work with dogs unless you learn to work through their 'people'. I firmly believe that if I want to make changes in our dogs' behaviour, I have to work with the handler," he explains.
"I do a lot of 'problem' work — separation anxiety, barking, etc — and I can't change anything in the dog's behaviour unless I get the owner to feel comfortable that she's doing the best thing for Rover by working with me."
Now running the Australian Dog Trainers Academy, van Heesbeen not only trains dogs himself, but he also trains would-be trainers. As well as good interpersonal skills, his list of necessary attributes includes patience, the ability to read a dog's body language, the desire to make training fun and, of course, a genuine love of dogs.
"A good trainer gets a dog to work with them, rather than for them. I have to have respect for the dog and the dog has to be respectful of and willing to work with me," he says.
"Train by yanking the dog and saying, 'I'm the boss and you'll do what I want' and you'll get a lot of resistance from the dog, for logical reasons."
First things first
If you're sure a career as a dog trainer is for you, the first step is to complete a nationally-accredited course. Organisations including the Association of Pet Dog Trainers, the National Dog Trainers Federation and the Australian Association of Professional Dog Trainers may help you choose a course.
Non-accredited courses are also offered in Australia — and in fact you could set yourself up as a dog trainer with no formal qualifications at all, as the dog training industry is largely unregulated — but accredited courses provide the most comprehensive and up-to-the-minute training.
Look for a course that offers extensive opportunities for real-life practice with actual dogs, as well as theory study in a classroom. A dog trainer should know how to teach basic obedience, as well as address more complex behavioural issues such as phobias, barking and dominance — although van Heesbeen stresses that trainers and behaviourists are not the same.
"Because I work day-to-day in the industry, my knowledge is up to date. I have a lot of case studies that I can discuss, so it's not just learning from a book for our students," van Heesbeen says. "I have a very hands-on, practical approach to training, because ours is a very hands-on industry."
A course that equips you with the skills to train groups — such as Puppy School or obedience classes — is likely to be more useful than simply learning how to train dogs on a one-to-one basis.
"Rather than focusing on teaching our trainers to achieve a perfect 'sit', we focus on class management, observation skills and anticipation skills," he says. "Ultimately, a (group) trainer is the conductor of an orchestra, and if somebody has a violin that doesn't work, it's the trainer's job to get that person playing again."
Which training method?
There are countless dog training methods out there, and courses available teaching each and every one. So how do you decide which method to pursue? Research suggests methods based on positive reinforcement — rewarding dogs for good behaviour and ignoring bad — are the most effective, and dog owners are increasingly choosing these over methods that "punish" dogs' transgressions.
Van Heesbeen recommends choosing a course that covers several different methods.
"Be familiar with as many training methodologies as possible. We don't use choker chains, for example, but we do show people how to use them," he says. "Practice with your own dog so you can see that different techniques get different results."
Mythbusting
If you think being a dog trainer means you'll get to spend your days cooing over adorable puppies, think again. A certain degree of professional detachment is necessary in order to achieve the best results for the dog.
Van Heesbeen says many so-called "problem behaviours" are created by humans treating their pets like children, and successful trainers must be able to resist this temptation.
"Anthropomorphism is getting into our relationships with our dogs more and more," he says. "We're working later and we feel guilty, so we smother Rover with the attention and affection we haven't been able to give him during the day. Rover is confused by this, so he gets stressed and cranky and starts chewing the furniture, and then the owner gets cranky."
A trainer's ability to remain objective is important for another, very serious reason: safety. "If you're falling for all the fluff and the fuzz, you miss out on a lot of things. Dogs can be very quick if they lunge or react, and you are responsible for that not happening," he says.
"In all fairness, trainers don't generally have a lot of time to fuss with the dogs. If all you want to do is cuddle them, don't go into this industry."
You may also want to consider another career path if you're hoping dog training will bring riches — the Cesar Milans and Victoria Stilwells of the industry are few and far between.
"If you want to go into dog training for the money, you need to think twice. I'd be wary to call it a vocation, but you do need a passion. It's hard work and everybody goes home knackered," says van Heesbeen.
"I recently worked with a 70-year-old lady, Gwen, and her 22-week-old Labrador puppy, Maggie. Maggie was so OTT and Gwen couldn't cope with this very bold puppy, but we got her settled.
"I do get paid, but my reward is really that, instead of Maggie the Labrador being rehomed or put down, she is now working much better with her owner."
More information
Australian Dog Trainers Academy
www.dogtrainersacademy.com.au
Association of Pet Dog Trainers (Australia)
www.apdt.com.au
National Dog Trainers Federation
www.ndtf.net.au
Australian Association of Professional Dog Trainers
www.aapdt.org
Pets Australia
www.petsaustralia.org
Make training easier with help from the professionals - on our
DOGSLife Directory now!