March 6th, 2015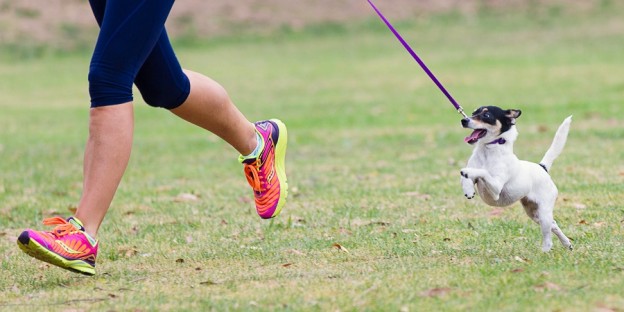 Spending too many couch hours with your pooch? Get outdoors this summer with these great dog and owner exercises, writes Kylie Baracz.
As winter has finally come and gone, now is the time to get active with your pooch. Walking outside and getting some fresh air is great for both you and your dog's health and wellbeing, but there are some other great exercises that can also help you and your dog get fit.
I like to move it, move it
Karen Finnin from Barx Active says dogs love to move and it is also important for their wellbeing. "Dogs love to have a physical job to do. If we don't provide this opportunity, they will create it for themselves (think hole-digging, bed un-stuffing and garden hose chewing!). By combining physical activity with a specific goal or challenge, our dogs are wonderfully fulfilled, and that is a great feeling for a dog parent!"
Finnin started Barx Active after seeing a gap in the market for dog owners who wanted to get fit with their dogs.
"I was walking my handsome pooch, Tux, down to a local outdoor boot camp. I would tie him up on the side for the duration of the session, and then I would walk him home again. I kept saying to my husband Dan, 'Tux should be able to join in'. I was also doing a lot of hiking with friends, and I had to keep asking my friends if we could make it dog-friendly.
"We noticed that we weren't the only ones with these challenges, and decided to do something about it. So in 2013, we launched Barx Active, a dog-inclusive health and fitness community committed to helping people to live an active life, with their dog by their side."
Finnin, along with her partner, now run "Barxercise" sessions (dog-inclusive outdoor group fitness sessions) across Melbourne in Victoria. They also provide dog-friendly "Barx Hikes" throughout the state each season.
They believe that by exercising with your dog, owners can create a strong bond. "We love our dogs intensely, but our everyday routines can interrupt quality time with our furry pals. Experiencing a new adventure, mastering a new skill, or taking the time to 'just play' with our dog will refresh and strengthen the connection that we share. By nurturing this bond, all the benefits of the human/dog connection are magnified. Our mental state is better, our health risks are lower and our dog's tail will wag more than ever!"
Finnin says dogs thrive in new environments, challenges and activities, so owners owe it to them to create a space for these things.
"We also need regular exercise to keep our own human lives wonderful. There is no better way, therefore, to develop your bond, than by achieving something together. This is not your dog watching you, or you watching your dog, but it's puffing, moving and learning together. This is what dog- inclusive fitness can offer," she says.
Creating a connection
Hayley Morcom, journalist and personal trainer, has also seen the benefits of dog-inclusive fitness, and has recently started a business training owners and their dogs.
She says that after studying to be a personal trainer, she wanted to start something that would keep her dog and her fit at the same time.
"I have always had a heavy interest in my own health and fitness, and I absolutely adore dogs. After obtaining my Certificate III and IV in Fitness, to become a personal trainer, I knew I wanted to start something on my own, and something that was different," she says. "I came up with the idea of incorporating dogs and fitness, as I was finding it difficult to fit in the daily walk with my toy poodle, Harry, as well as keeping my own training on track. I did some research and discovered a gap in the market for it. Not very many people were doing it, so I jumped at the chance. I am able to offer a unique service as well as absolutely loving what I do."
Morcom says that many dogs don't get enough physical activity on a daily basis which can often result in a number of behavioural issues. So she says a regular fitness routine is vitally important for the dog, so they can expel some built-up energy.
"It's the same with us humans; if we stayed at home within the same four walls (or four fences in a dog's case) it can send us stir-crazy after a few days!"
Morcom agrees that exercising with your pooch can create a close bond, and says that research has shown that when you are walking or running with your dog alongside you and you are concentrating on what's ahead (not looking down at the dog), the dog will in turn create a connection with you and do the same (if you are looking ahead, he/she will, too).
"Interacting with your dog at the park or beach with a Frisbee or ball is also a great way for both your fitness regimes as well as building a close bond between the two of you. We all know exercise produces our 'happy hormone' endorphins, so when you and your dog are both happy, you create a really close bond between you."
Eight fun exercises for you and your dog
Finnin has some great, easy exercises you can try out with your dog, either at the local park or in your own backyard.
1) Squat weaves
Perform a squat and hold this position while you cue your dog to weave a figure of eight around your legs. This will help you to improve your leg strength, and your dog to learn the cue "through".
2) Figure eights
Place two markers on the ground about 10 metres apart (these can be twigs, water bottles or even your towel/jumper). With your dog following you on your left-hand side, run around the markers in a figure-of-eight pattern. Try to alternate one slow jog lap with one fast jog lap. This exercise will help you to improve your cardio fitness and agility, and your dog to learn to follow your direction cues while jogging.
3) Punch and shuttle
Grab some hand weights (even tins of beans!) and place a marker 10 metres away. While your dog sits, punch the air in front of you 20 times quickly. Then place the weights down, grab your dog and both run to the marker and back. Get your dog to sit again, and repeat. This will help you to improve your upper body strength and cardio fitness, and your dog to learn to alternate between "sit" and "follow".
4) Reverse shuttles
Place four markers in a straight line, with about five metres between each one. Start at the first marker, run backwards to the second marker, with your dog running forwards towards you. When you get to the marker, cue your dog to heel or loop around behind you, then you both run forwards back to the first marker, then run backwards again (with your dog running forwards towards you), but this time head to the third marker. When you get to the third marker, get your dog to heel around you, and both run forwards again, back to the first marker. Then repeat to the final, fourth marker, and back to the first marker to finish the drill. This will help you to improve your cardio fitness and agility, and your dog to follow your cues while running, plus practise the cue "heel".
5) Sit up pats
Lie on your back with your knees bent up. Get your dog to sit in-between your legs. Perform sit ups, and each time you come up, give your dog a pat on the head. Combine slow sit ups, fast sit ups, and pulses at the highest point. This will help you to improve your abdominal strength, and your dog to get rewarded for sitting still!
6) Tuggie
Hold one end of a tug toy, and get your dog to take the other end. Play tug-of-war with your dog, but you both must keep moving! Use side steps each way, move forwards and backwards. This will help to build your cardio fitness and upper body strength, and teach your dog when it's OK to play tug-of-war.
7) Lunge weave
Step one leg forwards into a big lunge position. Get your dog to go through your legs to the other side. Swap legs into another lunge, and get your dog to pass back through your legs. This will help you to improve your leg strength, and your dog to learn the cue "through".
8) Jacks and circles
Get your dog to sit in front of you. Do 10 jumping jacks (with one arm only if you need to hold your lead!). Then, get your dog to "heel", or circle around your legs. Get your dog to sit in front of you again, and repeat.
This will help you to build your cardio fitness, and your dog to practise the cue "heel".
You can find videos of each exercise on the Barx Active website.
How you can start a dog-inclusive fitness business
Finnin says to become an instructor of Barxercise, you will need a Certificate III in Fitness, and also a Certificate in Fitness for Humans and Canines. This additional certificate covers dog behaviour, safety when working with dogs, and teaches you many wonderful dog-inclusive fitness drills.
"If fitness and dogs are your passion, it could be your dream job!" says Finnin.
Morcom says with any new business, research is key.
"Speaking to as many industry experts as possible is a great way to properly nut-out a business plan and gauge what will work and what will not. Owning a dog is a great start as you know how a dog behaves and what they do and don't like to do. While I feel confident training clients, I had to take a few extra steps to get up to speed with running a dog-related business.
"You don't necessarily have to know the ins-and-outs of both sides; you are always going to have your weak points in a business, so gaining as much knowledge as possible before jumping into things is key. Continued education can never be a bad thing!"
Make training easier with help from the professionals - on our
DOGSLife Directory now!