June 15th, 2015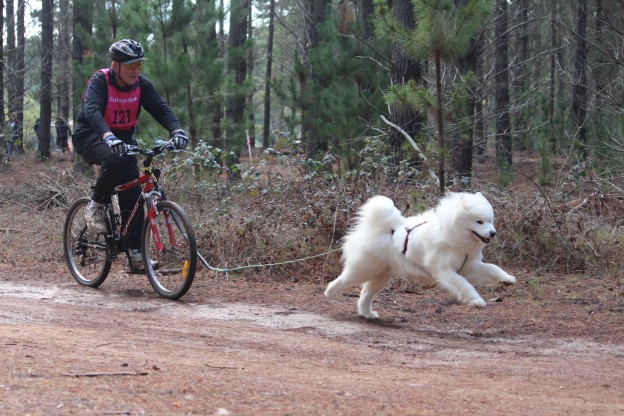 You might think you need snow to go dog sledding or mushing, but you can still get active with your dog when there's not a snowflake in sight. Tim Falk investigates the canine sport of dry land mushing.
Mushing is something you'd more likely associate with Alaska than Australia. A team of sled dogs pulling a musher through a freezing blizzard, with a dazzlingly white snowscape all around them doesn't really fit in with most people's ideas of the land down under.
But while it is possible to experience dog sledding on snow in Australia, it's also possible to enjoy a host of other dog-powered activities on dry land. The sport is known as dry land mushing, and Michal Kozar from dog-sledding equipment company Active Dog Australia says it's a whole lot of fun.
"Dogs love to run to meet their exercise needs and the fact that they can put as much effort into it as they want," he says. "During mushing, dogs get plenty of challenging and fun exercise in a reasonable amount of time. When dogs pull, they also know they are doing something for their owner, which makes them happy."
Dry land mushing can actually be split into four distinct disciplines: canicross, dog scootering, bikejoring and dog trekking. Canicross is basically cross-country running while being attached to one or two dogs via a harness. The dogs help the humans to increase their speed and the activity gives the dogs a chance to utilise their natural desire to pull.
Bikejoring involves cycling with your dog, while dog scootering sees humans being pulled along on an unmotorised kick scooter. Finally, as the name suggests, dog trekking is all about trekking through mountainous terrain while harnessed to your dog.
"Mushing is great fun and effective exercise for both humans and dogs," says Kozar. "Originally, mushing dogs were of sledding or Spitz types, such as Huskies, Malamutes, Samoyeds or Pointers, but now other breeds have begun taking part. Not only do most breeds have the ability to run and pull, but also people of all ages and different fitness levels can take part."
The size of the dog is not important unless you plan to win at races. Regardless of size, some dogs pull hard while others don't pull much at all. "Dogs who don't like pulling can just run in front of the running, cycling or scootering human and they still enjoy it a lot," says Kozar.
As proof of this, Kozar supports his local dog-adoption agency by exercising the animals that are looking for new homes. The agency has more than 30 dogs and the majority have been rescued. "I walk, run and mush with the dogs regularly as they really need it for their mental and physical health," he says.
Kozar has mushed with Jack Russells, Cattle Dogs, Beagles, Staffies, Boxers, Huskies and German Shepherds, with breeds of all shapes and sizes taking to the sport like a Labrador to dinner. "All of them love the activity and jump around when they see me coming with a harness," he says.
As mushing is an intensive exercise, weather conditions need to be just right to prevent dogs from overheating. Races are held in Australia when the temperature is below 15°C, while the mushing season runs from April to September. "Take your runs in the early morning or late evening when temperatures are low. Also, provide a lot of water for your dogs," advises Kozar.
If mushing sounds like a sport your dog could love, Kozar recommends researching the various disciplines on the internet or in books. Next, contact your local sled dog club to find out about classes for newbies — there is at least one club in each state, except the Northern Territory.
When starting out, it's important to start slowly and gradually build your dog up to covering larger distances. You can invest in a set of booties to protect delicate paws on rough surfaces, plus it's vital that you use a properly fitted and padded harness — dogs should never pull by their collar.
"In terms of equipment, for dog scootering, people will need a specially made dog scooter, a bungee line for one or two dogs and a proper harness. For bikejoring, you need a mountain bike, an adaptor that keeps the leash away from the front wheel, a bungee line and a proper harness. You need similar equipment for canicross: a canicross belt, a bungee line and a harness," explains Kozar.
So, if you're looking for a fun, fast-paced way to stay active and bond with your dog, mushing could be the perfect doggy sport for you.
For more information, visit Active Dog Australia.
Howling Husky
If you want to experience dog sledding in its more traditional form, you can do that in Australia as well. Howling Husky Sled Dog Tours operates from Mount Baw Baw Alpine Resort in Victoria and offers a range of fun and exciting sled dog tours.
Jake Greaves got the inspiration to start the company from Koda, his three-month-old Husky. "Jake started racing Koda when he got the need for speed and rehomed seven more [Huskies]. That's when he decided to start tours," explains Howling Husky's director of operations, Kyla Seipp.
Jake thought he would share his love for the sport with Australia and introduce tours, and Howling Husky is now a family of 37 dogs (33 Huskies, three Husky crosses, one Alaskan Malamute), 27 of which have been rehomed or rescued from pounds or shelters. Koda is turning 10 this year. He works as a lead dog and is currently teaching his grandpups how to follow in his paw prints.
Howling Husky runs a number of tours on both snow and dry land. "We offer tours at Gumbuya Park, Mount Baw Baw and Lake Mountain Alpine Resorts," explains Seipp. "We have six different lengths of tours at Mount Baw Baw Alpine Resort, ranging from 30 minutes up to four hours, including the longest commercial dog-sled tour in Australia. We also offer our Powder Pup Tours, which are unique to Howling Husky. Our retired dogs still love to work so these tours keep their minds fresh."
Seipp says that riding on the back of a dog sled offers a unique rush and is different every trip. "When the dogs are on a new trail or on their favourite part of the trail, it is an adrenaline rush. You become humbled, especially when the snow is deep or you are climbing a big uphill and you see their determination, strength and love for their job. You admire their teamwork and leadership. They make you laugh when they are being cheeky. By the end of the trip, you have felt so many different things, you can't help but walk away with a big smile and slight attachment to the dogs," she says.
As the tour season is quite short, Howling Husky also runs a number of other programmes in the off-season to keep its dogs active and help with the cost of looking after so many canines. These programmes include sledding training days for dogs and owners, performing at corporate parties and fairs, and giving dog safety talks. "We also provide a unique but elegant entrance for weddings, formals and proposals," says Seipp.
"Anyone can have a ride with us as long as they can hold up their head to admire the view. We cater to newborn babies, people who are restricted to wheelchairs and [even] to the man who had his 90th-birthday ride with us."
For more information, visit Howling Husky.
Make training easier with help from the professionals - on our
DOGSLife Directory now!