February 5th, 2014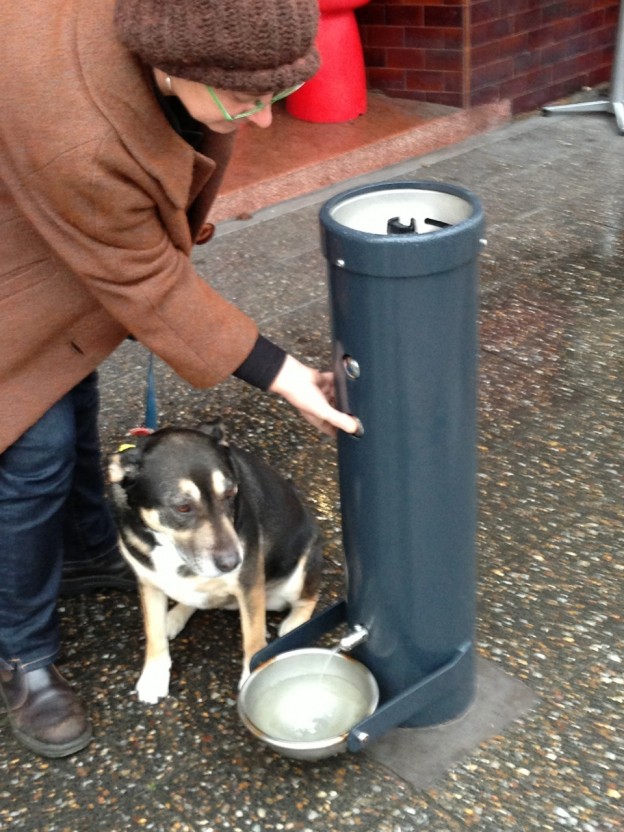 As Australia becomes more urbanised, dog off-leash spaces are being compromised. Caroline Zambrano looks at the future of the dog park and other dog-friendly spaces, which provide much needed exercise and socialisation for dogs in the city.
As responsible dog owners, it's important to take the time to exercise and socialise your dogs. After all, it's not where you live or the size of the backyard you have, but the time you spend with your dog and the time you spend out of the backyard that's important. This is especially true for the increasing number of pets living in city apartments.
Realising the many benefits of keeping pets, city councils/planners are creating pet-friendly spaces to keep people and their animals happy and healthy. Melbourne urban policy analyst and town planner, Virginia Jackson, who has specialist expertise in domestic animal management, says pet-friendly planning is relatively new to Australia but she does see it as a thriving trend.
"The reaction of developers is now very different to what they were 10 years ago," says Jackson. "The change came about when the benefits of dog walking to humans became better understood. These benefits include increased exercise and socialising with other dog owners. The added benefit is that the dog gets exercise."
Jackson advises government, industry and community groups on legislation and policy and has also authored a study, Public Open Space and Dogs: A Design and Management Guide for Open Space Professionals and Local Government. The study, a world first of its kind, has been well received across the world with Australian local authorities using it to plan variable leash laws and dog exclusion zones.
Jackson says most capital cities, besides Sydney and Brisbane, permit dogs off the leash in public places.
"Dog parks a purpose-designed space for dogs and their owners are a great idea," she adds. "But you don't see a high number of them across cities. Every dog owner has different needs and many people choose a space they go to according to their own dog's needs. Some don't like to go to a place with lots of dogs or they might have a big dog that is untrustworthy around others etc. The best model (for a pet-friendly city) is to have a large number of unfenced off-leash areas with some fenced areas."
Benefits of the dog park
Dr Susan Hazel from the University of Adelaide's School of Animal and Veterinary Science says dedicated dog parks can provide many benefits to the community. But, although Australia has a high rate of dog ownership, not all people like dogs, she says.
"With increasingly contested and shrinking urban spaces, it is possible public disputes will occur in Australia over the use of open spaces to exercise dogs, as has already occurred in the United States," says Dr Hazel.
Earlier this year, Dr Hazel presented a study, Don't fence me in parks, politics and exercising dogs. The study involved about 200 Animal Science students from the University of Adelaide who collected nearly 300 surveys at 23 fenced dog parks in the Adelaide metropolitan area over a four-year period. "The research data is unique across Australia; no other capital city has this sort of information about their dog parks," says Dr Hazel.
The survey produced valuable information that may be used to assist in the future management and signage of fenced dog parks.
"However, more research is needed around understanding the need for dog parks and the best ways to design them so that dog owners can continue to enjoy their benefits and councils can see they are being used and continue to build them," she adds.
Dr Hazel's study revealed that most people spent 30 to 60 minutes at the dog park. The main reason they visited was to exercise their dog, followed by socialising it. Exercising or socialising themselves was far less important as a reason for visiting a dog park. However, many people revealed that they see the dog park as a social gathering place before or after work, where they can speak to other dog owners.
"Other studies like this one have reported dog ownership increases people's social capital. Some dog parks even have their own website and/or Facebook page," she says. "If we had no dog parks, it would have a big impact on the 'community feeling', not to mention reduce the amount of exercise and socialisation for a lot of dogs. The human-animal bond would not be as strong. It would also impact on people who live alone, and the one piece of social contact they have is going to the dog park."
Despite these benefits, some dog parks have problems and could be better designed, says Dr Hazel. Parks may be too small, others have no seats or shelter or sufficient parking, and others lack a suitable surface for the dogs to run on.
"There can be problems with entrance ways, too," she says. "If the water and seats are too close to the gate, then you get a bottleneck as new people and dogs arrive."
You can also ruin a good unfenced off-leash space by placing agility equipment in the middle or running a bicycle path straight through it.
Fenced parks: not the only dog-friendly space
Building more fenced dog parks is clearly a positive step toward meeting the needs of dog owners. But they should not be the only option, says Fiona De Rosa, an urban planner in Adelaide specialising in dog parks and pet-friendly planning.
De Rosa, who is also an aspiring dog trainer, is currently working with the Dog and Cat Management Board of South Australia to produce guidelines to assist councils, designers and developers in the planning, design and management of enclosed dog parks. She is also talking to councils about how dogs can be integrated into the urban environment.
"Dog parks seem to be the more popular way (to integrate dogs into the urban environment) but they might also do an upgrade to a street and we look at what we can do to put pet-friendly infrastructure into that street. The route I take to walk my dog is important," she says.
A pet-friendly route, for instance, would be a street that is relatively shady, has dual water fountains and trash bins with a poo bag dispenser for those unexpected toilet breaks.
But there is a bigger trend happening in Australia where an increasing number of people are taking their dogs into the workplace, and it's often private businesses that make their environment 'pet friendly', says De Rosa. Her local hairdresser brings her own dog to work and provides a water bowl outside for dogs walking by. The local bookstore and café also cater to thirsty canines.
"My local coffee shop has a window counter facing the street so I can order coffee without leaving my dog outside unattended, which I don't like," she says.
In Victoria, the City of Boroondara has been regenerating native vegetation in Fairview Park, which is on the Yarra River in Hawthorn. It is also a popular swimming spot for dogs.
"To protect the regenerating vegetation, the council left a five metre gap completely clear of planting that has become the designated spot for dogs to access the water," says Jackson. "This is a win for the dogs and a win for the environment because the dogs no longer need to scramble through delicate vegetation to access the water."
According to Pets in the City, a book by the Pet Information Advisory Service (PIAS), Jackson Landing in Pyrmont Point, Sydney, is one of Australia's largest pet-friendly waterfront developments, boasting plenty of open parkland and special doggy-do bins. In fact, area residents have formed a 'Pyrmont Pooch Party' group, which meets regularly to hold parties for their pets and owners in one of the estate's harbour front parklands, and attend lavish Dog's Breakfast events aimed at attracting residents with pets.
Some councils in Australia have also thought about the travelling pet owner. The Coonalpyn Dog Exercise Park in South Australia, which opened in 1995, is a dog park along the Dukes Highway, designed as a spot for families to stop and let their dogs stretch their legs on long road trips.
About 20 minutes down the road, you'll sniff out The Dog Park at Tintinara, which is fully fenced with an airlock entrance. Although small, the park is a much-needed space for pets to exercise while their owners rest up.
Education: key to successful city living
Designing pet-friendly spaces is important for pets and their owners living in cities, but so is education. What's the benefit of pet-friendly development when there's no responsible pet ownership?
"When taking our dogs out into public areas, whether it's a dog park or café, it's much about the dogs having good manners. They have to be trained and their owners have to be in control," says De Rosa, adding that there has to be education for people in dog parks.
The City of Sydney, which offers more than 40 off-leash areas for dogs, offers free group dog-obedience courses for all residents (not to mention discounts on microchipping and desexing services for pension and healthcare card holders). These courses also educate people on responsible pet ownership.
What's also needed, says Dr Hazel, is continued research into dog parks and how they're used by local communities to provide further evidence of their benefits and ensure public exercise areas for dogs and their owners are retained in the future.
Dog park survey
The University of Adelaide is running a survey to find out more about dog parks around Australia. If you have a dog and visit a dog park, please participate at www.surveymonkey.com/s/WZ2X7KV
Make training easier with help from the professionals - on our
DOGSLife Directory now!