October 3rd, 2008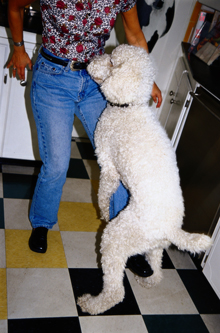 We've all fallen victim to a dog's over-amorous attention to our leg or been the embarrassed owner of a certified Sir Humpalot. Sunny de Bruyn investigates the problem of dog humping and how to tackle it.
Picture it you're sitting in your lounge room having a polite cup of tea with your neighbour when in comes your canine Casanova. He strategically places himself on your unsuspecting neighbour's foot and begins thrusting with more gusto than Elvis.
You cringe with embarrassment and your neighbour turns bright red while you attempt to shoo your pooch away. He then stands there humping mid-air only to re-attach himself and grip on harder. Awkwardly, your neighbour stands and shakes off the dog, making muffled excuses about the time and needing to go. You don't see your neighbour again for quite some time.
Sound familiar? If you've been on either end of this scenario, you'll know that its seriously embarrassing. And similarly, your dog mounting every other dog, cat and lamp pole from here to Antarctica is just as bad. You may just think him a frisky little devil, but there's a lot more to humping than sex alone.
Why do dogs hump?
Pet experts commonly believe that dogs hump other dogs or humans for two reasons: the first being sexual and the second being dominance. However, Dr Kersti Seksel, registered veterinary specialist in animal behaviour and Dogs Life resident animal behaviourist, says they do it simply because it feels good.
But its not just about sex. Humping, while obviously a part of the normal courtship and mating ritual of dogs, is much more than this, Seksel says.
Reasons for humping vary. Some dogs hump because they are full of energy this can be seen at dog parks, where young dogs indulge in romps of many kinds while other dogs feel less anxious when they hump, she says.
Some dogs learn to get attention by performing humping behaviour. If the dog starts to hump its favourite cushion in the middle of your swanky dinner party, remain cool and casually encourage your dog to either take it outside or do something else, Seksel says.
Furthermore, some bitches may start humping or increase the amount of humping they do when in season. Dogs will hump whoever will stand still and let them do it, she says.
Whats more, Seksel says all dogs can hump because the behaviour is normal to all dogs. It is performed by males and females, entire and desexed, from baby puppies to elderly dogs, as long as their arthritis is not too severe, she says. And dogs will hump other dogs of the same or opposite sex, people and other animals its a feel-good exercise.
Seksel says dogs are not alone, with humping or mounting behaviour seen in many different species. Social living species, such as many domestic animals (cows, sheep, pigs, dogs, cats) will often display mounting or humping behaviour. Causes can be youthful energy or play, and it can also be brought about by the hormones released by animals, especially females, being ready to mate, she says.
Dogs Life resident veterinarian Dr Michael Archinal says humping is a learnt behaviour, which is why dogs will do it even if they are desexed. Desexed dogs have no sexual drive, but they will still hump because it is learnt behaviour, he says.
Similarly, humping is not sexual under the age of six months, as they don't have the hormones, Archinal adds.
He says your dog may also hump due to a medical problem, such as a urinary tract infection. If a dog has a urinary tract infection, another dog may hump it because it misinterprets the smell the dog is giving off, he says.
And if you're perplexed as to why your dog starts humping all of a sudden, Archinal says it could be as simple as a change in the environment or something new such as a baby which upsets it and causes its behaviour to change.
The dominance myth
Pet experts commonly believe that humping is about dominance, however, Seksel says mounting behaviour is never about being the boss or being dominant.
Humping is not about dominance because the idea of dominance or pecking order doesn't apply to dogs. In fact, this is a myth and legend, she says.
And despite what many experts claim, Seksel also says dogs don't have a dominance hierarchy, where A is dominant over B, who is dominant over C and so on. She says humping has nothing to do with dominance and everything to do with arousal.
An excited dog is more likely to hump as part of the expression of their excitement, so humping is frequently seen during games, she says.
Seksel says being the leader is based on deference, not dominance. In social living species of animals, leaders are allowed to lead because the other animals find some benefit in following them. So individuals who are good at finding food or shelter or keeping the group safe are often followed. Individuals who are not good at finding food or shelter or who end up getting in trouble are not followed. No one ever became the boss by humping everyone else into submission, she continues.
Enough is enough
Is it possible to stop your dog from humping? Archinal says that you can, but first you need to diagnose why hes doing it. For example, if its sexual behaviour, he says you simply need to desex your dog. And if its a specific toy they're humping, the easy solution is as simple as putting that toy away.
Aversion therapy is also an option, however, he says it may not always work, and some dogs may just have such a strong drive to hump that they do it anyway. Aversion therapy can also be upsetting and very stressful for your dog.
Seksel says humping is a normal behaviour, therefore there is no need to stop your dog from doing it. Furthermore, she says you should never punish your dog for humping.
Smacking, shaking, scruffing and showing the dog who is boss are all unnecessary and for some dogs, very stressful, and can make the problem worse, she says. If your dog humps occasionally, either ignore it or just distract the dog and offer a different activity.
If your dog likes to hump people, older dogs, the cat or even your kids, Seksel says distraction is the key to stopping the behaviour.
Distract the dog by making a loud noise and then direct it to a more socially acceptable activity, such as chasing a ball or running around outside, she says.
And if your dog is a high-energy pooch, she says increasing its exercise can help reduce this behaviour. Another option is to teach your dog to respond reliably to the cue to sit, then practise with your dog to ensure it will respond when excited and likely to hump, she says.
It may sound silly, but Seksel says you can also provide a teddy or toy for your dog to hump, then reward it for humping the teddy or only humping the teddy in a specific location. However, before you try any of the above, it is important to determine whether your dog is humping due to anxiety.
If you suspect your dog humps because it feels anxious, speak with your veterinarian or veterinary behaviourist about how you can help your dog feel less anxious and more relaxed, Seksel says.
Is humping harmful?
Veterinarian Dr Michael Archinal says that in some cases humping can be harmful. Paraphimosis is a serious condition, where the penis is permanently stuck outside the sheath. This can result in the dogs penis physically getting stuck on the fur of a soft toy, which can be very dangerous not to mention humiliating for your dog when its taken to the vet with its favourite toy stuck to its groin.
Dr Kersti Seksel, registered veterinary specialist in animal behaviour, says problems can also occur when dogs that wish to hump other dogs don't back off when the other dogs signal that they are not interested or have had enough.
In addition, problems can occur if a dog will not stop humping or if humping behaviour is motivated by anxiety, she says.
Speak to your veterinarian if you have any concerns about your dogs humping behaviour.
Make training easier with help from the professionals - on our
DOGSLife Directory now!