July 3rd, 2008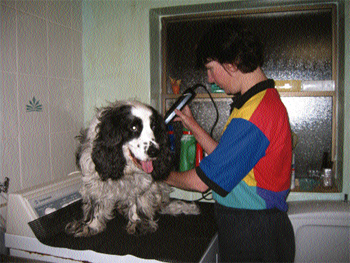 Marie Cunningham owns a thriving dog grooming business which, combined with her experience as an animal behaviourist, allows all her doggie clients to enjoy a stress-free grooming session
Marie grew up with cats, dogs and fish and always wanted to work with animals. Now guardian to a German Shepherd and a Hungarian Puli, Marie says her love of animals is what led her to opening Complete Canines, a business specialising in animal behaviour, dog walking and dog grooming.
Dogs Life caught up with Marie the day she was grooming Brandy, an eight-year-old Cocker Spaniel. Brandys owners have a five-month-old baby so they need a bit of extra help to keep him well groomed. He is not used to having someone else wash and clip him but Marie has a way with animals and he soon relaxes and enjoys his pampering.
Marie travels all over the Sydney metropolitan area to groom any size dog, from Chihuahuas to Great Danes. Any coat type is also catered for and she is certainly not afraid of nervous or stressed dogs. "I call my work Behaviourist Grooming because I work with many dogs that are frightened of being groomed. I refuse to use muzzles or tie them up because I want them to be relaxed rather than worried," she says as she clips Brandys matted fur. "I often teach their owners how to groom their dog so its less stressful for all of them."
Marie says there is a lot of demand for grooming long-haired Shepherds and Golden Retrievers but her main clients are smaller dogs. "I groom lots of fluffies, Cocker Spaniels and a smattering of others," she says.
As Brandy's matted fur is clipped he starts to look like a different dog and relaxes, knowing Marie is taking good care of him. She says the people who use her service are mostly those who are busy or those with children, especially babies. "I have found that more and more people don't want to send their dogs away to be groomed and they also find it hard taking their children along with them to the groomer," she says. "I encourage owners to be here and chat to the dog while its being groomed as this makes the dog and the owner feel better about the experience."
Marie gets great satisfaction and enjoyment from her job as shes able to help both animals and humans. "I like helping dogs who aren't so well off and teaching their owners to care for them," she says.
The only downside to the work is in summer, when its very hot and sweaty. "Getting a big Golden Retriever back into the bath can be hard," laughs Marie, "and coughing up dog fur at the end of the day! You certainly couldn't do this if you had allergies. But I can't complain as I really enjoy my work. I do get nipped occasionally if a dog is particularly frightened but overall its a day of getting out with the dogs, having fun and getting paid for it," she says with a smile.
Marie has many inner-city clients so she finds it beneficial to drive a small car and uses either the owners laundry tub or the bath to wash their dogs.
Wearing a neat uniform, Marie travels with a bag full of equipment including towels, mild shampoo, electric clippers, scissors, nail clippers, a dryer and swabs for cleaning ears.
For first-time dogs, Marie spends an extra half hour to groom them and talk to their owners. "I also offer a de-matting service and I might visit a client every two weeks to clean their dogs ears, give them a brush, clip the nails and make sure the animals is healthy," she says.
Marie works six days a week and every evening she restocks her kit and makes sure everything is ready for the next day.
Marie was already grooming her own dogs (and many friends dogs) when she decided to expand her animal behaviourist business. "I did a TAFE course which taught me how to handle clippers and groom different dogs but a lot of what I learnt was hands on," she says. "To be a dog groomer, as with anything, you need to learn and see as much as you can. Enrol in plenty of courses, do your own research and go to dog shows, but make your own decisions about which methods you're going to apply. Its also handy to find yourself a lot of doggie friends that you can practise on. If you love and care about dogs, go for it!"
Check out Maries website www.complete-canines.com.au for more information.
Make training easier with help from the professionals - on our
DOGSLife Directory now!