July 25th, 2017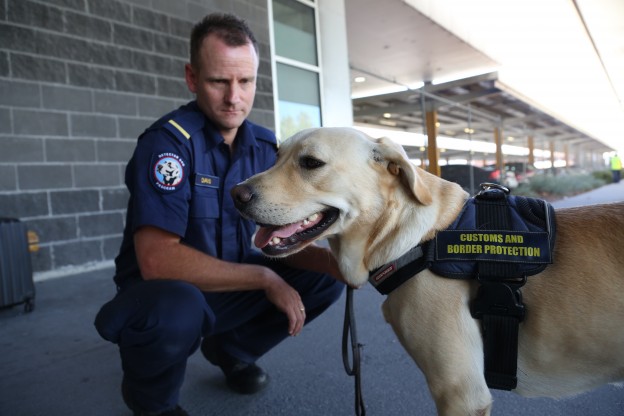 The Australian Border Force's detector dogs perform a vital role keeping our country safe. Tim Falk finds out what it takes to become one of these clever canines.
If you've spent any time at an Australian international airport recently, there's a fair chance you will have seen some important members of the Australian Border Force (ABF) at work. But we're not talking about your normal human employees; we're talking about the Service's team of very smart and very talented detector dogs.
These incredible pooches and their handlers work at all Australian airports, seaports, cargo depots and international mail centres. With a nose for trouble, and fearless temperaments, detector dogs sniff out illegal drugs, precursor chemicals, firearms and weapons being smuggled into Australia.
It's a challenging and vital task that these canine officials are entrusted with but, according to Heath Saunderson, team leader of the Detector Dog Unit in South Australia, they do a very impressive job.
"Each handler works mainly with one dog and is responsible for the health, wellbeing and training of their dog," explains Saunderson. "My dog's name is Harvey and he is a three-year-old golden-coloured Labrador. As he is still relatively young, he can be quite boisterous and is very playful, especially after he has done the right thing and found his reward. Harvey is quite the character around the kennels and likes to socialise with the other dogs if he is given the chance."
Becoming a handler
After joining the Australian Customs and Border Protection Service (ACBPS) in 2004, Saunderson worked as a customs officer at Perth International Airport. During this time, he saw the detector dogs in action first-hand, and it didn't take him long to figure out the career path he wanted to take.
"I graduated from my trainee detector dog handler course in August, 2006, along with my newly trained detector dog, Kane, a black two-year-old Labrador," says Saunderson. "At the end of 2008, I was transferred to the South Australian Detector Dog Unit and took Kane with me. We worked together for eight years before he retired from service. He now spends his days in my backyard, chewing up any of the kids' toys they leave lying around and just being a family pet."
The ABF uses Labradors as detector dogs, the breed chosen because of its focus, versatility, steady temperament and strong hunt and retrieve drive. Labrador puppies are socialised from birth to 15 months of age, being introduced to many noises and environments to prepare them for the work they will one day do. Along the way, they undergo periodic suitability assessments, which prepare them for the intensive 13-week training course. The scores from these assessments determine whether or not a dog will be suitable for the course.
As Saunderson explains, the trainee handlers and their dogs are trained together for a 13-week period in Melbourne. "The training involves teaching the dogs scent association through classical and instrumental conditioning," he says. "When the dog demonstrates the desired behaviour and response, the dog is rewarded with a dummy (rolled-up hand towel). The handler and dog then have a game of tug of war and the dog is rewarded by playing the game with its handler."
Detector dogs are gradually taught to search for a variety of odours by associating a target scent with their toys — the dogs are trained to search for a range of narcotic, currency, firearm and explosive odours. Once the course has been completed, the dogs are teamed with their new handlers and undergo four months of on-the-job training before returning to the National Detector Dog Training Facility for final training and assessment.
"An essential part of the ongoing training involves constant assessment of the dogs' capabilities by team leaders. The handlers must pass an annual appraisal ensuring that the deployment and training of each dog meets required standards," explains Saunderson.
Of course, a love of dogs certainly helps handlers and their canine partners form a strong bond that will serve them well throughout their working lives together.
A day in the life
"An average day for me begins around 5:30am when I arrive at work to let the dogs out into the exercise yards," says Saunderson. "Once their kennels have been cleaned, the dogs jump into the back of the car ready for the day's tasks."
Daily tasks include searching in a variety of areas such as airport terminals, aircrafts, luggage belts, vessels, postal centres and freight depots. Detector dog teams can even be called upon to assist state and federal police.
"The working day also includes training and keeping the dogs fit through exercise, and usually finishes around 4pm when the dogs are fed and put to bed for the night," explains Saunderson.
It's a big day but Harvey loves every second of it. "Harvey does enjoy his job. He is very eager to jump in the back of the car in the morning to begin his day," says Saunderson.
And detector dogs perform vital work, especially when you think of the items and substances they work tirelessly to keep out of the country.
"The job that these detector dogs are performing is very important and is considered a community protection role," says Saunderson. "They are working to protect members of the Australian public by intercepting harmful and addictive narcotics from entering the country. Substance abuse often leads to further crimes being committed to support these habits. The role of our detector dogs provides an effective way of screening for these illegal importations."
So, the next time you see a dog like Harvey doing his rounds at the airport, prepare to be amazed by what these fascinating creatures are capable of.
Australia shares Detector Dog expertise with China Customs
In early July 2017, the Australian Border Force showcased its breeding and training programmes in a two-week training course with counterparts from China Customs. The ABF have been recognised as a world leader in training detector dogs, and has gifted a number of detector dogs to China in the past to help strengthen their detection capabilities.
In the 2016-2017 past financial year, ABF detector dogs made more than 2000 detections of illegal substances and prohibited items, signifying what an important role these dogs continue to perform as a part of our border protection.
Calling all foster carers
The ABF is on the lookout for foster carers in the Melbourne area to take home and care for its Labrador sniffer puppies until they are ready for training. These dogs will go on to become protectors of our border, trained to sniff out dangerous and prohibited goods.
Becoming a foster carer for the Detector Dog Program is a great way to enjoy having a pet without the costs associated with pet ownership. The ACBPS will cover all costs associated with caring for the pup, including food, veterinary needs and equipment while also providing expert advice and training.
In return, carers provide a safe home for the pup and get them used to the sights, sounds and smells of their urban or suburban areas, priming them for working in the busy border protection environment.
If you are located in the Melbourne area and would like to get involved or want to find out more, email foster_carers@border.gov.au, call 1800 664 106 or visit border.gov.au
Make training easier with help from the professionals - on our
DOGSLife Directory now!