June 24th, 2014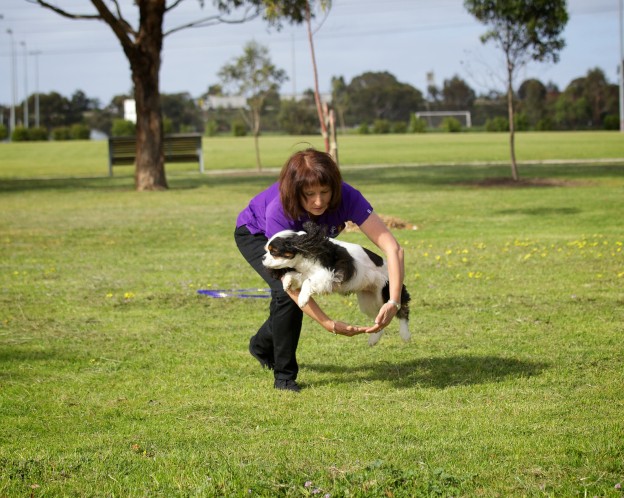 Forget agility, flyball and obedience — Tim Falk puts on his dancing shoes to discover the unique canine sport of Dances With Dogs.
If you were watching Australia's Got Talent in 2013, chances are you would've seen Loretta Rabbitt and her gorgeous Poodle, Jackson, performing one very impressive choreographed dance routine. The judges were stunned and Jackson looked to be having a whale of a time. But rather than simply being a bit of fun between one woman and her dog, Loretta and Jackson's performance was actually a great example of the increasingly popular canine sport of Dances With Dogs (DWD). Yes, you read right — dancing with your dog is actually a sport!
"It's a fun sport which is accessible to everyone who wants to have a good time with their pets," says Kevin Newman, a dog dancing enthusiast and the man behind thatdogdancingguy.com.au. "I enjoy the creativity that is required, as well as the technical training that you need." In a nutshell, DWD involves handlers and their dogs performing skilful, choreographed routines to music. The sport can trace its roots back to obedience heelwork but owners are able to be more creative and imaginative with their performances. The focus, of course, is on having fun.
"DWD is a great way to enhance your bond with your dog as you can put on some music, dance around the house, train tricks and have a ball," Newman says. "The DWD community is really helpful and supportive as well, so there is [also] a great social aspect to it."
Sue Cordwell, who runs DWD workshops through Melbourne Canine Freestyle, is just as enamoured with this unique sport. "I enjoy music, dog training and having fun with my dog — this sport combines all three. I love how it builds a strong bond between you and your dog; you work as a real team. And it's just so much fun," she says.
The doggy d-floor
In Australia, DWD has two separate categories: Heelwork to Music and Freestyle. In 2009, the sport became recognised by the Australian National Kennel Council and competitions are now held in many states around the country. "The first Heelwork to Music performance I saw was of Mary Ray (a UK performer) around 1998/99 and I was just blown away," Cordwell says. "In 2005 I started Melbourne Canine Freestyle as there was nowhere formerly training Freestyle and Heelwork to Music. Since then we have grown significantly and offer weekly classes and workshops in two locations in Melbourne."
Not only is the sport great exercise and great fun for owners but dogs will have a ball as well. "All the dogs I've seen doing DWD absolutely love it — lots of tail wags and motivation," Newman says. "The training is focused on positive training methods and so your dogs go absolutely crazy for it. From what I've seen, each dog has their own reason to love the sport. Some really enjoy the time they get to spend with their owner, others enjoy running around and getting lots of mental and physical stimulation, some enjoy getting into the ring and just sniffing around (making their owners look silly, but it's all in good fun) and others, like my Border Collie, Cynder, really love the different tricks they get to do."
Cordwell says dogs simply love the sport and a DWD class means a room full of wagging tails. "The relaxed atmosphere and enjoyment that the owners experience in class transfers to the dogs," she says. "They enjoy the challenges of learning new tricks and moves, and with their owners having so much fun, the dogs do too."
Training your partner
The time and effort owners put in to training their pooch in DWD depends on whether they are looking to compete or simply have fun. Some breeds learn more quickly than others and all dogs are trained with positive reward-based methods. "If you just want to learn a few moves and tricks to show off to family and friends, then most people find weekly classes sufficient," Cordwell says. "If you wish to compete, then more time training would be required."
The training involved is also affected by which discipline of DWD interests you most. Freestyle is a lot more free-flowing, featuring lots of tricks, while heelwork is more restricted in that your dog needs to be in a heel position for at least 75 per cent of the routine (there are eight recognised heel positions in heelwork). "In competition DWD there are four levels that you can progress through for both disciplines: starter, novice, intermediate and advanced," Newman explains.
"The routines get longer as you go up levels and it's expected that your routines will include more advanced moves and tricks. I began training with my Border Collie at four months of age and she really took to it well, but it's never too late to start. Cynder is one of the youngest dogs competing at the moment and I one of a handful of males — I was the first Victorian male to compete and obtain our Starter title — but there are some dogs that still compete at age 12."
Get involved
If this unique activity sounds like the perfect sport for you and your pooch, find your local DWD club and get along to some training days. "Check out some of the amazing videos online from Crufts and other competitions around the world to see if it's something that would really interest you," Newman says. "You don't have to compete at trialling level; a lot of people just come along to the classes and workshops because it's a lot of fun."
Sue Cordwell has a simple piece of advice for anyone thinking of strapping on their dancing shoes and trying DWD: give it a go. "The great thing is that anyone or any dog can do this sport," she says. "It is open to all ages and all breeds of dog. Your dog doesn't have to be an obedience champion and you don't have to be a dancer. Just get some treats and your dog and join a class — you will love it!"
Loretta and Jackson
Watch Loretta and Jackson's performance on Australia's Got Talent: youtube.com/watch?v=g3ZbXkzw6lY
Wendy and Sasha
Wendy and Sasha used to perform in Dances with Dogs – however Sasha, who is 12 years of age, wasn't up to the task because of her joints.
"Before Christmas I made the decision to retire her. It was a really hard decision as she loves doing this sort of thing. However, she has bad arthritis in both hips and in all of her feet," says Wendy. "We had tried all of the other supplements but nothing had worked."
After six weeks on Rose-Hip Vital Canine, she was up again and performing. "After being on the product, you can see how well she is moving, there is no stiffness in her rear end and it looks like she is in no pain, in fact she is bouncing like a puppy again!
"We have had a couple of Dances with Dogs competitions so she has been out and about training. She competed in Freestyle and got her last pass and received her Dances with Dogs Freestyle Advanced title! She got a great pass in Heelwork Advanced, her second, so one more to go. Thanks to Rose-Hip Vital Canine, it is such a joy to be able to work with her again," says Wendy.
More information
Dances With Dogs Australia, danceswithdogsaustralia.com
Melbourne Canine Freestyle, (03) 9754 6636, melbournecaninefreestyle.com.au
That Dog Dancing Guy, thatdogdancingguy.com.au
Make training easier with help from the professionals - on our
DOGSLife Directory now!