April 17th, 2014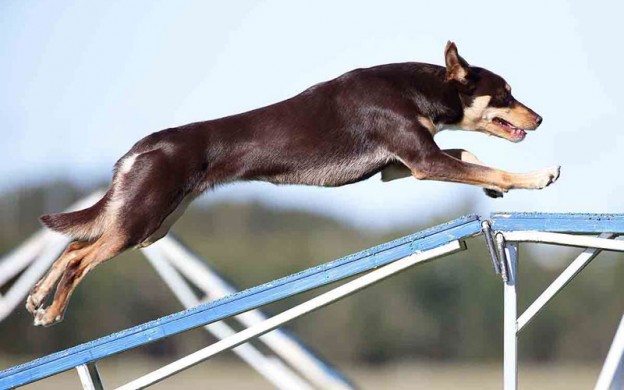 Not sure what to do with your dog this summer? Why not check out these exciting dog sports, writes Kylie Baracz.
Dog sports have been on the increase these past few years, with new ones gaining popularity just about every season. Here are our top-five dog sports that are perfect for the warmer months.
DockDogs
DockDogs is an incredibly fun new sport for owners, dogs and spectators. It is a fast paced, high-flying sport that is open to any breed and mix aged over six months.
Rob Wainhouse from Sydney City DockDogs says, "There are three disciplines in DockDogs worldwide but here in Australia, as the sport is so new, we are just competing in Big Air, which is like long jump for dogs. They race down a platform (dock) and leap as far as they can into a large pool of water."
This fun water sport was first introduced to Australia at the Purina World Dog Games in 2009. Since then, David Graham, better known as Farmer Dave, from the Australian Canine Sports and Training Centre (ACSTC), has been conducting training courses for people in Sydney to bring their dogs to. There have been clubs formed across the country and competitions have been held at the centre in Sydney, at Gold Coast Pet Expo and at Canberra Royal in the last 12 months.
"The dogs love it," says Wainhouse. "The dog and handler (team) are the only ones on the dock at any one time so reactive dogs can focus on the excitement of the toy and learn in this high-energy environment to focus and ignore distractions. The dogs are landing in a body of water so there is no chance of impact injury. Swimming has many health benefits, especially for older dogs that still have the drive for sport but their bodies need less stressful activity. DockDogs is a sport recommended by veterinarians and, of course, it is so much fun."
So is this fun water sport suitable for all dogs? According to Wainhouse, any breed and mix can do dock diving, but the most important behaviour they need to start with is toy drive. "Toy drive is the key motivator for the dog as it's all about getting that toy (and a love of water helps!)," he says. "There are different categories so even little breeds can become champions of their divisions."
Treibball
Originating in Europe, Treibball is a new dog sport where the dog gathers and moves a "flock" of large balls. Typically, the balls are heavy-duty inflatable exercise balls that can range from 45 to 75cm.
"Similar to herding livestock, the human part of the team directs the dog in pushing the balls to or through the course toward a goal," says Wainhouse. "This sport was originally developed for herding breeds but all breeds have the instincts to chase and gather."
Agility
Agility has been around for quite some time. It is a team sport where you are in charge of the strategy and your dog is responsible for the athleticism.
Dogs leap over hurdles, power through tunnels, zip through a slalom of upright poles and scale ramps of different sizes. "It is a balance of having control of your dog and its speed through the course," says Wainhouse. "Scoring is based on faults, similar to equestrian show jumping. A dog that completes the obstacles correctly within the set time will earn a Clear Round. Dogs earn titles when they achieve a set number of clear rounds."
Flyball
Flyball is a relay race between two teams of four dogs. Racing side by side, one dog from each team must go over four hurdles, trigger a flyball box pedal, catch (retrieve) a ball and then return over all four hurdles to the start/finish line where the next dog eagerly awaits.
Herding
Is your dog stalking other dogs at the dog park or herding the kids?
Herding is the act of bringing individual animals together into a group, maintaining the group and moving the group from place to place — or any combination of those. A herding dog is a farmer's assistant with working stock.
The future of dog sports
The list of sports or activities you can do with your dog is vast. Nosework, High Jump and Extreme Pull are some other examples. So will we see more dog sports in the future?
"I think responsible dog owners are looking at doing activities with their dogs other than just taking them for a walk," says Wainhouse. "For many years, traditional obedience and agility were the only options. Now, there are sports available for dogs of all shapes and sizes.
"Domestic dogs of today all have some instinctive behavioural traits that many of the newer dog sports enhance. It is not only enriching for the dogs but for their owners as well. Australians love their sport and dog lovers can participate in activities with their best friends.
"The dog-loving team at ACSTC want to encourage people to do something with their dogs. It builds the bond between animal and owner, is great for health and wellbeing and solves many behavioural issues. Your dog will love you for it!"
Want to try these sports?
Farmer Dave and his team show these incredible sports across Australia, from Queensland's far north to Melbourne and towns and cities between. So be sure to catch up with them at a show near you and learn how you too can turn your dog into a champion athlete.
For more information, visit lovesdogs.com.au or call 0403 332 264.
You need to look after your pooch's health - check out our all-new
DOGSLife Directory