June 16th, 2014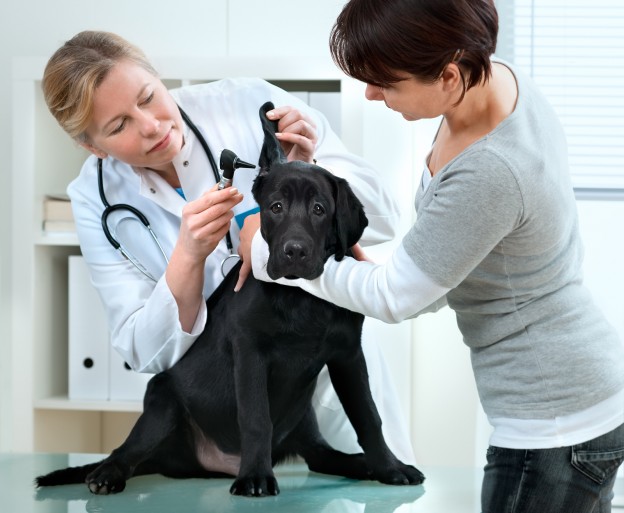 Whether it is your dog's first time or a regular vet check-up, a visit to the vet can be a daunting experience. Kylie Baracz discovers why they are crucial and how to make your dog feel comfortable.
Regular health assessments for our pets ensure good health is maintained and are essential for early identification of disease to give your pet the best possible treatment or management. Dr Nick Taylor, veterinarian at Greencross Vets, says these visits are so crucial, as the lifespan of a dog (comprising of youth, adulthood and senior years) is compressed into just 14 to 18 years. "Their youth is blindingly fast — around 11 months at most. Our dogs will spend only six years as an adult and if healthy, will spend an additional seven plus years as a senior pet."
Unfortunately, disease in all its forms also runs a quick course. Initially, some diseases may be so subtle that only careful clinical examination and investigation may identify it. Often, vets will discover serious illness developing in seemingly healthy dogs during their annual vaccinations or even something as routine as a nail clip. "As with our own health, it is no surprise that early identification and treatment gives a better chance of a cure, health management and a longer quality life," says Dr Taylor. "We know this is the case for our own health, and of course, it is the same for our pets."
Dr Taylor says regular check-ups provide pets, vets and owners with a framework to ensure they can monitor disease prevention. This includes maintaining a vaccination schedule, heartworm and other parasite prevention, as well as making sure to visit the vet for twice yearly physical exams to ensure your pet is healthy and stays healthy.
Your first visit
You've finally made it to the vet after the drama of packing the new pooch into the car. So how do you make sure your dog feels comfortable during the first visit? There are a lot of simple ideas to help dogs feel more at ease at the vets, especially on their first visit, says Dr Taylor. "With puppies, I always make a big effort to ensure they have a positive experience with lots of fun interaction and opportunities to explore the consult room. I always focus on educating new owners about their responsibility as a new pet parent in the first visit," says Dr Taylor.
"I then conduct a thorough health check of the puppy and explain what I am checking to the new owners so they learn about the many facets of their puppy's health. I try to avoid undertaking any activities that may cause the puppy to start any lifelong association between me and the dreaded injection! This is done with plenty of treats and positive rewards. The first and subsequent visits help puppies (and indeed a lot of dogs) start to build up more positive associations with the visit to the vet."
Some other handy tricks of the trade include Adaptil collars, which help to reduce anxiety and keep puppies calm. "Adaptil collars are useful for their transition into a new home and life, and also aid in their relaxation at the vets. I also use the Adaptil Dap diffusers throughout the clinic to help spread these pet-soothing pheromones around the whole building," says Dr Taylor.
For some adult dogs, fear of the vet is an entrenched dilemma. This is the case whether it is their first visit to a new practice or visit number 600 at their regular vet. "For these old souls, I work with owners to be proactive. Give your vet a call and let them know that your old boy is nervous and sometimes goes to water on the weighing scales — we are here to help! We can schedule your appointment during quieter times or arrange for a longer appointment to help to ease your dog into the visit," says Dr Taylor.
"Let us know what he likes and, particularly, hates to have done to him. I can offer a few treats and then let the dog settle on their own, while I have a chat to the owner about any concerns. Once the dog is settled down, I'll quietly sit down next to them and slowly start the exam. There is no one trick that will always work but there are heaps of things we can do to help ease the situation! At all Greencross Vets, we encourage you to drop in if you are passing by on a walk, weigh your pet and give them a treat. You can often see the way your dog relaxes once they realise they are heading back out with a pat and a tasty treat — and no temperature taken or needles given!"
General vet check-up
Now that your dog is comfortable with the vet, what happens during a general check-up? "In short, nose to toes plus tail and everything in between!" says Dr Taylor. "First, I start with a chat about any concerns the owner may have and note those concerns. We will check to make sure the dog is getting all the disease prevention that is required at home, such as tick and flea treatment and worming and heartworm treatment. I spend a lot of time finding out how and what owners are feeding their pets because good nutrition is the backbone of good general health."
A weight check forms an important part of the health exam as obesity is one of the most common diseases vets see in adult dogs. "Your four-year-old Labrador isn't growing anymore, so if he is getting heavier, he is getting fatter! Additionally, weight loss can be an indicator of a number of subtle and insidious diseases in later life," says Dr Taylor.
Vets then work their way around the four legs and fur in their own way: they assess eye and ear health; look for dental disease; check the skin and coat for lumps, bumps, hair loss, dermatitis and parasites; check the heart, lungs and abdomen, and look, listen and feel for any abnormality. They will also check the nervous system and assess all the limbs, spine and joints. "Our findings will form the basis of a further discussion on how to maintain good health or perhaps how we might need to look further into detected health issues," says Dr Taylor.
Is it best to visit the same vet?
Your dog's regular vet will have the full history of your pet, however, the most important thing to note is whether you and your dog feel comfortable with your vet in the same way you might with your GP — they are, after all, there to help. "If you are not happy with your current vet, it is important to note that vets will all share (with your permission) your dog's medical history with one another to make sure that your pet receives good care wherever they may be seen," says Dr Taylor.
"Greencross Vets' central database means that if you happen to pop into Townsville on your trip from Tamworth, we will already know which tablets you left behind and can have them ready for you to collect. It may not be the same face you see (Greencross Vets have nearly 100 veterinary clinics throughout Australia), but the same standards of care are applied for you and your pet."
Healthy Pet Plus program
Greencross veterinarians have spent decades training to identify and defeat pet disease in all its forms. Their new program, Healthy Pets Plus, is a comprehensive health plan for pets that allows vets to practice preventative wellness and reward owners for providing the best care for their pets with significant cost savings. The program makes taking care of pets easy for owners and vets. Your pet benefits from an annual vaccination, health screening and blood testing plus substantial discounts on the food and parasite prevention you are already buying. In addition, your pet receives discounts on other goods and services for those situations where a little fine-tuning is required.
Another benefit is free consultations. If you are concerned about your pet's health in any way, your local Greencross Vet will arrange an appointment immediately and the consult is free. "It is wonderful program bringing real benefit to pets and owners and as a vet, I am proud to offer it to my clients. I genuinely hope everyone gets on board," says Dr Taylor. The Healthy Pets Plus membership is valid at all Greencross Vets in Australia — in case Fido needs a vet while on holidays!
You need to look after your pooch's health - check out our all-new
DOGSLife Directory