August 21st, 2008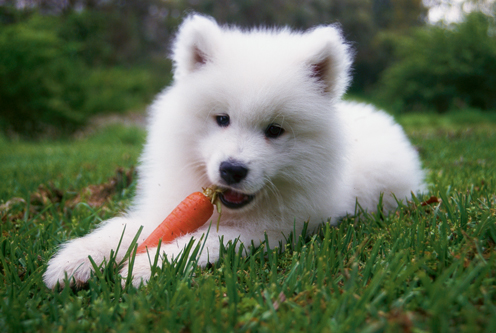 Nadia Crighton takes a brief look at the benefits of supplements for your dog in terms of health and vitality.
Our pets seem to share in our busy modern lifestyles. Today more than ever, dogs, like humans, are suffering from conditions brought on by this modern world. What with missing trace elements, a touch of stress and environmental factors, our dogs are developing skin and coat problems, lack of energy or vitality and digestive upsets.
With our love for our pets and the place they share in our homes, its only natural that we strive to give our dogs the very best in life. And because of this need, the pet shops and local veterinarians are stocking up on supplements that can add that extra boost to your pooch's diet.
Renowned dog behavioural therapist John Richardson (aka the Dog Whisperer) has been involved with dogs for most of his life and has personally seen the difference supplements can make to the health of an animal.
For many years now, we humans have consumed an ever-growing amount of supplements for perceived enhancement of our health, so now its almost the norm for most of us to take some type of supplement, Richardson said.
However, the experts tell us that providing we eat all the correct foods, making sure we receive all the necessary nutrients, supplements are of no value to us and that's probably true in a perfect world.
Richardson also pointed to our increasingly busy lifestyles for the lack of human nourishment, which can also be true of our dogs.
I feel its exactly the same for our best friend, he said, smiling. So I personally believe that supplements can help us look after our little darlings health.
Richardson also recommended our dogs eat a good quality diet that contains all the necessary nutrients and occasionally supplement them if the need arises to ward off any nasties.
We must always try to give our doggies a good quality diet that contains all the necessary nutrients, plus supplements from time to time if we feel they are needed, to ensure our dogs immune system is working at optimum and their system is strong enough to ward off invaders such as fleas or ticks, or disease.
Natural remedies
Richardson shared one of his natural remedies for warding off fleas that he uses on his darling dog Whisper: garlic for fleas and allergies.
As we know, fleas can be a troublesome parasite causing our doggies a lot of discomfort and misery, not to mention a risk to their health generally. I have experienced this type of problem with my own dog, Whisper, and have tried several recognised commercial treatments with varying success.
He found the best results in using garlic, which is a natural antibiotic. Kyolic Garlic Supplement (which comes in liquid or tablet form) is one such supplement on the market.
For a small dog, the dose is half a teaspoon (liquid) three times per day for seven days. The dose can then be reduced to half a teaspoon once per day throughout the flea season.
For medium dogs the dose is one teaspoon (liquid) three times daily for seven days, reducing to one teaspoon per day for maintenance.
Large dogs will require one tablespoon three times daily for seven days, reducing to one tablespoon daily for maintenance.
However, Said Richardson, its generally a good idea to introduce this supplement by initially using a smaller dose to ensure that the product doesn't disagree with your dog. I also treat my dogs environment with an appropriate spray.
All about ingredients
You'd be amazed at the amount of research that's gone into some products. Today, many products have been proved to add a certain something to your dogs world, from helping with arthritic pains and aches to adding a new dimension to your dogs coat the list is endless.
Rodney Gooch, dog salon and training school owner, was also driven to develop his own range of products because of the demand for better health in our pets.
Naturally, it follows that much of the same well-being information also applies to our pets and they can also suffer from a lack of nutritional goodness in their food, Gooch told Dogs Life.
For example, have you ever seen a dog struggle to jump in and out of a car or perhaps a dog with poor skin or coat condition? How about a dog that's lethargic, with no energy?
It may be simply that these dogs are lacking in some key vitamins or minerals. They can't tell you when they feel they're lacking something so its up to the owners to observe their pets and do regular checks to ensure they're well.
But how can you be assured the product and the ingredients it contains work? Its simple! Like choosing a dog breed, its as easy as doing a little homework and researching the ingredients and product carefully.
Sadly, the fact is that there are also as many bad products as there are good. The Australian Pesticides and Veterinary Medicines Authority (APVMA) is the governing body that protects consumers against any bogus products sold under the veterinary medicines code in Australia. It has a mountain of information on products and ingredients that can help you decide if the product is right for your dog.
The APVMA also registers many of these products. Registered products have been scientifically securitised to work for the conditions stated on the pack. However, some ingredients (especially supplements) are exempt from this registration, so if the product doesn't contain a registration number it doesn't mean it wont work it just means you need to do a little more research.
If the product doesn't contain an APVMA number, its best to contact the manufacturer and ask for their scientific findings. You can also try searching on the web in regard to ingredients, but beware: don't rely on testimonials and remember that overseas products aren't necessarily registered.
Chat to the experts and manufacturers and, most importantly, ask your vet for advice. If they're unaware of a product, many will ask around to see if anyone has seen any results. Also, remember that outcomes will vary from dog to dog.
So, before you spend thousands on your dogs health, be sure the product and its ingredients are safe for your dog and have some scientific backing in what they claim to do. Check out an article on the APVMA for more information.
Interesting ingredients
Omegas 3 & 6 These fatty acids are an important part of a dogs daily diet. Omegas 3 and 6 assist with coat condition and general maintenance of health and wellbeing. Many have seen some benefits with their pets allergy concerns, kidney problems, arthritis and even cholesterol. These fatty acids occur naturally in fish and seeds; however, many doggy supplements contain good levels of these oils that are lacking in some dog foods. Omega-3 fatty acids, broken down to eicosapentaenoic acid (EPA) and docosahexaenoic acid (DHA), come from fish such as trout and salmon. Omega-6 fatty acids broken down to linoleic acid (LA) and gamma-linoleic acid (GLA) come from seed oils such as blackcurrant and evening primrose.
Kelp This edible seaweed is contained in many dog supplements. It assists detoxifying, coat management and balancing nourishment. Kelp and many sea minerals are very popular in dog foods and treats and are a healthy way to add a little something to your dogs diet. In some doses it contains more than 60 mineral and around 21 amino acids. Kelp is a rich source of amino acids and trace elements, making it a good additive for promoting health and vitality.
Chlorophyll also assists with detoxification and acts as a blood cleanser.
Acidophilus is well known in promoting good bacteria flora in the stomach. This is also true for dogs and can assist your dogs system, especially after vaccinations, worming or flea treatments. It can also help prevent bad breath and aid the absorption of calcium.
Garlic can help build up your dogs immune system. Many have seen success in helping with problems such as fleas.
Why supplement Your Dog?
There is much scepticism in regard to supplements and dogs, but according to an ever-growing volume of research it seems there's a place for supplements in everyone's home. Whether for promoting general health or wellbeing or treating your dog for a specific problem, these nutritional additives can be of great assistance alongside your dogs healthy diet and exercise regime.
Gooch agrees: Its well documented that we as people don't get all the nutrition we require from food and we turn to multi-vitamins and supplements to improve our quality of life, not only for now but also for longer-term benefits.
Research is your best tool as well as asking the right questions about the supplements you're using. Its always best to stick with specially formulated dog supplements as the quantity has been correctly measured. And before adding any new supplements to your dogs diet, always check with your vet.
You need to look after your pooch's health - check out our all-new
DOGSLife Directory