June 19th, 2008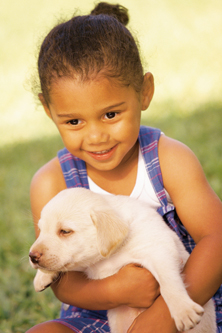 Puppyhood is one of the most crucial stages of your dog's life.  Eliza Tickle caught up with animal experts for the latest tips and advice on puppy care,  keeping your new puppy happy and healthy.
Caring for a puppy can be a lot of hard work, but its also a very exciting and rewarding experience. Owners must be prepared to provide all things necessary for their pups good health and wellbeing. Getting a new pup is a 10-to-18-year commitment that will stay with you for the rest of your life.
Physical fitness and health checks
Most breeds have one or more inherited disorders, says Dr Carl Muller of Prahran Veterinary Hospital. There are a multitude of inherited diseases and breed-inherited pre-dispositions. Some of these problems are evident on examination in puppies, such as Collie Eye; others may not show up until later in life, like cardiac disease in Cavaliers.Puppies should be taken to their veterinarian for a complete health check at six to eight weeks of age, as this is the time of first vaccinations, Muller says. A complete examination is performed at this stage, Muller says. During this visit, the vet will examine a puppy's eyes, ears, nose and full body. The vet will also recommend an appropriate vaccination, heartworm and worming routine upon first visit.
Desexing
Prahran Veterinary Hospital recommends desexing in both male and female dogs. While dog shelters are advocating very early desexing at two months of age, this is not our recommendation, Muller tells Dogs Life. The optimum age for desexing to take place is five-to-six months, he says.
Puppy vaccinations
The primary diseases puppies should be vaccinated against are:
Distemper
Hepatitis
Canine kennel cough
Bordatella
Parainfluenza.
Puppies should start receiving vaccinations at six to eight weeks of age, Muller says. At six to eight weeks, the puppy will receive Protech C3, which covers distemper, hepatitis and parvovirus. Then, at 12 to 14 weeks, it will receive ProtechC3 and Intranasal Bronchoshield, or kennel cough, says Muller. From then on, puppies should receive boosters annually.
Heartworm injections and prevention
Heartworm prevention is essential for all puppies, as heartworm infection will lead to serious, life-threatening cardiac disease.
Worming and flea control
The most common worms affecting dogs in Australia include roundworm and hookworm, as well as whipworms and tapeworms. Worming is necessary for all puppies, as worm infestations can cause ill thrift, cachexia, poor growth, gastrointestinal disorders and vomiting, diarrhoea and poor appetite.
Mental fitness and socialisation
Puppies are young and learning all the time, so we need to teach them rather than let them teach themselves, says animal behaviourist Dr Joanne Righetti. The first couple of months of life are vital in your puppy's development. Chat with your family about what you expect from your puppy and have realistic expectations, Righetti says. For example, at eight weeks of age, a puppy wont be fully toilet-trained. You need to be realistic.You also need to be consistent when training your puppy at home, Righetti says. For instance, a husband may want a puppy on the bed, while his wife wants the pup on the floor. Be consistent with expectations of your puppy.Puppy preschools are also an option.
Diet and nutrition
A puppy's diet must be nutritious and provide for the pups special requirements, as well as being palatable and easily digestible. A balanced diet is essential for puppies to ensure normal, healthy growth and to allow for optimum, potential size at maturity to be fulfilled, Muller tells Dogs Life. The breed of puppy is indicative of what type of feed is required. For instance, large breeds and rapid-growing pups require a different diet in terms of ingredients and amount. Pups should be fed at regular intervals, starting at three times daily. Ad lib dry food left out is not recommended. Food should be at room temperature; not too cold or hot, he says. There is a considerable range of opinions on what is best to feed pups. Good-quality puppy dry food and good-quality canned foods, with the additions of raw meaty bones, is probably best. Sudden changes in foods are not recommended.
Toilet-training
Always be one step ahead of your puppies when toilet-training, and be sure to take them out at regular intervals, Righetti advises. Take your pup out after they have eaten, slept, rested and after each play session, Righetti says. Each 30 minutes, the puppy should be taken outside, wait five minutes for it to do their business, then go back inside.Positive reinforcement is the key to toilet-training, Righetti tells Dogs Life. Heavily praise the puppy in a positive, enthusiastic tone of voice after they have been to the toilet, but don't use too many treats in this process.
Toys, tricks and games
Safety is a major concern when it comes to selecting appropriate toys for your new puppy. There is no such thing as a totally indestructible puppy toy, but most toys are relatively indestructible. Avoid toys with little eyes and buttons and those with sharp edges. Dog owners should be careful to select toys, snacks and chew products that puppies cannot choke on. Choose products that will easily dissolve in the stomach, are gentle on the gums, will not break the teeth and will not lodge in the puppy's throat, Clarke says.
Puppy checklist
What your puppy needs most is you a responsible pet owner. But there are also lots of other things your pup needs. Sydney animal behaviourist Dr Joanne Righetti lists the necessities of a puppy at home:
Food and water bowls: Look for bowls that are wide and low or those with a weight in the bottom. These bowls are harder to tip over and wont move around on the floor. Dishes should be sturdy and cleaned regularly, and fresh water provided at all times.
Toys: All dogs must chew, especially puppies. Choose toys that have no sharp edges, small eyes, buttons or other small parts that your puppy could potentially swallow or choke on.
Baby gates: Gates will help keep your puppy contained in a particular area of the house.
Bedding: Beds are a luxury for puppies. Provide blankets for warmth, but remember your pup may chew them! The bed should be sturdy and large enough for the pup to stand up, turn around and lie down in. Puppy hot-water bottles or puppy heat packs are also available to help your pup settle into its new bed. Check that the water is not too hot and make sure the water bottle is always covered. Try moving the hot-water bottle to different sides of the bed each night.
Collar and lead: Start off with a light lead and then move on to a stronger leash as your puppy gets older. Choose a lead that will be easy on your hands. You should be able to fit two fingers between the collar and your dogs neck. Wearing collars and leashes should be a positive experience for your puppy.
You need to look after your pooch's health - check out our all-new
DOGSLife Directory