May 7th, 2008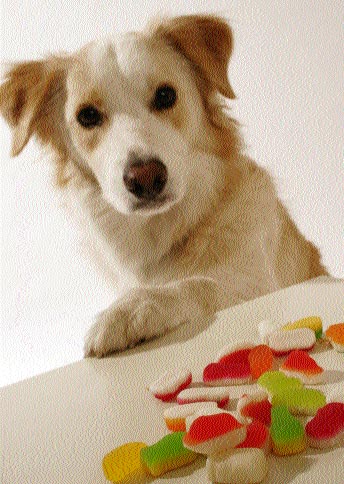 Pet food manufacturers insist the preservatives added to pet food "ensure product integrity and stability". Veterinary experts argue they are harmful to pets. Caroline Zambrano investigates the controversy over preservatives in dog food.
Dogs Life decide to take a sneak peek into the controversy surrounding preservatives in dog food. We interviewed veterinary professionals, dog owners and industry representatives from all over the world about this contentious issue, which has raged for more than 40 years.
One veterinary expert who has dedicated her career to small animal nutrition is Dr Lisa Freeman, a veterinary clinical nutritionist at Tufts University School of Veterinary Medicine in the United States and who happens to be one of the nations only veterinarians to be board-certified in clinical nutrition.
Dogs Life contacted Dr Freeman, who wrote an article published in the American Kennel Club (AKC) Gazette (Feb 1998 issue) called "Dog Food Preservatives: Friend or Foe?" The article created great interest among breeders all over the world, with many still presenting copies of the original article on their websites.
Dr Freeman wrote that preservatives are blamed for causing cancer, kidney disease, pancreatic disease, allergies, hair loss, blindness and immunodeficiency in our pets. Preservatives ensure pet foods keep their long shelf life by preventing fat and other ingredients in the food from oxidising (spoiling), which makes the food not only taste bad, but also unsafe to eat. Canned food requires fewer preservatives than dry food as it is protected from oxidation by its airtight storage.
According to Dr Freeman, pet foods are preserved with either natural or artificial preservatives. Natural preservatives include Vitamin C (ascorbic acid), Vitamin E (tocopherols), oils, rosemary, clove or other spices, just like it was used to preserve foods thousands of years ago.
However, she goes on to state that studies show natural preservatives are not as effective as the artificial ones so foods naturally preserved must be consumed within four to six months of the date of manufacture.
Synthetic preservatives are known as BHA (butylated hydroxyanisole), BHT (butylated hydroxytoluene), propyl gallate, propylene glycol and the one that leads the hot debate ethoxyquin. The most common preservatives used in pet foods are BHA, BHT and ethoxyquin.
Are they harmful?
Dogs Life got in touch with Dr Tomoyuki Shirai, chairman of the Department of Pathology at Nagoya City University Medical School in Japan, who revealed the results of a recent study done on rodents to determine the toxicology of BHA, BHT and ethoxyquin.
"Certainly ethoxyquin, BHA and BHT are carcinogenic in rodents only at very high doses. However, extensive studies revealed their carcinogenicities are specific to rodents with no relevance to human beings," Dr Shirai said.
Although this study was not conducted on dogs, the results still prove the preservatives are harmful. Dr Shirais study showed ethoxyquin significantly increased the incidence of stomach tumours and colon tumours, enhanced bladder carcinogenesis and pronounced kidney carcinogenesis.
The study revealed that BHA caused carcinomas in the stomach of the rodents and enhanced cancer of the stomach and urinary bladder. BHT was found to promote cancer of the urinary bladder and a possible thyroid cancer. To find out how these preservatives can affect canines, Dogs Life sniffed around the US Food and Drug Administration and discovered a toxicity study was done on dogs 50 years ago. The company that performed the study stood by its findings 25 years later, even after an FDA review found no threat of ethoxyquin to animals.
Ethoxyquin was first formulated as a rubber stabiliser in the 1950s by Monsanto, a provider of agricultural products and services in America. Ethoxyquin was later refined for use as a preservative in animal feeds.
In the early 1960s, Monsanto conducted the "Five Year Chronic Toxicity Study in Dogs" which revealed disturbing evidence about the toxicity of ethoxyquin. In fact, a company spokesperson said during a TV interview with the Canadian Broadcasting Corporation in 1990 that they stand by the results even after 30 years. (Copies of this study are available from the US Food and Drug Administration through the Freedom of Information Act.)
American June Wholley, an owner of German Shepherd dogs for 34 years, remembers the CBC interview well as she was part of a national organisation, called the United Animal Owners Association, formed in 1991 to specifically find out if ethoxyquin was harmful or not.
"We gathered information for many years from pet owners, breeders, vets and anyone else who was willing to share," June told Dogs Life in a phone interview from her Massachusetts home. In fact, her own German Shepherd, Steiger, suffered from skin problems, anal gland infections, ear infections, ear inflammation and eye discharge year-round. "He lived on various antibiotics and other drugs for itching and scratching for the first six years of his life," June said.
In 1990, her vet wanted to remove Steigers anal glands because the infection would not clear up.
"I got very serious about his diet at this point especially with the new information I was finding out about what is in pet foods," she said. She began with a basic homemade diet, which her vet warned her against, saying it would end up killing her dog, but in a very short time Steigers skin and anal glands cleared up and his ear infections went away. He wasnt cured, June said, but he never took antibiotics again. His preservative-free diet and exercise kept his condition under control.
Now June is very dedicated to her German Shepherd, Roman, feeding him food she formulated specifically for the breed.
Common sense
Looking back at the data that UAOA members collected, June said its impossible to deny that ethoxyquin is detrimental and common sense would dictate the removal of this antioxidant from pet food.
"Common sense, unfortunately, is not a great motivator profit margin is," she said.
During the media debate over the issue, June even received a death threat from an anonymous caller. The FDA responded to heavy publicity on ethoxyquin by releasing a statement in 1989 that said their review found no adverse health threat from ethoxyquin. In Feb 1993, the UAOA petitioned to the FDA to ban ethoxyquin from dog food products. June said the FDA responded six months later with a letter stating, "the study was found to be deficient to establish the safety of ethoxyquin" in dog food.
Then, in 1997, the FDA released a statement requesting pet food manufacturers to reduce the levels of ethoxyquin in dog foods. This came after completing a scientific review of a voluntarily submitted study from the Monsanto company, that found "the level of ethoxyquin may not provide an adequate margin of safety in lactating female dogs and possibly puppies". Before, ethoxyquin was allowed at levels up to 150 parts per million (ppm) in complete dog foods, but now the amount must be a maximum level of 75 ppm.
In Australia, some veterinary experts are also concerned about the levels of preservatives in pet food. Dr Mandy Finnimore, veterinary presenter for Brisbanes Channel 9 lifestyle show Saturday Afternoon and owner of Anstead Veterinary Practice in Queensland, said not all commercial foods are bad, but she is troubled that many of them do contain artificial preservatives.
So why do some vets recommend pet foods that contain these preservatives? These vets assume the food is superior because that is what they are told, Dr Finnimore believes.
"If vets do their homework or are pressured by their clients to do their homework before recommending or supporting particular brands, our pets will benefit," she said. "It takes an effort to keep up with the latest information on pet nutrition. Its just a matter of looking for and supporting those foods that are really better for pets."
The same goes for dog owners. June Wholley wishes she had the Internet when she began doing research 30 years ago. There is a lot of information out there, she said. "My advice to pet owners is read, read, read and find out what you are comfortable with what makes sense or seems right for you and your pet."
Dr Finnimore advised dog owners who are concerned about preservatives to avoid pet foods containing BHT, BHA and ethoxyquin.
"Look for foods that are naturally preserved with Vitamin E or added herbs," she said. "Tinned foods usually have less preservatives as the canning process is a way to preserve foods in itself."
Dr Finnimore also stressed the importance of avoiding all sulphur preservatives, especially in cat food, as it will interfere with the absorption of the essential amino acid taurine which cats can't produce themselves. Sulphur can be written in many ways: nitrates, nitrites and the preservative code range in the 200s.
What about the companies?
Veterinary experts, researchers and dog owners have argued their point, but where do pet food companies in Australia stand on the issue of preservatives? Dogs Life contacted the Pet Food Industry Association of Australia (PFIAA), which is a self-regulatory body that started in the late 1960s and promotes prepared pet food as the preferred method of providing the nutritional needs of pets.
PFIAA Executive Chairman John Aird said preservatives, when used, are added at very low levels in the product and they are available in varying forms.
On behalf of the members, Mr Aird also released a statement that says: "All PFIAA members review their products and processes to ensure the products maintain quality and stability to ensure the product meets the needs of our customer, your pet."
According to a PFIAA report on "Preserving Palatability and Maintaining Nutritional Integrity", "Despite poor consumer perception, preservatives such as antioxidants and mould inhibitors are essential to maintain optimal product performance in terms of shelf-life, palatability and nutritional integrity of ingredients and finished diets. If consumers were more aware of the health consequences of feeding a non-preserved diet, the word preservation may eventually be replaced with nutritional conservation, a far more consumer-friendly term."
However safe pet food is currently claimed to be, Mr Aird said he sees a trend in companies manufacturing more natural products or foods with less preservatives.
The New Zealand Petfood Manufacturers Association also released a statement to Dogs Life about the importance of using preservatives in dog food. The letter said when preservatives are used in pet food, they are added at "very low levels and only to maintain quality, nutritional integrity and stability of the product in order to offer customers safe, palatable and nutritionally sound products."
The Associations secretary, Richard Brake, explained that the use of any additive in New Zealand is strictly controlled by the Agricultural Compounds and Veterinary Medicines Act 1997, which allows the use of additives only if they have been investigated and found to be safe.
Approved additives and any limit on their usage rates appear on the GRAS (Generally Regarded as Safe) list maintained by the NZ Food Safety Authority. It is illegal for any pet food operator to use any additive at variance to the requirements of the GRAS list, Mr Brake said.
Your choice
Pet food companies say their food is safe for your pet because the preservatives are added in very low quantities and keeps the food from spoiling. But if you are still concerned with the kind of preservative used in pet food, Dr Finnimore suggests examining the label carefully.
Mr Aird explained that labelling guidelines in Australia are regulated at three levels: state government level (such as the Department of Agriculture in NSW), the Australian Pesticides and Veterinary Medicine Authority and the ACCC (Australian Competition and Consumer Commission) Trade Practices Act.
Dr Finnimore said the controversy about preservatives being harmful or not will continue until it is proven either way. "Meanwhile, don't use it just in case. It takes away the worry over it," she said.
References
Pet Food Institute www.petfoodinstitute.org
Australian Pet Food Association www.pfiaa.com.au
New Zealand Pet Food Manufacturers Association www.petfoodnz.co.nz
Animal Protection Institute www.api4animals.org
NZ Food Safety Authority www.nzfsa.govt.nz
Australian Pesticides and Veterinary Medicine Authority www.apvma.gov.au
US Food and Drug Administration www.fda.gov
You need to look after your pooch's health - check out our all-new
DOGSLife Directory