August 9th, 2008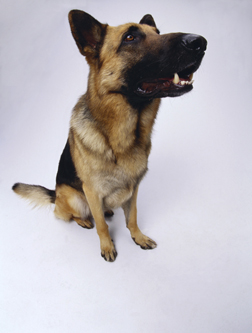 Melanie Hearse discovers the benefits of physiotherapy for dogs, which is rapidly gaining popularity, among other natural therapies, to ease many canine conditions.
While the UK is considered the pioneer of animal physiotherapy, since the 1980s Australia has rapidly been becoming the front runner for service provision, being the second country in the world to offer a masters degree in animal physiotherapy in 2003 through the University of Queensland.
With such a high-level qualification being offered by a highly regarded, reputable university (coupled with a steadily growing track record for successfully treating many canine complaints), it is little wonder this holistic health treatment is rapidly gaining popularity in the prevention, cure and rehabilitation of many canine conditions.
At the moment, a few canine physiotherapists are practising in Australia. Animal physiotherapist Kristine Edwards, who practises with business partner and trained veterinarian Dr Hendrika Tegelaar, has worked as a physiotherapist with people for 20 years and animals for the past seven. Edwards is currently completing a masters degree in animal physiotherapy.
Dogs Life caught up with Edwards to get the latest on physiotherapy for canines, although she does stress that physio, as well as other natural therapies, can work wonders on any animal including humans.
We approach health problems in a holistic fashion that takes into account the whole animal and its environment, rather than simply the disease process obvious to the eye, she says. Our goal is to assist your pet's own capacity to return to physical, mental, emotional and spiritual wellness.
What is physiotherapy?
According to the World Confederation for Physical Therapy, physiotherapy is the provision of services to develop, maintain and restore maximum movement and functional ability throughout the lifespan. Physiotherapy can be used when movement and function are threatened by the process of aging, injury or disease, and is concerned with identifying and maximising movement potential.
Physiotherapists use a wide range of drug-free techniques to relieve pain, restore function and movement, and prevent further problems, including joint mobilisation and manipulation, therapeutic exercise and stretches, electrophysical agents (such as hot packs, ice and ultrasound), soft-tissue massage and breathing exercises and techniques.
Edwards reiterates what other dog physiotherapists maintain. Dog physiotherapy treats the same issues as it does for humans back and neck pain, spinal complaints and problems or disorders within the joints. Basically, any kind of muscular, skeletal or neurological problem can be addressed with physiotherapy, she says.
The more common cases seen by canine physiotherapists are sporting injuries from dogs that injure themselves chasing a ball through to agility dogs sustaining injuries during training or competition. Injuries aside, physio can be excellent for safely conditioning dogs that are overweight, providing a low-impact, heart-friendly exercise and diet plan to get them back down to size.
Edwards says physio should be considered by owners of dogs that show signs of arthritis – the treatment is an excellent way to help dogs get back on their feet following most surgeries. Physiotherapy can be beneficial for dogs that have hip or elbow dysplasia, pulled muscles, disc prolapse or broken bones.
Would your dog need physiotherapy?
Your dog may benefit from physio if it:
is getting old or walking stiffly
is no longer able to jump into the car
has developed a limp
has had joint surgery
experiences difficulty getting up
has suffered a slipped disc
is missing a limb
How does physiotherapy work?
A large range of physio-based services are available for dogs. After a thorough assessment including an analysis of how your dog walks a physiotherapist will formulate a plan that may include massage, treatment with TENS (Transcutaneous Electrical Nerve Stimulation), magnetic field therapy, manual therapy, manual lymphatic drainage, cold or heat therapy, and muscle stretching.
The plan may also involve hydrotherapy, acupuncture, treadmill, advice on dietary supplements and general tips on how to help your dog.
A consultation usually involves assessment of movement problems, gentle joint mobilisation, stretches, massage, corrective exercises and other techniques like Reiki, trigger-point massage and myofascial release, Edwards tells Dogs Life.
Looking for a bit more information on some of the treatments an animal physiotherapist can offer? Here's the lowdown:
Hydrotherapy: Swimming in a pool under the guidance of a trained physiotherapist. Swimming is unique and extremely beneficial, combining joint range of motion, muscle strengthening, improved circulation and cardiovascular conditioning without weight bearing or loading of painful or healing structures.
Treadmill: Just like the gym for your dog, treadmill work is basically as it sounds, a prescribed exercise session walking on a custom-built treadmill machine, but with the additional benefit of being in the pool.
Trigger point massage: Trigger points are small contraction knots in muscle tissue that affect the muscle by keeping it both tight and weak. A trigger point will maintain a hard contraction on the muscle fibres that are directly connected to it. These taut bands of muscle fibre keep constant tension on the muscle's attachments, often producing symptoms in adjacent joints.
Just as physiotherapists do not perform the same services as your GP, they will not replace the services of a vet. Edwards encourages dog owners to see their vet for check-ups, vaccinations and other medical treatments. Physiotherapists will usually work cases.
When should treatment commence?
The short answer is immediately. Edwards is most emphatic on this point, stating that sooner is definitely better than later. After sustaining an injury, even a slight one, the muscles will go tight and the dog may also start to favour other limbs that are not sore. This will throw the balance out and will also aggravate the injury, she says.
So if you notice your dog is injured or you witness an injury, don't delay more than a day or two if you want to wait and see if any damage has been done in the case of a minor fall or bump. A qualified physiotherapist can watch the gait of the dog and is trained to feel for injury, even very small ones. The solution is then usually very simple and straightforward, as opposed to a long-term problem that been left to get worse over time.
In the case of physiotherapy after surgery, it is best to have a plan ready or have an appointment with the physiotherapist lined up. After surgery, it is good to commence rehabilitation as soon as possible, Edwards says. Therapies, such as hydrotherapy or using heat, can be hugely beneficial and begin the healing process quickly. We can then step it up as the weeks pass.
Physiotherapy straight after surgery is not to be feared it doesn't mean Fido will be up and running on the treadmill straight after the anaesthesia wears off.
Gentle movement often reduces pain early after injury or surgery. Physiotherapy techniques can actually stimulate healing and may reduce swelling or stiffness and prevent muscle wasting, or bone, cartilage or joint degeneration, Edwards explains.
Again, remember that physiotherapy is conducted in consultation with your vet. A reputable, trained physiotherapist will not work without your vets input, especially after surgery.
Clyde the Labradoodle
Clyde is a 10-month-old Labradoodle with congenital hip problems. He was recently bowled over at the park, causing his weak hip to shatter. Following a hip resection carried out by his vet, Clydes owners where keen to get him back on the road to wellness and possibly help his existing hip issues. They contacted physiotherapist Kristine Edwards to see if she could help.
We worked in conjunction with Clyde's vet, sharing notes and imagery from the X-rays to both form our ongoing assessments, Edwards tells Dogs Life. When Clyde first came to us, three weeks had passed since his surgery, he was only managing a couple of short walks a day, was limping throughout the walks and was not really improving. We examined him, watched his gait and looked through his notes. From there, we put together a plan.
Clyde comes in for two sessions on the treadmill each week, has acupuncture, massage and stretching of the limbs, as well as some hydrotherapy. We have also given him an exercise plan for home. He takes several short walks each day, Edwards says. The owners are really committed to following the program we have set, which does make a huge difference, and happily, in Clyde's case, this has paid off. The vet saw him two weeks ago and gave him the all-clear, on the proviso that he keeps it up.
You need to look after your pooch's health - check out our all-new
DOGSLife Directory