June 23rd, 2014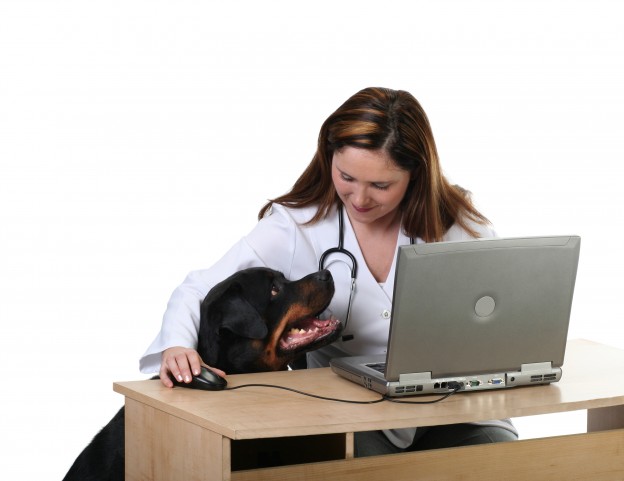 There's no denying we love our dogs. Unfortunately, when it comes to food we might be loving them a bit too much. Krissy Bradfield takes a look at the pet Nutrition Toolkit and investigates how it will help vets and owners.
It probably comes as no surprise that most dog owners are confused about canine nutrition. We're not sure what to feed our dogs, when to feed them and how much to feed them. If we hop online we're inundated with conflicting (even harmful) nutritional advice. And it's even worse when we step into a supermarket. We're practically assaulted with shelves full of dog food in tins, boxes, bags, sachets — wet, dry and frozen. It's little wonder that 40 per cent of Australian dogs are overweight or obese. Things need to change.
In 2011 the World Small Animal Veterinary Association (WSAVA) Global Nutrition Committee released guidelines to help veterinary teams and pet owners ensure pets are fed according to an optimal, individually tailored nutrition plan. Earlier this year WSAVA went a step further, releasing the Nutrition Toolkit to give owners and vets the tools to make smart nutritional choices. And the best part? These tools are available online for free.
Nutrition at the forefront
When you take your dog in for a check-up, your vet assesses your dog's temperature, cardio function, respiratory health and pain responses. WSAVA are campaigning to have a nutritional assessment included as the fifth vital assessment in a physical examination. And the recommendation is a popular one. As of late last year, veterinary teams in more than 80 countries across the world began using the Nutrition Toolkit to provide better care for canine patients and to convey more accurate nutritional advice to owners. So what's inside this toolkit? Let's take a look.
Body condition score
The first step is evaluating the dog's body condition. Owners can perform the body condition score to objectively gauge how much body fat their dog is carrying. They consult a chart featuring five illustrations of the five different body condition scenarios, which range from under ideal to over ideal. If the dog is carrying excess or insufficient fat, it can give owners the incentive to contact their veterinarian for advice.
Muscle condition
It's important for veterinarians to check muscle condition, as disease or ageing can result in muscle loss. Your vet evaluates your dog's muscle condition score by visualisation and palpitation of the spine, scapulae, skull and wings of ilia, and grades it as normal, mild loss, moderate loss or severe loss. WSAVA recommends using the muscle condition and body condition in conjunction to get an initial picture of a dog's health.
Short diet history form
Nutrition is the most important environmental factor to assess. The diet history chart gives dog owners a checklist of questions to answer about the quantity, type and brands of food, as well as exercise level. It's important to be specific, as this critical information will form the basis of any nutritional plan.
Nutritional Assessment Checklist
The Nutritional Assessment Checklist provides a more comprehensive study of nutritional factors and any observed abnormalities. It's completed by the vet team and used as a checklist to ensure they perform all nutritional screening.
Owner's resources
From the owners' point of view, the most important documents in the toolkit are The Savvy Dog Owner's Guide to Nutrition on the Internet and Recommendations on Selecting Pet Food. If you've ever jumped online for an answer to any doggy ailment, you'll know you're navigating in murky waters. It's hard to know which sites to trust. The Savvy Dog Owner's Guide covers everything from seeking out a source's credentials to being wary of anecdotal information. It also provides a list of trusted online sources that provide unbiased, scientifically sound answers to pet nutrition questions.
The Recommendations for Selecting Pet Food information sheet gives owners a rundown of what they should look for on dog food labels. It also helps owners take charge of their dog's nutrition by urging them to question manufacturers about their products. The more people ask about exact ingredients, feeding trials, nutritional analysis and quality control, the more transparent and accountable manufacturers will have to be. We want the best for our dogs and so do our vets. The only way to be sure we're providing the best is by making educated choices. The Nutrition Toolkit puts the power back in the owners' hands and helps veterinary teams re-establish themselves as a primary, reliable source of information.
Want more information about WSAVA's Nutrition Toolkit?
If you're not sure how to perform the Body Condition score chart assessment, WSAVA have made an easy-to-follow video available on YouTube. Visit the website for more information: wsava.org/nutrition-toolkit
You need to look after your pooch's health - check out our all-new
DOGSLife Directory