May 8th, 2015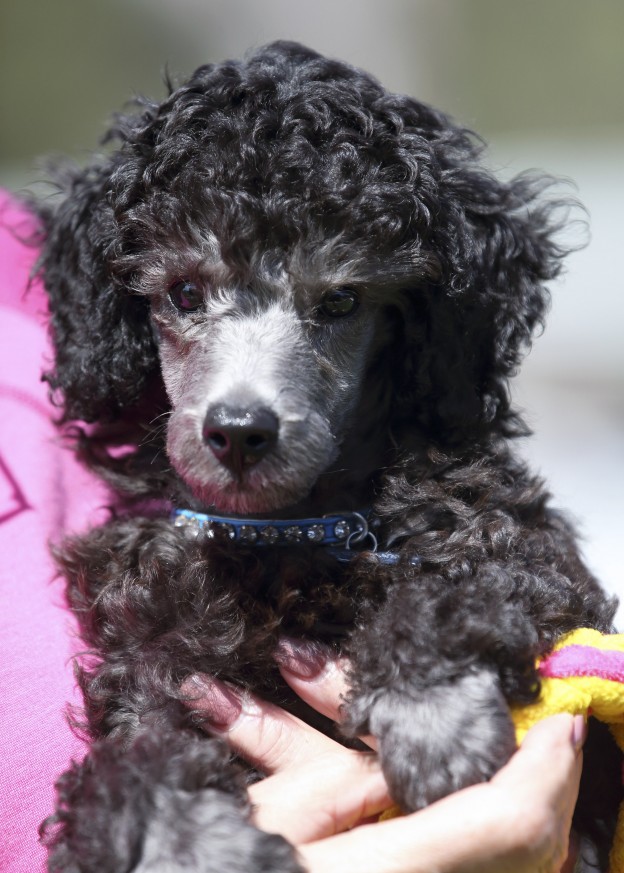 Kylie Baracz discovers how pet insurance can help owners overcome their dogs' health needs.
Chances are, over its lifetime, your pet will need at least one un-scheduled visit to the vet after a sudden accident or illness. Until this time, however, many pet owners will assume their pets will be healthy and safe.
This was the case for Bear, a plucky two-and-a-half-year-old Bullmastiff. For the first six months of his life, Bear seemed fit and happy. He did everything puppies do — eat, play, and sleep — until he developed a number of medical conditions. For the next two years of his life, he was in and out of the vet surgery with skin problems, gastrointestinal complications and lameness conditions.
Although Bear was healthy during the first few months of his life, his owner Katherine decided to take out pet insurance, just in case. Luckily for her, this policy helped her cover all his above ailments and even a recent foreign body obstruction procedure that cost almost $4000.
Katherine is not the only one glad she covered her pooch early. Veterinarians are also happy to see owners able to pay for advanced medical treatments, without being stuck with the financial burden.
"Pet insurance is definitely beneficial for both pets and their owners," says Dr Martine Perkins from the Pymble Veterinary Clinic. "It allows for decisions to be made based on best practice rather than what is financially possible."
Dr Perkins says it is a sad reality that many pets do not receive the best possible healthcare due to financial constraints of their owners.
"It does not mean that the owner does not love and care for their pets but there are often genuine financial issues which makes treatment impossible or at least not optimal. In some instances, as veterinarians we can get around this by helping people out with payment schemes and pensioner discounts, but it is not always possible to make the treatment affordable for a client."
Benefits
Dr Perkins is finding more and more people are aware of the benefits of pet insurance and compared to 10 years ago, a far greater percentage of her clients are insured.
"I find it often takes people one experience where they have spent in excess of $3000, or have owned a dog with a lifelong disease which over the years has cost them a large amount of money before they consider it," she says. "However, more people are aware of the benefits nowadays and are getting their pets insured as puppies before conditions are recognised and classified as pre-existing. This is a wise decision."
As mentioned, if you insure your pet at puppy stage, when there are little to no pre-existing conditions, you will get the most out of pet insurance over the lifetime of your pet. If your pet is insured after a condition has already presented itself however, unfortunately that condition will not be covered.
"Orthopaedic surgeries and advanced medical care for tick paralysis and other serious conditions such as pancreatitis often end up in the thousands of dollars, especially when 24-hour care is required," says Dr Perkins. "I think a lot of people are genuinely not aware of how much veterinary medicine has advanced and how much we can actually do for their pet these days. We are now doing chemotherapy, radiation therapy, and much more. All this comes at a price. The latest ultrasound, digital radiography, dentistry and surgical equipment all cost a lot of money to supply and maintain. Veterinary practices pride themselves on a high standard of care for your beloved pets and want to be able to provide you and your pets with an optimal service."
Dr Perkins says that there is no question that without pet insurance, people think twice about expensive or long-term treatment choices. She says that radiation therapy, chemotherapy and extensive 24-hour care to rehabilitate animals with severe conditions becomes almost unaffordable for most without insurance.
"Even just maintaining optimal care for an arthritic ageing pet or treating a long-term condition which requires a daily medication can add up to a considerable amount each year and can become unaffordable. Just like us, our pets are living longer and we are able to prolong and improve their quality of life with the right care. With pet insurance, this becomes more possible."
Limitations
At this early stage, there are still some limitations with pet insurance that we don't find with our own health insurance.
"Unfortunately, small visits for separate conditions are generally not covered as they rarely exceed the owner's excess," says Dr Perkins. "What this means is that if you come in to the vets for four different things throughout the year and each one was for a different problem, then each new problem requires you to pay the excess. In such cases, you may not benefit much from your insurance that year. Sometimes people find this frustrating. The good news, however, is that if that problem becomes ongoing or difficult to treat then you will not pay more than your excess ever, which is very reassuring.
"It is also a pity that some preventative health treatments are not covered. I would like to see dentistry and some prescription diets get more insurance cover to encourage people to treat these things more effectively. I would also like to see a more affordable cover for families with multiple pets."
Bear's sticky situation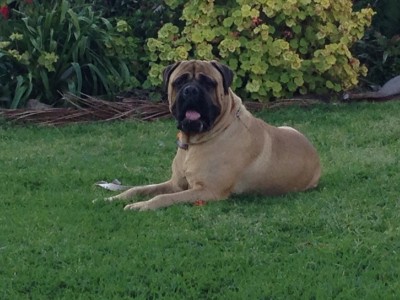 Not only has Bear the Bullmastiff had a few ailments over the last two years, he recently got himself in quite a sticky situation. While playing in the backyard, Bear decided to gnaw on part of a Glochidion Ferdinandi or Cheese Tree. His owner Katherine didn't know it at the time (and obviously neither did Bear), but the Ferdinandi tree contains a specific toxin that is highly poisonous to animals.
After vomiting all afternoon, Bear looked weak and seemed to be in pain. So he was rushed off to Dr Christine Griebsch at the University of Sydney Veterinary Teaching Hospital, where a series of blood tests confirmed that Bear was dehydrated, suffering from acute inflammation and had a serious liver abnormality. He was placed on supportive treatments and antibiotics, and observed closely overnight.
For poor Bear, things didn't initially improve, and it was beginning to look pretty grisly. He was still in pain the next day, and was spontaneously bleeding, and his legs were covered in bruises. He was suffering from a blood-clotting disorder and his urine was dark yellow. Bear was showing all of the classic signs and symptoms of acute liver failure, so he was put on a number of additional treatments including vitamin K, frozen plasma therapy, antibiotics, liver protectants and gastroprotectants.
While reviewing the abdominal ultrasound, Dr Griebsch discovered that Bear had a cyst in his prostate and an object in his stomach. Despite the fact that he was feeling well enough to eat some chicken, Bear had developed bloody diarrhoea and become anaemic — a condition caused by gastrointestinal blood loss and internal ulcers. With the situation getting desperate, he was treated with two blood transfusions and monitored closely over the next couple of days.
Finally, two weeks after he was admitted to hospital, Bear was fit enough to head home with a prescription and some serious TLC. The treatment worked wonders and he's regained both his appetite and the 2.5 kg he lost throughout the entire ordeal.
As you would expect, Bear's treatment was quite expensive. His extensive stay in hospital came to a total cost of over $28,500. Thankfully, Katherine's policy covered more than half of that amount, offering $15,000 worth of benefits to help cover the expenses.
"Having pet insurance meant that our entire focus throughout Bear's ordeal was to save his life and have him come back home," says Katherine. "We absolutely treasure Bear and would have been devastated to lose him. He fought so bravely to stay with us. We were very thankful to have had pet insurance. We'd recommend Pet Insurance Australia to our friends who have pets, and we recommend people take out the high cover, because when a major incident occurs like this, it is usually very expensive."
You need to look after your pooch's health - check out our all-new
DOGSLife Directory