October 30th, 2014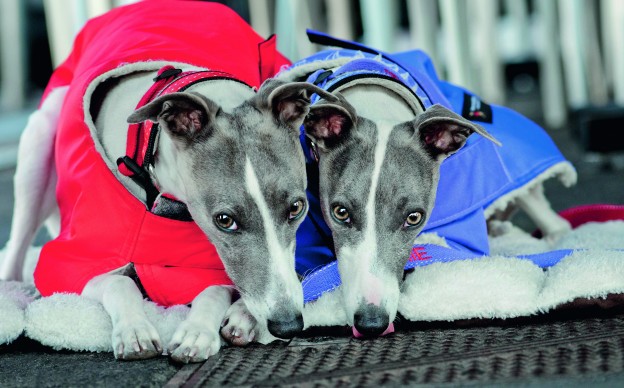 From coats to heating pads, Kylie Baracz discovers how keeping your dog warm in winter is crucial for their health.
Dogs may have made their way indoors, but do they still feel the cold like we do? Dr Martine Perkins, veterinarian at Pymble Veterinary Clinic, says although dogs can endure the temperature drop, they may still need extra warmth.
"Dogs can certainly feel the change in temperature with new seasons, however, it really depends on how the pet is housed throughout the year and whether it has a chance to be acclimatised to the change in temperature," says Dr Perkins.
"Dogs which are housed all year round outside are better able to endure the temperature changes as their coat undergoes the necessary changes to help deal with such weather conditions. The size and breed are also factors. Toy dogs do not cope with the cold as well as larger dogs and the heavy coated, northern breeds, such as Huskies, are more able to endure winter conditions."
There are breeds which also cannot cope so well with heat such as the short-nosed dogs (brachycephalic) such as pugs.
Dr Perkins says another thing to take into account is your pet's body condition. If they are underweight, they will feel the cold more. On the flip side, obese dogs are less able to cope with the warmer months. Your vet can give you a body condition score for your pet.
Dogs that are old or less than six months old are also more vulnerable to all weather conditions and this needs to be taken into consideration as your pet ages or if you have a new puppy.
"Really, the key is acclimatising your pet to any changes and allowing sufficient protection from wind and rain in winter and providing sufficient shade in summer," says Dr Perkins. "Enough food and water are also vital as dogs will require more water during the summer months and more food in the winter months. Their requirement for water is still high in winter, and in very cold climates people need to be sure that their pet's drinking water is not actually frozen! Fortunately, this is not such a problem in our Australian climate."
What happens to pets that are too cold?
The very young and very old dogs will suffer if not given sufficient provisions to cope with the winter months. Other pets which are poorly acclimatised may also be affected.
"Respiratory issues and arthritis are the biggest problems [in cooler months]. You may just think your pet is getting old when it stops moving around; however, it may well be that your pet is in pain," says Dr Perkins. "Being aware of arthritis in any senior pet over eight years of age is important and I recommend senior health checks with your veterinarian to discuss some of these issues."
How should you keep your pet warm?
The very best thing you can do to keep your pet warm is to provide it with sufficient shelter from rain and wind. A good sized, but not oversized, kennel is really important if your pet is going to sleep outside.
Dr Perkins says, "a snug kennel is far better than being put in a large cold room such as a garage. I recommend putting the kennel in the garage ideally, if you have such a space for your pet. The other factor is to make sure it is well protected from the wind. In extreme winter conditions, dog flaps on the kennel can also provide extra protection."
Some form of bedding and/or blankets is important also, but you need to make sure that your pet's bed is elevated off the ground a little. Regular exercise is also important.
"If you have a very young or elderly pet, then it may be best to bring them into a small room in the house such as a laundry, with a bed raised off the ground and with some extra bedding," says Dr Perkins.
Are coats and heated mats suitable for dogs?
Many of us love to dress our dog in coats and jumpers as soon as the mercury drops, but is this OK for our pet's health and wellbeing?
"Certainly coats and heated pet mats can be very helpful," says Dr Perkins. "Yes, we are humanising them to some degree, but such is the case when we have domesticated pets. If your pet suffers from arthritis or is particularly thin, then some form of extra heating may well be necessary to keep them comfortable. If they are less mobile or have less body fat, then they will need some extra provisions to keep them warm in a severe winter.
"In saying that, in Australia we don't really suffer from severe winters like the northern hemisphere, however, it is all relative and acclimatising your pet is the key. There are some great waterproof coats for dogs available which not only keep them warm but also dry. There is also a great range of heated pet mats which allow dogs to come and go to them as needed. These are a big hit with cats, also."
You need to look after your pooch's health - check out our all-new
DOGSLife Directory