January 16th, 2009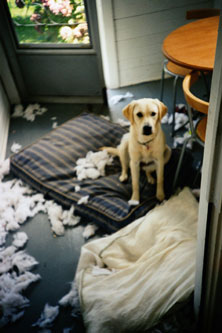 This article first appeared in the November/December 2006 issue of Dogs Life.
Christmas has arrived again and while its a time to celebrate, it can also be a time of grief, when unknown holiday hazards can cause harm to your pet. Michelle Minehan finds out how to keep your dog safe during the holidays.
The holidays bring decorations, Christmas trees and presents, but these joys can be hazardous to our pooches. Dogs Life spoke to health and animal welfare experts to find out what can cause harm to our pets during the holiday period.
The holidays are a time when almost everyones routine changes, and while this should be exciting and fun, we need to be aware of possible threats to our pets safety and wellbeing, Jane Speechley, RSPCA Australias Communications Manager, told Dogs Life.
In the first instance, make sure you include your pet in any holiday planning. This means either taking your pet with you or making arrangements for the care of your pet while you are away, said Speechley.
Its very distressing to receive a call on holiday telling you that your pet has been injured or lost, so make sure your pets accommodation is reliable, safe and secure, and also make sure your pets identification details (including ID tag and microchip) are up to date, she said.
Holiday food and treats
Jane Speechley from RSPCA Australia told Dogs Life that one of the simple pleasures of Christmas can prove very harmful to our pets and that is food!
From a longer-term perspective, pet obesity is a serious issue in Australia today and while its tempting to share those special Christmas treats with your pet, remember that human food generally isnt good for animals, she said.
Speechley explained that despite what dog owners may think, no pet is going to feel deprived if they miss out on rich and unfamiliar food! In fact, it can be quite the opposite, as some traditional holiday foods can be toxic or deadly to dogs. This includes chocolate, onions, and some kinds of nuts.
An occasional and appropriate treat is fine, she added. But when these snacks become too frequent and the animals normal food isnt reduced to compensate, your pet can quickly become overweight or obese.
This results in reduced quality of life and potentially serious health problems, so do your pet and yourself a favour and make sure you keep up your regular exercise over the holiday period to ensure you both enter the new year in top shape.
If you want to give your dog a treat, Speechley recommended good-quality packaged pet treats, lean meats, or a big juicy raw bone as the best Christmas gifts of all. Healthy and nutritious treats are a better idea that could save you a trip to the vet and a hefty bill.
Many an owner has gone to great lengths to ensure tempting treats, such as chocolate, are out of doggys reach during the festive season only to find that their sneaky pooch has located a wrapped box of chocolates under the tree and eaten the lot, she said.
Speechley explained that this can be very dangerous, especially for smaller dogs that don't need to eat a great deal of chocolate to feel the toxic effects. Its important to be extra careful and if the worst-case scenario does eventuate, contact your vet immediately.
Christmas tree and decorations
Christmas is also the time of year for presents, Christmas trees and Christmas tree decorations. While it can be loads of fun for the rest of the family, it is extremely important you're your dog is watched at all times around the tree as there are many potential hazards looming.
Supervise dogs very closely when Christmas decorations are on display, advised Speechley. The flashing lights and colours can be too tempting and you don't want to risk choking, injury or even electrocution from pets playing around with tree decorations and lights.
Its not uncommon for vets to see tinsel, string, yarn or even dental floss on a pets X-Ray, she added, but thankfully they don't see too many cases like this.
Prevention is always better than cure! she added.
Car accidents
Just like the RSPCA, vets also see an increase in furry patients during the holiday period. Dogs Life spoke to veterinarian Dr Anabel Howe about the different hazards that exist during this otherwise festive time of year.
There are generally more cars on the road and therefore we often see patients who have been hit by a car during the holiday period, said Howe. It is important that dog owners are aware of this and ensure dogs are properly fenced in.
Howe reminded Dogs Life that this also goes for holiday properties, as dogs can often attempt to escape because it is not their usual territory.
As Christmas in Australia is in the summer, many problems can arise while taking your dog on holiday with you. This includes paralysis ticks, which are most prone on the eastern seaboard of Australia.
Snakes, spiders and ticks
Snakebites and spiders are also an issue if you are taking your dog to the country or the coast, stressed Howe. Dogs also need to be given tick prevention if travelling to tick-prevalent areas.
If you are taking your pooch with you on holiday, it is important to note where your nearest vet is so in the case of an emergency, you do not waste precious time trying to locate one.
Howe advised that if you are planning to place your dog in a boarding kennel, make sure all of your dogs vaccinations are up to date as diseases such as kennel cough are a risk and most kennels will require a full, up-to-date vaccination record.
Christmas in Australia is hot and this means dogs will be susceptible to heat exhaustion, added Howe. This can occur quickly on a hot summers day and often with serious consequences.
To combat and prevent heat exhaustion from occurring, make sure your dog always has plenty of fresh, cool water available and avoid taking him for a walk during the heat of the day.
Most important, never leave your pet in the car, she said.
Howe also mentioned the effects different foods can have on our pooches and that this can be even more common at holiday time. Because of the warm weather, barbecues and gatherings are more common and there are important things to remember when including your pooch in the festivities.
Food and environmental hazards
Never feed your dog onions as they are toxic for dogs and in large quantities can cause serious illness, emphasised Howe. The same goes for chocolate as dogs cannot metabolise certain components in chocolate and can also become seriously unwell from chocolate toxicity.
Blow fish or puffer fish are also poisonous to dogs, so keep this in mind if you are travelling to the beach for your holiday.
Howe explained that with all these reasons combined, the Christmas period sees an increase in four-legged patients at vets and that the majority of cases are preventable if owners were more aware of the consequences.
Vet practices are generally busier during the summer holiday period because of all the reasons mentioned, and also because summer is fleas season, so flea-related problems are very common, said Howe. Late summer is busy because we see many new puppies abandoned at this time of year, so please think carefully before acquiring a new pet or giving one as a gift.
Christmas toys
Last but not least, Christmas toys can be dangerous as they are often eaten by dogs. From time to time, this causes intestinal obstructions so for the safety of your pooch, make sure your home is doggy friendly at Christmas take the extra precautions as it could save your dogs life.
RSPCA hints for a hazard-free holiday
Remember, you wont be contactable on your home telephone if you're away during the holiday period so make sure you leave current contact information with the person/professional service caring for your dog. Consider adding an extra holiday tag with alternative details to your pets collar while you are on holiday.
Sadly, the RSPCA has seen cases involving pets that have been neglected by someone the owner thought would care for their animals during their absence. Animals may become lost or injured if they are left in unfamiliar or unsecured surroundings and are allowed to escape.
If your pet has a taste for eating your garden plants, keep them away from the Christmas poinsettia! This can cause irritation to the mouth and stomach, resulting in nausea, diarrhoea and vomiting.
You need to look after your pooch's health - check out our all-new
DOGSLife Directory