November 1st, 2008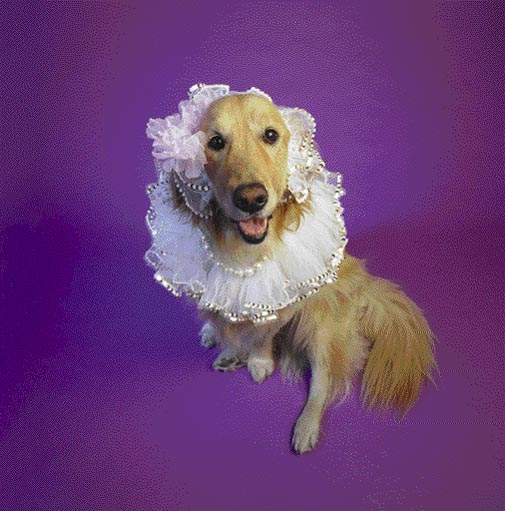 Katie Cincotta takes us on a journey with some very spoilt pooches. From mud wraps to doggy day spas, discover how your dog can get the very best of human luxury and more!
"Lets start the day with a lazy snooze on the patio, on my gorgeous new faux-fur cushion. Then its off for coffee at the pooch parlour. Make it a frothy puppaccino with liver sprinkles (easy on the sprinkles, Im watching my weight). Some gossip with the girls (Maisy the Chow Chow is pregnant again, can you believe it?) before we settle in for a luxurious mud wrap, hydrobath, blow-wave and nail polish. Oh, and can we put Oprah on? Todays show is about interior decorating for doghouses.
Just make sure were home by five. Id love a stroll down by the lake before sunset. Home in time for steamed chicken fillets drizzled with BBQ sauce. Then a snuggle on the couch with a DVD. Pretty please can we watch 101 Dalmations again?"
Yes, it really is a dogs life if you're a pampered pooch. And the A-list seems to be growing. With 25 per cent of Australian women destined never to have children, and single-person households to make up one third of all living arrangements by 2026, dogs have become surrogate children, worthy of true family status.
The care and affection we would normally lavish on kids is being devoted to our precious pooches. Gay couples, empty nesters and busy professionals are leading the charge to pamper their pets. They're cashed up and ready to splurge on toys, treats, designer accessories and grooming pleasures anything to make their mutts happy.
Despite their wild ancestry, domestic dogs seem to be lapping it up. Just ask the four poodles owned by wealthy socialite Rose Porteous. When the flamboyant multimillionaire steps off this mortal coil, she leaves a cool $1 million dollars each to her dogs, as decreed in her will. For her woolly brood, that puts them at the top of Australias doggy A list.
Ms Porteous has been candid about the level of pampering bestowed upon her poodles. The eccentric widow of iron ore magnate Lang Hancock told Andrew Denton on his talkshow Enough Rope that she spends $600-$800 a week on her dogs. She also has a nanny for them but enjoys bathing them herself every night. And like all good children, they have to brush their teeth before bed with Macleans toothpaste no less (Dogs Life does not recommend using human-grade toothpaste as it is bad for your dogs teeth. Specially designed toothpaste see below is 100 per cent safe for dogs).
Doggy day spa
You might think these celebrity canines are merely sitting pretty as part of Australias rich list, but the trend for five-star pampering is spreading like Dead Sea mud. Never heard of mud packs for dogs? Where have you been darling? Doggy day spas are all the rage. Paw packs for athletic dogs, mud packs for pretty princesses, arthritis massage oil for wobbly seniors and your choice of cologne for hot-to-trot thoroughbreds.
Pet grooming salons are on the rise, with almost 2000 clipping and grooming businesses now listed in The Yellow Pages. Many go beyond the standard wash and clip to offer aromatherapy, hair colouring and caf-style treats, proving that even dogs need downtime to recharge their senses.
Pet Perfection is one of Australias most prominent doggy day spas with 900 dogs on the books. Many of them are five-star customers who come in for regular grooming, massage, and the salons signature puppaccinos, made with frothy pet milk topped with liver sprinkles.
Jodi-Anne Hasler and her mother Marilyn cater to a dogs every whim at their Wheelers Hill grooming parlour in Melbournes east. The doggy day spa offers VIP treatments such as mud wraps, cutting-edge hair styling and carding clips to prevent fur shedding in short-coat breeds.
On the day I visited, the team decked out in their pretty pink uniforms was giving Maltese-Schih Tzu X Polly the works. A friend recently inherited the fluffy white princess after her elderly owner passed away. In accordance with her owners final wishes, Polly still gets regular pampering sessions at the salon.
Jodi-Anne says Polly is one of a growing list of pampered pets that enjoy extra-special grooming. After 12 years in the dog business initially as a dog obedience trainer she has noticed a definite trend towards pet pampering, with owners happy to pay for their dogs to be indulged.
"Some come once a week, others come once a year, but dog grooming in general has been on a steady incline. About 12 years ago when I started, wed get backyard dogs in to take out the knots, and then they went back to the yard. Now we mainly see indoor dogs that are part of the family," she said.
These days, canine clients can expect more than your average wash and go. At Pet Perfection, pets are handwashed using a natural, detergent-free shampoo, which is specifically designed for the dogs skin and coat type. (You wont find any Pantene two-in-one here.) Once your pooch has been lovingly washed and massaged, hes blowdried by hand (not cage dried) so the girls can check the skin and coat. The open-plan salon means owners are also welcome to stay and watch all the action.
A breath of fresh air
Dogs often get a bad wrap for stinky breath especially older dogs that might be dealing with rotten teeth. Most vets agree that you can help cure a dog of smelly breath by giving them more raw bones to keep bacteria and plaque at bay. But when all is said and done, dogs are never going to be kissable, unless we brush their teeth. And now there are products on the market that do that for you like the Greenie, which advertises itself as "a toothbrush in every delicious nutritious bone".
The green bone-shaped treat is made from ingredients like chlorophyll, the green pigment found naturally in plants. Chlorophyll absorbs sunlight and then turns it into oxygen, which might explain why the product works well to reinvigorate a dogs breath.
In independent research studies, Greenies were shown to prevent dental plaque buildup when given to dogs once a day. The research kennel also showed that the treat increased digestibility of other foods and we know just how many leftovers and tidbits might make up a dogs diet to cause offensive odours. Were probably all guilty of saving last nights pizza for our dogs. No wonder their breath isnt always the best!
Many grooming salons now offer breath-freshening toothpastes made from cinnamon and tea tree or meat flavours. You can even take home a personal doggy toothbrush to continue the routine at home. Just remember not to leave Maxs bristles in the bathroom. A mix up could make for a nasty morning wake-up call!
Coiffured coats
As an industry all-rounder, grooming masters like Jodie-Anne at Pet Perfection report an increasing interest in "hair" styling for dogs. As an accredited groomer and director of the PIAA (Pet Industry Association of Australia), and a professional dog grooming teacher at TAFE, Jodie-Anne thinks dog grooming is becoming so popular in Australia that owners are requesting creative styling, just like humans do at hair salons.
"Some people come to me because they like the way I do a fringe," she said.
Grooming seminars and competitions are becoming big business for the dog grooming industry. In 2006, the PIAA will hold the AusGroom exhibition at SeaWorld Nara Resort, which invites groomers from across the country to network, view the latest dog grooming trends and techniques and hear an international speaker from the United States. Jodi-Anne says pet grooming and dog showing in the USA is serious business.
"In America, its common practice to have multi-coloured dogs they do go over the top. Their grooming industry has been around much longer than ours," said Jodi-Anne.
Following the lead from the US, most Australian businesses at the "pampering" end of the spectrum believe in national accreditation to keep the industry standards high.
"We've just starting accrediting grooming businesses. We need a national standard to see that business is abiding by the code of ethics. But like hairdressers, everyone has a different style," said Jodi-Anne.
One client, Chloe, receives regular purple tipping on her ears and tail, using designer hair Fudge. "Mother and daughter both love purple and they put purple bows in her hair," said Jodi-Anne.
She says the grooming industry is pushing for dog-specific colours that are safe to use on animals so it may not be long before your dog will have to join a waiting list for the latest cut or colour. Lets hope the Chinese Crested "bare skin" look doesn't hit in winter and that only Pulis stick with the dreadlocks (because a Cavalier is going to look mighty silly with that Reggae mop).
For owners keen to capture a photo of their dog looking their best, dog photography is also making inroads. Pet Perfection plans to add dog photo shoots to their range of services after repeated requests from clients looking to keep a memento of their dogs makeover.
Designer dog Simba
Too much is never enough fashion if you're a doggy dude like Simba. This pampered Jack Russell Chihuahua X lives in the trendy inner-city Melbourne suburb of Brunswick with his owners Chung Hoang and Cynthia Halim.
Chung and Cynthia are DINKS (double income no kids), with no immediate plans for children, and have openly lavished their love and loose change on their fluffy baby. Cynthia shops regularly at dog fashion store Puppia, spending between $50-$100 on outfits for Simba.
"They even sell the $600 Puchi bags that Reese Witherspoon had in Legally Blonde," coos Cynthia.
A fashion aficionado who wears labels like Armani and Ralph Lauren, Cynthia believes style is just as important for pets especially city dogs that are out and about on the town.
"I enjoy pampering him. I don't want to walk outside with my dog being naked. Im sorry to say but I think hes indecent without clothes," she said. "Style is important to me. At a normal pet shop you can get jumpers and things but they're not branded. Im choosy with fashion."
Some of her favourite purchases for Simba include a t-shirt with a built-in backpack for doggy treats and a military outfit with his own army dog tag.
When friends protest about the amount of money Cynthia spends on Simba, she defends the right to spoil her surrogate child.
"I treat Simba as my baby. He gives me unconditional love. And Im not walking out of the house without him looking stylish. That would be like me abandoning him," she said.
So how does this urban canine feel about fashion himself? Would he rather be rolling in mud at the park, without a care for the label on his back?
"He doesn't complain. And he feels the cold. But that's just my excuse as well," said Cynthia.
Cynthias Chinese-Indonesian heritage could play a part in her designer doggy antics, which she admits drives many eastern cultures to pamper their pets.
"In Asian countries, if you own a dog it has to be a pedigree because there are so many strays in the street. And its hard to get pedigrees. In countries like Japan they can afford to spoil their pets."
For someone who used to be scared of dogs, Cynthia began to change her mind when she and Chung formed a family life that included Simba.
"Every time I came home he was so happy to see me. And the bond grew from there."
Now the family of three even shares meals together. "If we buy McDonalds we always buy a Big Mac for him. If we get gelati, he gets one too. We don't want him to stare at us eating," said Cynthia.
Chung can't remember the last time he saw Simba without clothes on and says Cynthia even co-ordinates his outfits for when he goes for a walk which gets quite a reaction from onlookers.
"If it wasnt for me, there would be a lot more stuff," laughs Chung, who insists that Cynthias penchant for designer pet gear could easily blow out of control.
"Hes always got something on. And I think he likes it. People react to what hes wearing. They think he looks so cute."
Chung says Simba has been so spoilt it may prove difficult to get another dog.
"We wanted another dog but we don't know how hell react. He might be too jealous."
This clever canine has even wormed his way into the master bedroom. Although his owners forked out more than $100 for a swanky bed, he still prefers bunking in with mum and dad. Chung often wakes to find him under the covers, with his head on the pillow a scene many dog owners can relate to. Cynthia admits he sleeps in between them, but three is never a crowd.
Cynthia is so proud of Simba, shes posted photos and comments about him on dog website www.caninecrib.com And like all special canines, Simba also has a bag of tricks up his sleeve, thanks to some dedicated training by his paren'ts, who have taught him to drop, roll over, play dead, wave and refuse food. With that kind of repertoire, Simba could well be the next doggy supermodel. "Get me my Versace coat and a puppaccino! And make it snappy."
Ancient mud
Jodi-Anne says clients with high disposable income, such as singles or couples without children, love the Dead Sea mud packs, where dogs are wrapped in the world-famous mud and rinsed with Dead Sea mineral water.
The mud comes from the unique body of water situated on the Syrian-African fault, where ancient layers of mineral-rich earth were exposed after salt water springs erupted to form a valley and a lake.
For $25, your precious pooch is massaged in the rare mud and wrapped in a fluffy towel for the designer sludge to work its magic. The treatment is particularly beneficial for dogs with arthritis or sensitive skin.
Jodie-Anne took her mud wrap inspiration from a Japanese grooming salon and thought the idea would make for a great business USP (unique selling proposition) in Australia.
"Because the Dead Sea minerals are a completely natural product, we thought it would be ideal for dogs. The beneficial properties have only been tested on humans, but it does soften their coat and can help circulation, arthritis and problem skin. And most dogs love it."
Marilyn says Hugo Hamish, a Golden Retriever from Toorak, has the mud pack three times a year, dispelling the myth that only small dogs make for prized and pampered pooches.
For entertainment or modelling opportunities contact Simba and his owners on (03) 9387 9209.
You need to look after your pooch's health - check out our all-new
DOGSLife Directory