June 23rd, 2016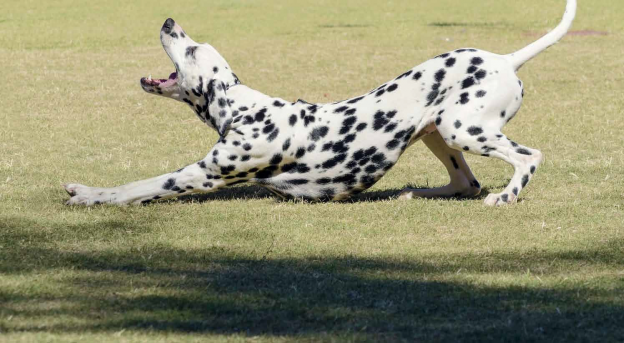 We know about the importance of regular exercise, but why is stretching your dog important too? Lauren McKellar speaks to Tim Norris to find out more.
Exercise plays a vital role in our dogs' health and wellbeing, but how often are you told to ensure your dog is stretched too? Sure, it's commonplace to warm up when you're exercising with your pet, and make sure you don't go too hard too soon to avoid injury, but has the idea of easing any muscle tension ever entered your mind? After all, we sometimes see our dogs stretching themselves — do they need our help to do so as well?
"How many of us have felt better after a stretch when our muscles are feeling tight and sore?" asks Tim Norris, a canine rehabilitation practitioner living in Sydney. Tim spent more than 15 years working with people in the area of health and wellbeing before working with dogs. Now his business, Both Ends of the Lead, focuses on a range of wellbeing servicesdesigned to benefit both dog and owner — including the art of canine stretching. But what exactly is the benefit of this unique service?
"If we feel better after we stretch, surely our dogs would too," Tim says. The benefits extend to more than just the feelgood factor, with actual pet health coming into play. "Some of the most common reasons why dogs have muscle injuries are overuse, inappropriate exercise routines for their age and ability and finally, not warming up, cooling down or stretching," Tim says.
"When a muscle is exercised, it contracts and sometimes after exercise it can remain in a shortened state (if you do not stretch it). If your muscles stay in a shortened state, this can lead to tension in the muscle and changes in the way your dog moves and become a potential injury waiting to happen. Learning to stretch your dog correctly can help reduce the risk of injury and help the dog move better. It can also have a positive effect on reducing the risk of degenerative conditions."
Tim's top stretch benefits 
Tim shares some of the numerous ways stretching can benefit your dog:
It can help reduce muscular tension and discomfort
Enhance movement quality and mobility
Improve flexibility levels
Reduce the risk of injury
Potentially slow down degenerative changes and enhance quality of life
Give you extra bonding time with your dog.
Want more of Tom's top stretch tips? Read the complete article in Dogs Life issue 137.
You need to look after your pooch's health - check out our all-new
DOGSLife Directory