August 7th, 2014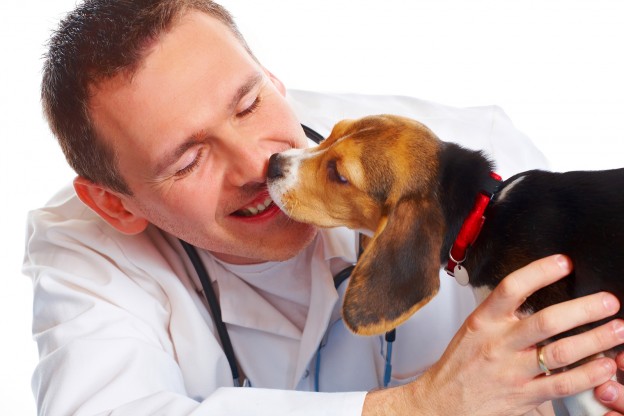 Did you know that there are dog blood donors? In fact, many veterinary hospitals are establishing donor programs for locally sourced blood. Want to help? Kristie Bradfield explains how
It's a scary thing to consider, but during the course of your dog's life it is highly likely that they will need a blood transfusion. They may be involved in an accident or perhaps they'll chow down on something toxic — whatever the reason, they may need blood fast.
A supply of readily available blood is a concern for all veterinary practices. Dr Sarah Goldsmid, a veterinary surgeon from Sydney's Animal Referral Hospital, stresses the importance of having donated blood available when it's needed. "Blood transfusions are often necessary in managing complex cases, no different from in human medicine. Without blood products, our beloved pets would often simply die," she says.
Luckily there is something we — or, more precisely, our dogs — can do: they can become doggy donors.
How blood is sourced
Dogs have two donatable blood products: packed red blood cells (pRBC), which are useful when treating trauma, cancer and autoimmune disorders; and plasma, which contains antibodies that can treat infectious diseases like parvovirus.
Just like humans, dogs undergo extensive screening before they are deemed fit for donation; this includes blood typing and screening for blood-borne diseases. Ideally, the donor and the recipient are a blood-type match.
Dr Katie Hankins from Animal Referral Hospital says that the procedure for taking blood is a little different for each animal. "It is very similar to the blood donation procedure for humans — however, dogs don't stay still for long so they are normally sedated or anaesthetised," she says. "Once the dog is sleepy, the vein is prepared as for a sterile surgery." Blood is collected and the dog may be put on intravenous fluids if necessary. "When the dogs wake up they are spoiled with their favourite foods," says Dr Hankins.
Canine Blood Bank
In Australia, there is a central blood bank for dogs operating out of the University of Melbourne.
The Canine Blood Bank provides pRBC and plasma to vets all across Australia. Countless veterinary clinics rely on the products the blood bank supplies — but, unfortunately, demand far outweighs supply. "Due to our current limited number of donations, we have not extended our marketing; however, we believe there would be many more clinics interested in buying the product if it was more readily available," says Canine Blood Bank technologist Cheryl Mansell.
"Currently we collect our blood only from resident greyhounds. They are retired or haven't made the racetrack," says Mansell. Greyhounds make ideal blood donors because of their lovely temperament and easy vein access. "They have a naturally higher level of circulating red blood cells than other breeds," adds Mansell. "This leads to a product that has a high concentration of red blood cells."
The greyhounds at the University of Melbourne's blood bank program are given a home for two years while they undergo behavioural training. The goal is for them to be re-homed via the Greyhound Adoption Program.
Not only do these dogs get a new home, they also help save the lives of dogs across Australia, which is a win–win.
Local blood sources
However, shipping blood from Melbourne doesn't work in every case, which is why local vets are becoming more resourceful.
Balcatta Veterinary Hospital in Western Australia is just one of hundreds of local vet clinics around the country that are managing their own blood donor program. They currently have 12 donor dogs on their list.
"All of our donors are staff or client dogs," says hospital director Alicia Faggella. In order for a dog to be able to donate blood, Faggella says the following requirements must be met:
• Age: one year to seven years.
• Weight: 25kg or more.
• No health issues.
• Current on heartworm, flea and internal parasite prevention.
• Current on vaccines.
• Never received a blood transfusion.
• Calm disposition; no aggressive tendencies.
Requirements may vary from practice to practice, so it's best to make an appointment with your vet if you are interested in nominating your pooch as a donor.
Just as it is with us humans, the reward for doggy donors may only be a tasty treat, but for the sick dogs that benefit from donated blood it can be the difference between life and death.
You need to look after your pooch's health - check out our all-new
DOGSLife Directory