October 23rd, 2014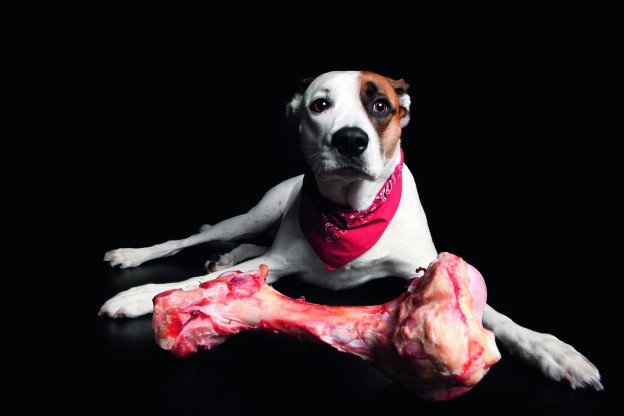 With the cold weather settling in, should we change what our dogs eat to suit the season? Kristie Bradfield gets the lowdown on the dos and don'ts of cold weather dog diets.
It's a little cold out there at the moment, isn't it? The days are shorter and the nights are long and cold. Some days it takes a lot of resolve just to get out of bed, let alone rug up to take the dog around the block before work.
In winter, we humans crave the two Cs: cosiness and comfort food. When the temperature drops outside so does our body temperature, so we eat hearty food and throw on a few extra layers to warm up. While our dogs have fur to keep them warm, some of them would prefer to stay in front of the heater. Before you know it, you've both skipped a lot of exercise time and your pooch is looking a little pudgy.
The winter months affect us all; even dogs aren't immune to changes in the weather. If you think your dog begs more for food or treats in winter, there is some scientific data to back that up. Research collected by The People's Dispensary for Sick Animals (a UK charity) found that approximately 40 per cent of dog owners saw a considerable downturn in their pet's mood during the winter months. They also discovered that one in four of those surveyed reported that their pet's appetites increased in the winter.
While the Australian winter can be miserable, it has nowhere near the harsh conditions experienced in other countries.
In areas of extreme cold, dogs that are outdoor dwelling and active — like sled dogs — require more fat in their diets to increase their body temperatures, so they are fed high-protein meals which provide more calories. These dogs also have an undercoat of fur that helps to regulate body temperature, which is essential in sub-zero conditions.
Do our domesticated dogs really need to eat more in winter? "In general, no, but if it is very cold and the dog is very energetic then they may need a little extra, as they use energy to keep warm," says Dr Romy Feldman, an ambassador for The Advantage Family A-Team. "In most parts of Australia, it does not get that cold, and dogs have a nice coat that warms them quite efficiently."
Switching things up
Narelle Lee is a proponent for the winter diet switch. She started doing it for her Alaskan Malamute Kako and saw great results. Sadly 14-and-half-year-old Kako passed away recently, but Lee has already started new Malamute pup Onslow down the same path.
"We add some warmer foods in winter and move away from the frozen dog treats we use in summer," says Lee. "Treats in winter are more likely to be either the commercially available treats or homemade dog biscuits. We will also tend to add a little more pasta and rice as our own diet changes a little, and there are more leftovers of that type of food. We also make a sauce from leftover vegetables, which we pour over dog food."
Lee's very active lifestyle means that Onslow gets all the exercise he needs to burn off these extra calories. "We aim for at least an hour a day, but with weekends there is more time, so we do more, and in winter this doesn't change for him," Lee says. "I am a marathon runner and ironman triathlete, so I still need to get out, and I am working to get Onslow to run with me — we have a bit more work to do on that front."
What about working dogs?
Working dogs that live predominantly outside and are active can benefit from a change in diet in the cooler months, too.
"If a working dog is exposed to significantly colder temperatures and is maintaining the same activity level during winter, it is likely to require more food to maintain good health and meet its physiological requirements," says Mia Cobb, Director of the Working Dog Alliance Australia. "Regular monitoring of your working dog's body condition score is a recommended standard of care by state codes of practice."
Cobb says that information gathered by veterinary studies tells us that there will be variability in nutritional requirements based on the type of work, the type of dog, the climate and duration of the work.
"Nutritional needs increase in cold weather to maintain the same body condition if workload is consistent across season," she says. "This is because more energy is being used to maintain normal body temperature."
So working dogs can benefit from a change in diet, and active Onslow can, too — where does that leave our "rather-stay-near-the-heater-thanks" domesticated dogs? What should they be eating and how much should they be fed?
The ideal dog diet — regardless of the season
"A good diet which I recommend for my clients is a mixture of dry food of a good quality, like Eukanuba or Hill's Science Diet, and good quality wet food, whether it is meat or wet tinned food of good quality," says Dr Feldman. She also suggests giving dogs a digestible chew to give their teeth a workout.
If your dog has specific dietary needs (for example, bowel disease, allergy, kidney disease or obesity) and you are preparing home-cooked meals, Dr Feldman suggests talking to your vet to ensure all bases are covered.
"Requirements are quite specific, especially for things like phosphorus and calcium," she says. "A rough guide is dogs need about 50 calories/kg per day, with variables including weight, age and lifestyle. They need a ratio of about 2/5 protein to 3/5 carbohydrate, and other vitamins and minerals as well."
Dr Feldman says that owners can ensure they are feeding their dogs optimally by using food from reputable brands, following the recommended amounts per day to prevent obesity, reducing this amount if other foods are given and feeding for the correct life stage of the animal.
While Lee isn't an expert in nutrition, she raised and cared for Kako for 14-and-a-half years. She believes the changes she made each winter helped her dog then, and will continue to help her pup, Onslow.
"I suppose having a dog that was so healthy for so long might suggest that what we do is on the right track," she says. "We treat our dogs as family. They get just as bored with food as we do, so winter is a chance to brighten up their diet a bit."
What to add
"A lot of dogs are eating diets which are not so nutritious," says Dr Feldman. "We must remember that dogs are carnivores and primarily need a good source of protein in their diet. There are healthy and less good foods out there — best to ask your vet about the good options." She suggests fish as a great source of protein because it provides omega fatty acids, which help many body systems including a comfy winter coat.
Should we be sharing food?
When the weather is cold we generally prepare rich foods full of flavour, and we're only too happy to share our meals with our furry friends. But there are some things we shouldn't share: "Onions can cause anaemia [in dogs] and are often in the meals we cook," Dr Feldman says. "Human meals can also be too fatty or rich for a dog's intestines and will give them diarrhoea or constipation." Adding some extra carbohydrates (like pasta and rice) is fine as long as your dog isn't getting them in another form (like biscuits).
You need to look after your pooch's health - check out our all-new
DOGSLife Directory