June 25th, 2014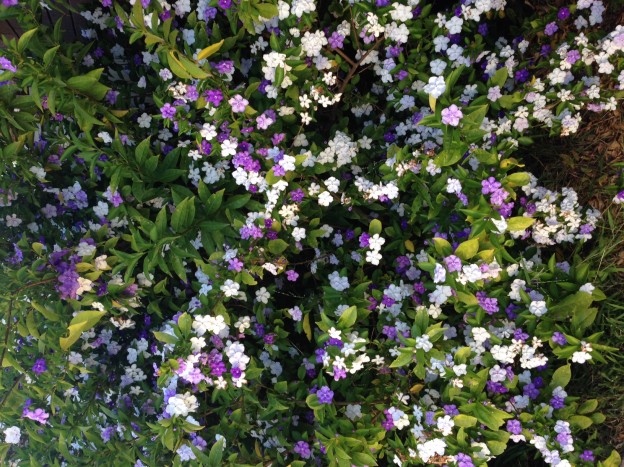 Veterinarians are warning dog owners about the dangers lurking in the backyard, with the popular Brunfelsia flower topping the list.
Commonly known as Yesterday-Today-Tomorrow (Brunfelsia bonodora), this plant is beautiful but deadly.
Dr Fiona Park, Internal Medicine Specialist from the Animal Referral Hospital in Sydney, reported an increased number of Brunfelsia poisoning cases over the past couple of months, which has resulted in the death of one dog this month.
There are also reports of canine deaths across the state.
"Dogs seem to be attracted to the berries and seed pods but all parts of the plant can be considered toxic," she says. "Signs of poisoning include salivation, vomiting, diarrhoea, muscle tremors and seizures, and can last up to several days with or without treatment."
Unfortunately, there is no antidote – just supportive therapy via enemas to remove the plant material from the gut, seizure control, administering fluids and possibly general anaesthesia depending on the severity of the case.
"Because Brunfelsia poisoning can be potentially life-threatening, all exposures need to be taken seriously and treated by a vet immediately," says Dr Park.
Eight-week-old Beagle puppy, Mac, got himself into serious trouble last week when he snacked on the Brunfelsia plant in his backyard. His owners heard a yelp and discovered Mac seizing, and raced him to the Animal Referral Hospital.
Unfortunately, the anti-seizure drugs administered to Mac did not stop the convulsions, so the puppy had to be put under general anaesthetic with a breathing tube for 24 hours. Mac woke up some time later but it took a few more days before he was able to eat and walk, although, still wobbly. The cause of the seizures became apparent when Mac emptied his bowels, revealing the remains of the poisonous plant.
"We don't know how much he would have eaten, but it was quite a large amount based on the amount of plant material in his stool," says Dr Park. "Mac was very lucky he made a full recovery. If he hadn't come so quickly and had continued to seizure, he could have died."
If you have any concerns about your dog being exposed to Brunfelsia or other toxic plants, contact your local vet.
You need to look after your pooch's health - check out our all-new
DOGSLife Directory