February 25th, 2015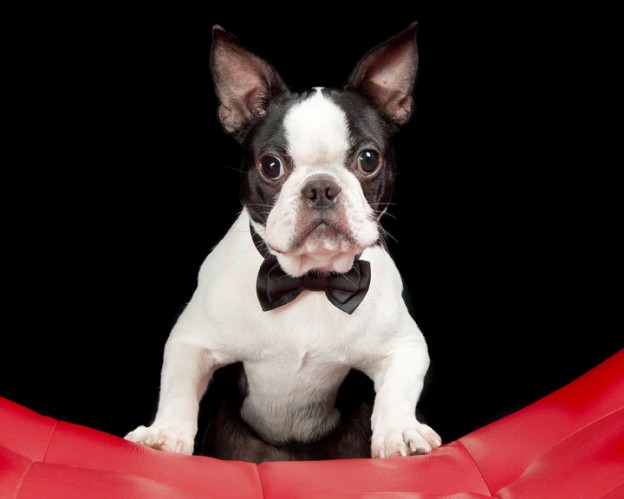 Australians love spoiling their dogs with everything from treats to customised doggy outfits, but is it possible to take our pampering too far? Tim Falk reports.
As a nation, us Aussies love our dogs. If you're reading Dogs Life, chances are you really love your dog. And every dog owner knows that there's no better way to show your dog just how much he means to you than by spoiling him rotten. Whether he's a fashionista, food-obsessed or simply loves any toy he can wrap his teeth around, we're willing to do just about anything to set that tail wagging.
According to the Animal Health Alliance, Australian pet owners spend over $1.6 billion per year on pet products and accessories such as collars, leads and bowls. Crunch the numbers and you'll discover that we spend almost as much on our dogs each week as we do on our household gas and electricity costs.
"Pets are fully immersed into the family life and can enrich our lives just as much as we enrich theirs," says Dr Gretta Howard from Cherrybrook Vet Hospital. "Coming home from a difficult day at work to a pet that is really excited to see their owner positively reinforces the amazing bond that pets and people have. This unconditional love that pets have for their owners inspires people to love their pets in return."
Katrina Thomson, the founder of IdPet.com.au, is at the forefront of the personalised pet accessories industry in Australia. Based in Melbourne, IdPet.com.au specialises in personalised pet gear, toys and products for pets with personality and individuality.
"There wasn't anything on the market in Australia that offered vibrant printed personalised products for pets," Thomson says. "Traditionally, personalised pet products were embroidered and in one colour with no graphic prints. I wanted IdPet to change this and give pet lovers like myself the opportunity to have personalised collars and products with full printed, vibrant graphics that are fun, practical and affordable — and that allow owners to match items to suit them and their dog's personality."
IdPet lets you customise everything from full printed collars and leads to graphic ceramic bowls, hand-made beds and polar fleece blankets. Doggy tops and hoodies can also be branded with your pet's name or favourite tag line.
"Pet owners can even design their own items and upload images to be printed on our personalised ID tags, bandanas, placemats and Christmas ornaments for something extra special," Thomson says.
The response from Australian pet owners has been huge, with Thomson proud to report many word-of-mouth referrals and repeat customers. On average, IdPet customers spend around $54 per transaction on products and accessories for their pets.
Spoilsports?
Treating your pet is one of the great joys of dog ownership. After all, when you consider all the joy he brings into your life, the least you can do is brighten up his day as well.
"I don't really like the word 'spoil' as it implies a negative, but usually if we are giving our pets the attention and care they require and spending quality time with them, I see this as a positive," Dr Howard says.
"Most pets absolutely love to spend time with their owners and it doesn't have to be hands-on or high-energy activity all the time. Simply allowing your pet indoors to watch TV with the family before bedtime keeps everyone happy."
Of course, spending time with pets can have plenty of benefits for people as well. Studies have shown that pets can reduce our stress levels, lower blood pressure and cholesterol, and reduce anxiety. In addition, owning a dog encourages you to get outside and live an active lifestyle, at the same time increasing your level of interaction with other people.
But can we take our desire to pamper our pets a little too far? Dr Howard says that pet owners can sometimes go 'over the top' and pets can develop hyper-attachment to their owners, potentially leading to separation anxiety. While spending plenty of quality time with your pooch is vital, it's important that she also feels comfortable on her own and won't panic when her human family leaves the house.
And just because your dog is a much-loved member of the family doesn't mean you should neglect to train desirable behaviours. "I think it is important for pets to have manners but this needs to be taught and is certainly not something pets acquire naturally over time," Dr Howard says. "It requires investment in training as well as consistency from all members of the family and it is better to use positive training techniques rather than punishment, as punishing your pet can result in fear and anxiety."
Anthropomorphism is the term we use to describe likening human attributes to non-human beings or objects. Treating a dog as though it were human can create confusion for canines in certain circumstances. Maintaining consistency in the dog's rules around the house is vital, as is feeding your dog a proper diet designed to meet her nutritional needs — not one designed for humans.
As long as you don't go overboard, pampering your pet from time to time is a great way to give her all the love she deserves. "Most Australian households own at least one pet and for many, our pets have really become like human members of the family," Thomson says.
"They share our family homes, they have different characters just like us, and they add so much love and fun to our lives that it's understandable that we want to spoil them every now and again."
How much do we love our pets?
A whole lot, according to a national pet report from Hill's released earlier this year. The report revealed that:
1 in 2 pet owners get more affection from their pets than their partners or prefer to spend time with their pet than their friends
9 in 10 Australian pet owners see their pets as a valued member of the family
87 per cent of pet owners feel their pet has improved their relationship with their partner, brought balance to their lives or calmed their children
Women are almost twice as likely to talk to their pets about their problems
Over 17 per cent of pet owners felt they slept better with their dog or cat in the bed
Twitter
Get in touch with Dr Gretta Howard on Twitter: @DrGrettaVet
You need to look after your pooch's health - check out our all-new
DOGSLife Directory