June 20th, 2013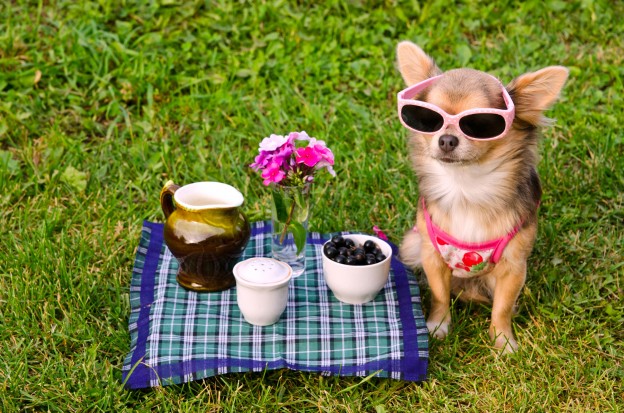 More and more dog owners are turning to complementary therapies to enhance their pets' health, writes Danielle Chenery. Complementary therapies have exploded in popularity for both people and dogs. From nutrition therapy and chiropractic right through to gold implants as a treatment for inflammation, there's such a broad range of "alternative" remedies for dog health available that it can be hard to know where to start or what your dog needs.
According to Dr Barbara Fougere, a veterinarian who integrates non-traditional therapies into her practice at Sydney's All Natural Vet Care, acupuncture and chiropractic can work well for injuries and lameness, while herbal remedies are better for skin disease and stomach problems.
"There are many different forms of complementary therapies and what counts is the quality of training and experience of the practitioner. Diagnosis and treatment needs to be performed properly," she says.
While she stresses that complementary treatments should not be used as a replacement for orthodox veterinary treatment, Dr Fougere says a combination mainstream treatment and alternative remedies can often work together as integrated medicine.
"We still do mainstream diagnostic work, because we don't want to miss anything. We will treat with nature where we can, but if it's a serious infection we will start with antibiotics and herbs. We integrate the two types of medicine to get the best of both worlds," she says.
"We are not against drugs — it works for the short term — but we try to change patterns for animals that need them all the time. It's not a quick fix."
Road to recovery
Dogs that have complementary treatments such as chiropractic and acupuncture tend to respond more quickly than humans who use these remedies, Dr Fougere says.
"They have four legs, not two, and they don't necessarily have all the mental obstacles to getting better that people can," she explains. "They just respond to the physical nature of the treatment, and often we see a difference with just one treatment."
Veterinarian Dr Bruce Syme, from Vets All Natural, says he finds that nutrition and supplementation is the best approach when treating dogs. He says allergies, arthritis, teeth and gum disease, urinary tract disorders, diabetes, irritable bowel disease and, ultimately, cancer can be treated or prevented through diet.
"Adding natural food medicines, often described as nutraceuticals, to a well-balanced raw diet can provide new treatments for a range of common dog problems," says Dr Syme. "Using food as medicine is the least invasive approach, and allows the body to process and use the ingredients in a natural and harmonious way."
Examples of commonly used nutraceuticals include omega-3 fatty acids (found in flaxseed and fish oil), glycosaminoglycans (glucosamine, shark cartilage, green-lipped mussel), kelp, cranberry, pre- and pro-biotics, antioxidant-rich foods, vitamin therapy and aloe vera.
Dr Syme also uses complementary treatments for skin disease, which he says helps treat the cause of the problem, rather than just alleviating symptoms.
"The most common veterinary approach is to treat with a combination of cortisone, antibiotics and medicated skin washes, but all three of these treatments have side effects, and none of them actually 'cure' the disease," he explains.
"When using diet and supplements/herbs, you can achieve a 70 per cent success rate in curing the allergy, with no side effects at all."
Dr Syme has also used a raw food diet and natural supplements to help treat diabetes. "One dog I treated came to me using 18 units of insulin every day to control its diabetes and, after six months on the new diet and supplements, the dog had reduced its requirement of insulin to just three units per day."
Herbal treatments
Dr Fougere says owners often comment that their dog becomes "younger" after undergoing herbal treatments, with more vitality and energy. "It makes them look at it [complementary therapies] for themselves," she says.
According to new research, herbal medicine may even be useful in treating cancer. Dr Fougere says the plant extract EBC46 is currently being trialled for use on tumours, and she has used it herself in treating a Staffy facing amputation due to a leg tumour. "It dissolved the tumour instead of it having to be amputated, and it took three weeks," she says.
"We don't claim to cure cancer, but we can help provide a good quality of life. It's always worth trying. If a patient has the right resources, like a natural diet and herbs, they can often get better without surgery or drugs."
Dr Fougere recalls the story of a canine patient who was in liver failure and in a very serious condition. The specialist treating the dog told the owner the surgery would cost $5000–$8000 and the prognosis wasn't good.
The dog's owner contacted Dr Fougere, who sent herbs over to the specialist. The results were amazing — the liver returned to normal function without needing surgery. "The specialist later suggested wanting to try the herbs again. It's the second case where this has happened, but we need more cases where others can see what we see," she says.
"There are rational reasons why [plant medicines] work. Veterinary practice started with plant-based medicine. The textbooks were full of them."
Scientific evidence
While critics of complementary therapies cite the lack of scientific evidence, Dr Fougere says there is plenty of research out there if you know where to look. "I wrote a textbook on herbal medicine and it contained up to 3000 research citations," she says.
But it can be difficult to get articles published in peer reviewed journals. "There is an inherent bias against complementary medicine in veterinary journals, but that is changing," says Dr Fougere.
There is a wealth of anecdotal evidence, and Dr Syme says the proof is in the pudding. "The most basic form of evidence is the type we vets accumulate over time, where we see repeatable and measurable results for a specific disease. Unfortunately, this type of evidence is of the lowest value, as there are so many variables involved," he says.
Dr Eloise Cotton, an associate veterinarian at Sydney's Greencross Livingstone Road Animal Health, says there are a number of studies on acupuncture for dogs. "There was a study published in a peer reviewed journal (the Journal of American Veterinary Medical Association) involving 50 dogs with thoracolumbar disk disease, which is relatively common in dogs.
"In this 2007 study, those treated with acupuncture and standard medical therapy (anti-inflammatories and rest) improved in 88.5 per cent of dogs, versus 58.3 per cent treated with just the standard medical treatment.
"This study was well-designed and had sufficient numbers to make some accurate conclusions.
Good as gold
Gold implantation is not a common procedure in Australia, but is more common overseas. It involves inserting very fine 24-carat gold wire or beads, which act like a local analgesic for animals in pain. They are inserted surgically and offer a better quality of life for animals with hip dysplasia, arthritis in the knee, back pain and even for "wobblers", which are neurological problems created by changes in the neck that results in walking difficulties.
Prolotherapy for dogs
Prolotherapy is a common treatment for humans, but it's still considered "alternative" for dogs, says Dr Fougere.
"It's used to strengthen damaged ligaments and tendons and can also help support weakened knees," she says. It can also provide pain relief and improve joint stability.
In a prolotherapy treatment, a solution is injected into the ligament or tendon where it attaches to the bone. The inflammation created in these weak areas increases the blood supply and flow of nutrients and stimulates the tissue to repair itself, according to website www.prolotherapy.com.
Platelet-rich plasma injections are another option. They help with restoring cartilage and improve joint health as an alternative to more expensive stem cell therapy.
You need to look after your pooch's health - check out our all-new
DOGSLife Directory