September 25th, 2008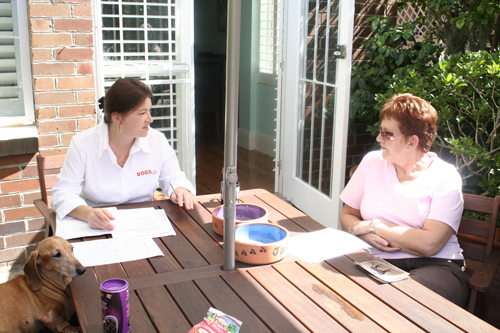 This article first appeared in the September/October 2008 issue of Dogs Life.
Ever pondered the terrifying consequences after Rover or Fluffys close encounter with a car? Or that mysterious behaviour or lump that's recently appeared? Never fear, if the worst ever happened to your beloved dog, there are a range of animal heroes just waiting to take up the case! Nadia Crighton investigates.
The range of veterinary care now available to our pets in their greatest time of need is truly amazing. From brain and spinal surgery to combating cancer and replacing hips, the wonderful world of veterinary science and specialised care is rapidly expanding, giving owners and animals a new lease on life.
Meet animal hero Dr Mark Robson, a registered specialist in veterinary small animal internal medicine and diplomate of the American College of Veterinary Internal Medicine. Robson works at the Veterinary Specialist Group, a leading specialist facility in Auckland, with some of New Zealands most qualified and experienced veterinarians. Sounds good, but what does this mean to our population of pet lovers?
It means there is another avenue offered to pet owners, Robson says. Previously, if an experienced general practitioner could not solve a problem, there was nowhere else to go, whereas now, there is another layer of expertise and equipment well above the general practice level.
This means diseases and conditions that were once considered untreatable by the use of medicine or surgery are now able to be tackled head-on. Surgeries and imaging that were unavailable in New Zealand are now becoming available to more and more owners, Robson states.
On the other side of the globe, specialist care is expanding even further. Dr Jonathan Bray, European specialist in small animal surgery, knows all too well the importance of specialist care. Bray, a Kiwi, works as director and head of soft tissue surgery/oncologic services at Davies Veterinary Specialists in the UK.
Davies Veterinary Specialists is one of the largest referral hospitals in Europe, providing specialised veterinary care to dogs and cats. We accept cases from other veterinarians across the southern half of England, with most of our clients travelling on average an hour or so to reach us, he says. The hospital is staffed 24 hours a day, seven days a week by nursing and veterinary staff.
Today, more than ever, our pets are able to experience a wide range of specialised care, ranging from diagnostic tests and imaging like MRI and CT Scans, right through to ground-breaking surgery in neurology and soft tissue. Robson is aware that today many procedures once exclusive to the human medical field are now being used and trialled in veterinary operating rooms.
In New Zealand, there isnt a veterinary facility that has an MRI or CT scanner onsite, however, we do have easy access to a number of human facilities in Auckland and we can normally get a CT scan on the same day and an MRI in around 24 hours, which is pretty much the same as a human, he says. We are doing a lot of chemotherapy on animals, and major orthopaedic procedures like hip replacements.
Some of the orthopaedic equipment is dog and cat specific, because domestic pets have much finer bones than people do, so many of the plates and screws are specially designed for cats and dogs, Robson says. However, many of the techniques are derived from human medicine.
Overseas, Bray is seeing more and more patients in need of specialised intervention. In the UK, there is a developing acceptance of major surgical interventions and treatments for patients, he says. The major change in the UK market over the past five years is the developing maturity of many first-opinion veterinary hospitals, and a greater awareness of the availability and abilities of the specialist sector. This means more referrals from general practice veterinarians and an increasing awareness for a second opinion. The complexity of cases is increasing, because first-opinion vets are more capable and are dealing with cases that were considered specialist-level five to 10 years ago, Bray adds.
Robson also notes how important referrals are from your general veterinarian. I guess the constant battle is getting the general practice vets to at least mention that further services are available, and not give owners the impression that if the general practitioner can't handle it then nobody else can, he says.
Whats available?
What kind of treatment and procedures are available to pet owners today, compared to yesteryear?
Orthopaedics: The prevention and correction of disease or injuries of the skeletal system and related muscles, joints and ligaments. Surgical correction of joint abnormalities; correction of limb alignment problems; complex fractures using pins/screws, interlocking nails, external fixation devices; hip replacements; elbow replacements; key-hole surgery (arthroscopy) for joint conditions, Bray adds.
Internal medicine: The diagnosis and treatment of diseases of the internal systems, including the liver, kidneys, heart, respiratory system, gastrointestinal system, endocrine (hormone) system, urongenital system and immune system. This can also include the treatment and diagnosis of infectious diseases and blood disorders.
Diagnostic imaging (radiology): Imaging needed to diagnose problems. Our hospital (UK-based) has three X-ray rooms, ultrasound, MRI scanner, access to CAT scan and nuclear medicine (bone scans), Bray says.
Soft-tissue surgery: All general surgery conditions to abdominal organs etc; thoracic surgery; large skin defect reconstructions following trauma/cancer resection; key-hole techniques (thoracoscopy/laparoscopy) for chest and abdominal surgery; developing skills in microvascular surgery, Bray explains.
Cardiology (the heart): This is the specialist area for the heart and includes implantation of pacemakers and correcting congenital defects of the heart.
Oncology (cancer): The diagnosis and treatment of cancer. Using various chemotherapy and radiotherapy procedures and the surgical removal of cancer.
Ophthalmology (eyes): This can include lens removal, intra-ocular prosthetics and corneal grafting.
Neurology: The specialist area for the brain and the spinal cord, including slipped disc surgery and the removal of brain and spinal tumours. Also, spinal fractures and trauma management, Bray concludes.
Anaesthesia: Patients are anaesthetised and monitored as in a human hospital, with continuous electronic recording of heart rate, blood pressures, anaesthetic gas concentrations, respiratory function, Bray says. Animals are also placed onto ventilators to assist their breathing if required.
Whats next?
The advancement of technology in the pet world is extremely exciting to pet owners and the veterinary world alike. I think in the future we will see a broader range of specialist services available, and more specialists so they can be available more readily nights and weekends and that sort of thing, Robson says. We are currently in the process of developing an emergency service here so that we can eventually have specialists and emergency critical care staff. This will be a first in NZ.
Bray agrees that the future holds good prospects for all pet lovers. I think things are pretty exciting in the UK, he says. The work is very busy and very challenging, and routine cases of yesterday are now more complex, as we understand more about the nuances of treatment, and realise that often things are not as simple as we thought! Every day brings new opportunities to learn and relearn, and the case numbers and variety provides an ability to build on our experiences and expertise.
Bray also points out the need for these treatments to be widely available to our beloved dogs and cats. The role of the animal in the family structure is continuing to mature fewer people are keeping pets, but those that do tend to have a strong emotional commitment to their pet, and thus are more likely to seek expert/advanced veterinary care when their pet gets sick, he says. In many ways, our role and relationship with the client is similar to that of a paediatric consultant dealing with paren'ts of a sick child.
Robson agrees. I think we are in a similar boat to paediatricians who are dealing with babies and toddlers, but with the added complication that some of our patients like to bite us! he smiles.
CASE STUDY three-year-old Dobermann Jazmine
After chasing a feral cat up a tree, Jazmine snapped her cruciate ligament. She was in immense pain and refused to use her back limb. Being a very active farm dog, she needed an operation that would allow her to continue to run and play. Dr Stuart Burrough from the Vet Centre in Marlborough, NZ, performed a tibial plateau levelling osteotomy (TPLO) to secure Jazmines hind leg. This is a series of cuts to the bone, and specialised placements of plates and screws to allow the function of the cruciate ligament (which is to prevent forward and backwards sliding of the femur on the tibia bone) to be performed without the actual ligament in place. The operation was a huge success, and after six weeks of rest, Jazmine was eager to play and run. Aside from a long scar on her back leg, you would never guess the trauma Jazmine endured six months ago.
CASE STUDY six-year-old Dobermann Spok
Dr Jonathan Bray, European specialist in small-animal surgery, explains how his team helped a six-year-old Dobermann enjoy an extended lease on life.
In terms of cutting edge treatment, we are developing a technique of limb prosthesis for dogs with cancer of the forelimb. Spok was our first patient. He had a bone cancer affecting one of the bones in the forearm. A common way of managing this is to amputate the limb, but Spok had other problems that made amputation impossible. Without removing the cancer, his quality of life was very poor (due to pain in the leg), and his life expectancy was perhaps a few weeks or less. The treatment performed allowed us to remove the bone and replace it with a specially made prosthetic. Spok was using his new leg within 24 hours of surgery, and lived a mostly normal life for the next 11 months until he developed a brain tumour probably a secondary spread from this bone. The prosthetic allowed Spok to continue doing the things he enjoyed doing (walking in the woods, occasionally chasing rabbits) and to live for a longer period.
You need to look after your pooch's health - check out our all-new
DOGSLife Directory