March 2nd, 2017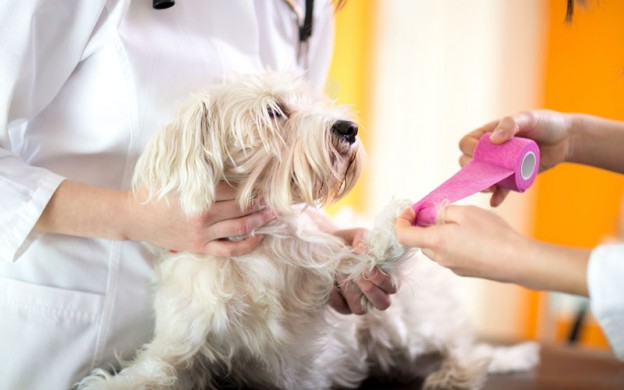 It's important to keep our pets safe, but would you know what to do if your dog showed signs of distress? Dr Joanna Paul from Creature Clinic gives us her top advice.
No matter how carefully we might live our lives, accidents and emergencies can happen. When a child grazes his or her knee, we clean it up and put on a Band-Aid. If we suspect a broken arm, we keep it as still as possible and get to the hospital. We treat burns with cool running water and we perform CPCR on someone who has stopped breathing while we await the paramedics. Most of us have a fair idea of how to handle these situations. When it comes to humans, that is.
Something about a furry body, four legs and a wagging tail makes us panic and draw a blank when it comes to dealing with an emergency. This is totally understandable because dogs are not people. I've met many who think they are, and they certainly enjoy a lifestyle that many humans would be envious of, but when it comes to anatomy and physiology, there is no getting around the fact that dogs are a little different.
This doesn't mean we can't help them when they are hurt, though. It's not only possible to learn how to perform appropriate first-aid techniques on our canine friends, it could also be the difference between life and death. It's important to remember that pet first aid is the provision of emergency treatment and life support to an animal that is ill or injured before professional veterinary help is available. It bridges the gap between the moment an emergency happens and when you reach the veterinary clinic. The purpose of first aid is to keep your pet alive and to reduce suffering until the professionals can take over. It is in no way a substitute for veterinary care.
Be Prepared
Dr Joanna Paul is the brains behind creatureclinic.com. You can purchase her pet first-aid kit via her website, with each kit including a syringe, antibiotic ointment, thermometer, disposable gloves, bandages, iodine, saline, thermal blanket and tick remover. Best of all, it also comes with a pet first-aid manual that provides simple, step-by-step instructions for how and when to perform pet cardiopulmonary cerebral resuscitation (CPCR) and for owner/caregiver management of common pet emergencies.
This article was originally published in DOGSLife #141 and has been re-purposed for publication on the website. Click here to subscribe to our pawsome magazine.
Make sure your furry friend is always looked after at our
DOGSLife Directory