October 22nd, 2015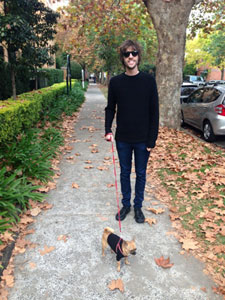 You may recognise Dan Debuf's face from the billboards and buses around Sydney. He's one half of the popular radio duo heading up 2DAY FM's morning show, Dan & Maz. What you may not realise however is that Dan actually started his career doing comedy revues.
"I've always been at home onstage," he says. "I started out onstage actually doing uni revues at the University of Western Australia and 'improv' comedy with a group called 'The Big Hoo-Haa'."
After graduating university, his love for comedy continued and Dan went on to perform with his childhood mates, Matt Saraceni, Luke Ryan and ABC's Paul Verhoeven, at four Melbourne International Comedy Festivals, two Adelaide Fringes and two Perth Fringes. "I've also done a bit of TV with Channel [V]," he says. "I've always been at home onstage, but radio is my main love."
Cheeky Chips
Apart from Dan's love of performing and presenting, he also loves his little Chihuahua, Chips. In fact he loves her so much that he wanted to share her with the world and, after setting her up on Instagram last year, she now has over 5000 followers. "Everyone loves seeing her stupid antics and puppy dog eyes," Dan explains.
Chips first came into Dan's life when he met her owner, his current girlfriend of five years, Denee. "So in a way, I am Chips' step-dad," Dan humours. "We share the same personality traits: energetic, a little anxious, a little crazy, and very high volume."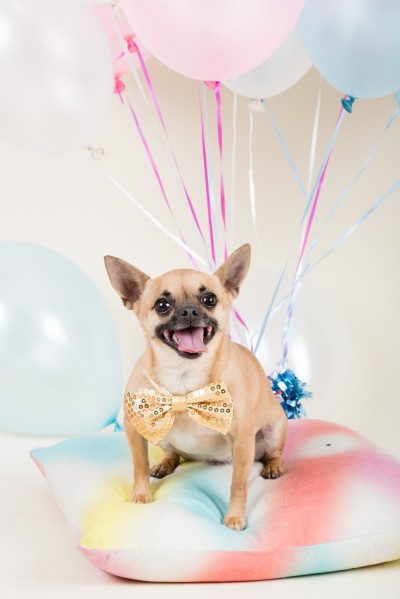 Dan may not have been drawn to Chihuahuas initially, but as a previous dog owner – his first dog was a Beagle named Prudence and his other childhood dog was a Corgie/Sheltie cross called Gaston – he has been surprised at how manageable she is and just loves the fact he can pick her up with one hand. "I can definitely recommend Chihuahuas – especially for apartment dwellers like us!"
Chips can be cheeky however, especially when playing her favourite game, 'the rat game', which basically consists of playing 'tug of war' and fetch with an IKEA stuffed rat toy.
"One night I was at a comedy show and my girlfriend was home asleep. I got a picture message of Chips' toy rat on the bed. Except it wasn't Chips' toy rat, it was a dead rat!" he recalls. "My girlfriend had woken up to find an elated Chips nudging the dead rat towards her. I like to imagine how excited Chips was when it seemed like her toy had come to life, and not how terrifying it was for my girlfriend to awake to find that on the pillow next to her!"
Besides hunting out rats, Dan assures us that Chips' plans for the future will continue to consist of eating, sleeping, barking and playing her favorite 'rat game' with her actual stuffed toy rat. As for Dan? He plans to "just enjoy living in Sydney and waking the city up every morning."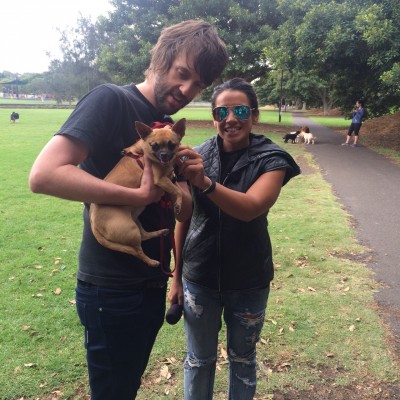 For more on Dan & Chips
You can catch Dan & Maz on Hit 104.1 2DAY FM every Monday-Friday from 6 am to 9 am. Make sure to follow Dan & Chips on Instagram: @dandebuf @danandmaz @chipsofficial
Want more articles like this? Subscribe to Dogs Life Magazine
Here are just a few things that can make life with your dog a bit easier - see them now on our
DOGSLife Directory