March 8th, 2017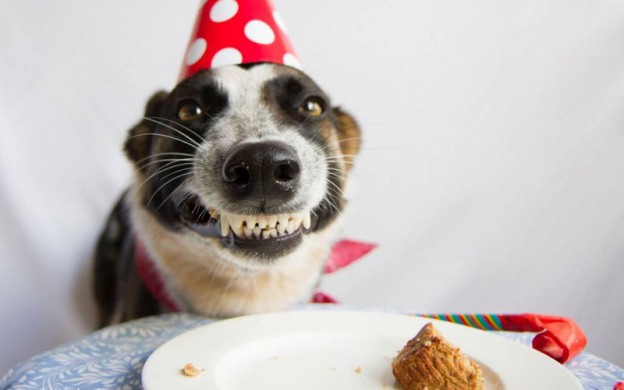 If you had to make a list of your favourite days of the year, chances are your birthday would feature quite high. It comes as no surprise then that we want our pooches to have the same level of enjoyment when their birthday comes around. Here are some tips to help make sure they have a great day on their birthday, if you know it, but if it's not known then why not celebrate the day they came into your life instead?
Plenty of pats and attention
This is the easiest and cheapest way to make sure your dog enjoys its special day. If your dog enjoys cuddles, and, lets face it, what sort of dog doesn't, be sure to add plenty of those. Today is the day for making sure you don't pass on a morning walk, or skimp on the playtime.  If your dog is more mature aged and losing their capacity for activity, then gentle pats and the sound of your voice will do just fine for making them feel safe and at peace.
Get a gift
Presents are a mainstay for any birthday, and even though your pet would have to be pretty clever to be expecting a gift on this particular day, getting them something small will do no harm. Perhaps a new chew toy or even something edible like a bone or an extra treat they wouldn't normally get.
Organise a puppy party
This is for the most doting of dog owners. If you're totally enamoured with your dog, and you have a number of friends with dogs who are similarly inclined, considered organising an actual birthday party. All their doggy pals showing up on the same day should send your pooch over the moon with joy, not to mention the added bonus of a chance to catch up with your own human friends. If you are going to go down this route do some prior research on the dogs who are coming – if there are any inclined to act up around other dogs, consider leaving them off the list for a less stressful gathering.
Have an outing
If you're free that day and your dog is the sort of dog that loves to get out among it, consider heading off on an adventure together. We've published a number of articles in the past detailing top tips for preparing to embark on any number of outings.
Whichever way you decide to do it, it's important to make our pets feel loved every day of the year, with an extra something on their birthday.
Written by Joel Barrett
Here are just a few things that can make life with your dog a bit easier - see them now on our
DOGSLife Directory