August 18th, 2014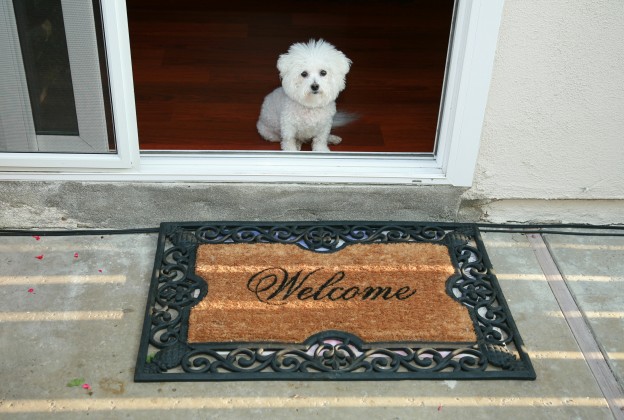 Tim Falk goes behind the scenes with the ambitious people building a perfect house for pets.
How often have you wandered around your house and cursed the fact that it wasn't designed with your four-legged friends in mind? Pristine carpets quickly end up stained, couches get covered in fur and that distinctive "wet-dog smell" can be impossible to escape.
You're probably thinking, if only there were a house designed specifically with pets in mind — and now, happily, that pipe dream is about to become a reality.
In Calgary, Canada, a project is currently under way to build the world's most pet-friendly house. The Pet Friendly House Project is a marketing scheme that will cover the design, construction and decorating of a home for a family of four and their pets. The home will showcase the coolest and best home and pet products from around the world that make pet ownership more enjoyable, with construction due for completion in October 2014.
David Beart, the man behind this unique and innovative project, said the inspiration for the Pet Friendly House came simply from owning pets. "Growing up we had dogs, cats, birds, rabbits, hamsters, gerbils, fish, horses, cows and pigs that were pets till they 'grew up'. I know first-hand what happens when you lose your hamster, flood the basement when you leave the aquarium while it's filling with water, what if feels like when you can't find your dog, the cat has kittens etc. Each of these instances and many others prepared me for this project," he says.
And so the idea was formed to create a house designed specifically with pets in mind. A house where flooring won't get scratched, where furniture won't get stained, and where hair and dander won't be a problem — in short, a house built with products and features that will stand up to the wear and tear of pets.
Full of features
As every dog owner knows, a truly pet-friendly house must have a range of special features. "Above all else the floors must be strong and be easy to clean," Beart says. "Your tub should not be where you wash the dog. The home also needs excellent containment/storage for pet food, treats and litter boxes — no home that contains pets should 'smell' like pets live there."
Since the project's inception, organisers have been hard at work trying to involve as many companies as possible in the home's design and construction. At the time of writing, 118 companies from seven countries had already become involved with the project.
"Within the Pet Friendly House the dog will have its own room, the same size as our son's and daughters' rooms," Beart says. "It will be filled with the coolest pet products from around the world and have its own TV to watch: 'DogTV'. This will ensure he has his own space, can lick all he wants and doesn't get in trouble for doing it in front of our guests. That said, he will still have the ability to be in all the rooms and will have beautiful crates and beds throughout the house."
Other house features will include:
• Built-in dog-food storage
• Spaces in the mudroom for leashes, collars, boots and brushes
• Hidden places for the cat-litter box, as well as places for the cat to 'hide' and to relax
• A doggy shower — after all, who wants to wash the dog in the tub that you also bathe in?
• The ability to log in and view the pet within the home when away
Construction on the home was due to start in March of this year, before it will be made open to the public in October 2014. "During this time we will cover each aspect of the design, construction and decorating of the home through our website at www.professorshouse.com. As for judging the project's success, it will be based on how many people come to the home, how many pet product companies get involved and the traffic to our sites," Beart says.
Testing, testing
Not only is the Pet Friendly House Project about building a home for every member of the family; it's also about testing just how pet-friendly the home will be. "The Pet Friendly House Project is as much about what we do after it is constructed as it is building it," Beart explains.
Once the house has been completed, a number of tests will be conducted to determine the project's success. These include:
• A durability test. A dozen wet and muddy dogs will be set free in the half-a-million-dollar house to show the durability of the floors, carpets and furniture.
• Chefs will be brought in to cook/bake for the pets. "Steak tartare for Fido, some sushi dish for the cat, homemade dog/cat treats by a pastry chef," Beart says.
• The walls will be covered in cool "pet art" and photography.
Here at Dogs Life, we're sure this is a project pet owners and their pooches all around the world will be watching with interest.
Here are just a few things that can make life with your dog a bit easier - see them now on our
DOGSLife Directory