August 6th, 2014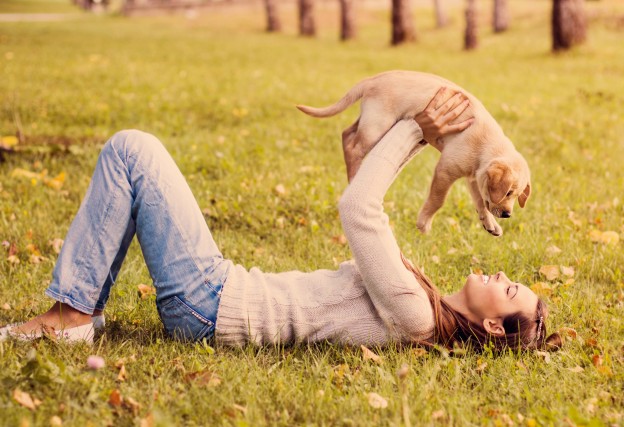 Simone Atallah learns about better bonding with your dog through the study of anthrozoology and discovers a woman with Down syndrome who started to connect with the world again, all thanks to a failed Guide Dog
You've had a terrible day and all you want to do is sit on the sofa and sulk. You arrive home, see that furious tail wag, hear that happy bark, watch those paws dance, look into those doting eyes and life's stresses and annoyances disappear. Your pet could be doing much more for you than you realise.
Research has shown that people with pets are happier and healthier, which is the foundation of the practice of Pets as Therapy. Animals provide comfort and companionship and reduce loneliness, stress and depression.
There's no denying that special bonds exist between people and their furry, feathered, scaly or even slimy family members. Many animals and people have done extraordinary things, even risking their own safety, for one another. However, until recently, it's all been anecdotal observation and accounts — until now. These deep bonds have recently caught the attention of scientists.
Science steps up
Anthrozoology, also called human–animal studies, aims to investigate scientifically the "hows", "whys" and effects of bonds between humans and animals in order to improve and better understand people's mental and physical wellbeing.
As a veterinarian, Dr Michael Archinal has witnessed countless human–animal connections. His book, Animal Wisdom, details just some of these and suggests that we can learn a great deal from animals. He is also a proponent of anthrozoological research.
"One Health is worldwide initiative to meld veterinary and medical sciences because there are so many mutual benefits. For instance, the survival rate from heart attacks is seven times better, and depression and anxiety are reduced if you have a pet," he says.
"A recent study by Professor Erika Friedmann of the University of Maryland showed the presence of a dog measurably lowered participants' blood pressure. The results were similar to what you'd get by changing the diet of people with hypertension. It's amazing," Dr Archinal enthuses.
Cathy and Zac — a dynamic duo
Judy and Kevin Lonsdale's 42 year-old daughter Cathy has Down syndrome and spoke mostly in one-word sentences. Over the years, Cathy's life was increasingly centred at home and she became fairly introverted and reclusive.
Concerned that Cathy was getting lonelier, Judy and Kevin considered a "Pets as Therapy" dog. They asked Dr Archinal for advice and without hesitation he suggested a Labrador.
"As a breed they're practically bombproof. Cathy's mobility isn't fantastic and she needed a nice, calm dog. Tactility is also important, so she could touch and pat the dog and it be robust," he says.
Cathy was on the Guide Dogs NSW/ACT waiting list for two years before Zac, an 18-month old Labrador, became available. He had been trained as a guide dog but failed because he wasn't strong enough on the harness for a visually impaired person.
A gentle, intelligent and loving dog that his trainer wanted to clone, Zac seemed perfect for Cathy. However, as a large dog who was trained to lead forcefully, it's no surprise that Cathy, who is under 150cm tall, was wary. She decided he'd be on trial for six weeks. Almost four years have passed and the two are inseparable.
Zac sleeps in Cathy's room at night, lays his head on her leg when in the car and sits with her when she's using the computer or watching television. Cathy lies down to rub Zac's stomach and will talk him through the day's plans.
Cathy is fully responsible for Zac's care and has developed a maternal love. Kevin and Judy recall Zac curled up in bed and Cathy asking if she "looked like that as a baby, because he looks so beautiful."
And it's not just Cathy who has developed such strong feelings. "We've never seen an animal so attuned to others' needs. We consider Zac more like a grandchild and we love him to bits," says Judy.
The change in Cathy has been remarkable. She and Zac walk over a kilometre together twice a day, Cathy has lost 20kg and now socialises with other dog owners on walks. Most significantly, she now speaks in full sentences. "In some ways it is like a dam being broken and the water pouring out. The sentences have lengthened and the grammar is perfect," Kevin says.
Zac has given Cathy something to be proud of and a new lease of life. In her words, "he keeps her going".
Part of the family
According to Dr Archinal, dog breeding and research have influenced the connections between humans and dogs. Breeds specifically intended to be companion animals intuitively bond with people. Also, there's a breed to suit families whatever their situation and lifestyle.
"Attitudes over last 30 years have changed and dogs have gone from the backyard to the bedroom. People are sharing their lives more closely with their pets," he says.
Strengthen the bond with your canine pal
Whether playing or petting, Dr Archinal recommends spending quality time with your dog. Focusing all your attention on your dog during this time ensures you fully engage with each other.
He suggests you observe your dog and adopt some of their attributes, even if only for a short time. Animals live completely in the present, they are relaxed, comfortable in themselves and love unconditionally. By simplifying our lives, we'll decrease stress and learn to appreciate the little things, such as interacting with our dog.
On a societal level, Dr Archinal believes we need to change our attitude and celebrate pet ownership. "There's nothing wrong with taking pets to work or on public transport like in Europe. The more we get permission to share our animals' lives, the more we'll benefit, not just as individuals, but as a society."
Did you know?
We have one of the highest levels of companion animal ownership and 36 per cent of Australian households have at least one dog.
Make sure your furry friend is always looked after at our
DOGSLife Directory