January 24th, 2016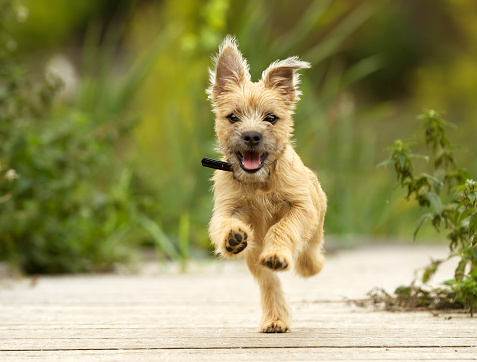 Pet Positives
We love it when people promote pet-care and the many benefits owning a four-legged companion can bring. That's why we're so excited about Mars Petcare's new Pet Positives campaign and website. This online destination aims to raise awareness of the many positives involved in owning a pet, something the PETS team is all too aware of.
Using information compiled by the WALTHAM Centre for Pet Nutrition, the website is all about spreading positive pet news and sharing interesting facts on the topic. Some of the Dogs Life favourites are:
Dog owners walk 31 minutes more per week than non-dog owners.
Pet owners were more likely to get to know people in their neighbourhood than non-pet owners.

Pet owners have been found to have greater self-esteem and are able to cope with social rejection better than non-pet owners.
Children with autism spectrum disorder (ASD) benefitted from exposure to animal-assisted activities within an eight-week period.
Pet Positives also looks at the impact of pets on the community, pets with elderly people, pet-friendly accommodation and workplaces, and much, much more.
Sounds like the kind of site to pique your interest? Find out more and embrace the pet ownership love by visiting petpositives.com.au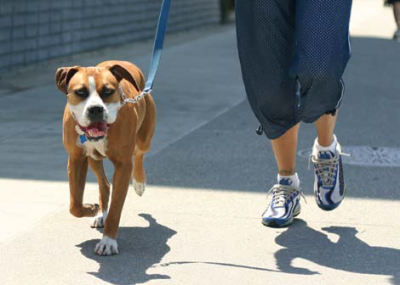 Shocking deterrent
The Australian Veterinary Association has recently released material trying to alert people to the dangers of using an electronic shock collar. "These collars may be referred to as e-collars, shock or static collars, and owners may be advised to use them as a quick fix to barking problems," says Dr Katrina Ward, president of the AVA's behavior group. "But make no mistake — these collars inflict pain, can cause friction sores and inflammation around the neck and will lead to more fearful, anxious and aggressive behaviour," she says. "It can also lead to learned helplessness as the dog shuts down all behaviours in order to avoid the shock. In some cases, incorrect fitting can result in punishing the dog when it's not barking."
The collars are banned in NSW, the ACT and SA. "These collars are a bad idea any way you view them and in some jurisdictions are illegal."
If your dog does have a problem with barking, here are the AVA's suggested top tips to help you work on this problem in a safe and humane manner.
Visit your vet for advice. They may refer you to a behavourist, who can help you uncover the motivation behind the barking. From there, they may suggesting employing environment management, behaviour modification and possibly medication to treat the problem
Use principles of reward-based training. This is the safest and most effective manner of training. Dogs Life recommends never to punish your dog while trying to teach new habits or commands.
Don't expect a quick fix. Barking is a natural behaviour in dogs, and can be a long-term problem that requires a lot of work. Retraining instinctive behaviours doesn't happen overnight.
For more information, visit ava.com.au/polite-pets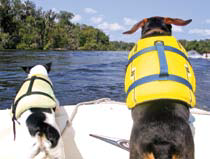 Boat Dogs
Are you thinking of taking your pet pooch out on the water this summer? If so, make sure your dog is adequately prepared.
Purchase a pet-sized life jacket. This ensures that should your boat have a spill, your pet will be able to keep his head above water with ease
Do a practice run. If you have the boat moored to a jetty, spend some time with your dog in the boat before you cast off and explore the waterways. Help them feel comfortable in the new less-than-steady environment
Pack plenty of treats. This way you can reward any positive behaviour and use them as a way to reward and keep focus for your pooch, especially if he becomes unsettled mid-trip
Take along fresh water and a bowl. It can be very hot on a boat, especially with the heat of the sun's rays reflecting off the water's surface. Take a collapsible travel bowl and a bottle of fresh water to avoid your dog getting dehydrated.
Common pet injuries
When it comes to owning a pet, we all know it can at times be a costly experience. A trip to the vet can be far from cheap, but when we're talking about the health of our beloved four-legged family members, who can say no or deny them treatment when sick or injured?
That's why many Australians today are considering pet insurance. Not only does this help with routine check-up costs, but it can also make a real difference to your vet bill if your pet does require a more complex procedure.
According to Real Insurance (realinsurance.com.au) claims statistics as at June, 2015, the top 10 most expensive pet operations are:
Stomach tear
Wound infection
Liver failure
Collapsed airway
Hernia
Disc compression
Liver disease
Chest infection
Back leg fracture
Disc collapse
If your pet was unfortunate enough to suffer from any of these ailments, could you afford to keep it well?
Of course, some people argue that you could put aside a little money every week to cover your pet in case something went wrong, but is that realistic and something you feel you would commit to?
If not, perhaps it's time you looked into pet insurance. It could be the difference between life and death for your pet.
Want more articles like this? Subscribe to Dogs Life Magazine
Make sure your furry friend is always looked after at our
DOGSLife Directory