October 29th, 2015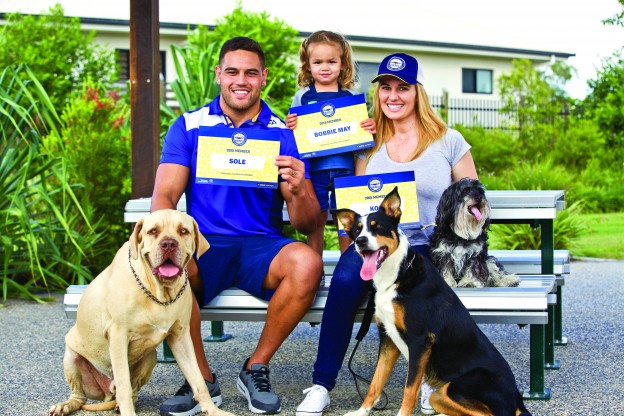 Canine Cowboys
The North Queensland Cowboys are extending their membership … to pets! North Queensland winger Antonio Winterstein's three dogs, Kobi, Bobbie May and Sole, were super excited to join the club — and your dogs can too. The Cowboys also teamed up with the Townsville RSPCA to encourage people to adopt pets from the local shelter. Benefits for pet members include a membership certificate with your pet's name, a collar tag for engraving, a 2015 membership card and much more. To find out how your pets can become official Cowboys supporters, visit membership.cowboys.com.au
South Australia proposes compulsory microchipping
The South Australian government is proposing changes to the Dog and Cat Management Act 1995. The most significant proposed change is the introduction of mandatory microchipping for all dogs and cats by the age of three months. Other suggested amendments include a requirement for dog and cat breeders to register with an approved organisation; clearer and stronger powers for council officers to manage dogs and cat issues; increased penalties for owners who allow their dogs to wander or attack; and improvements to the current accreditation system for disability dogs. The changes are based on recommendations by the Dog and Cat Management Board, Local Government Association of South Australia and findings of the Select Committee on Dogs and Cats as Companion Animals.
Therapy dogs soothe Sydney patients
Nepean Therapy Dogs provide "four-legged healing" to nursing home residents and hospital patients in Western Sydney. Visits from these canine carers provide company, a boost in spirits, a distraction from negative thinking, and can even help lower blood pressure and promote rehabilitation. Many of the therapy dogs are now senior citizens, so Nepean Therapy Dogs is on the lookout for dog and handler teams to join the cause. They need dogs that are friendly, non-threatening and interested in interacting with people. It also helps if the handlers are dog and people lovers too. To find out how you can help, visit therapydogs.com.au.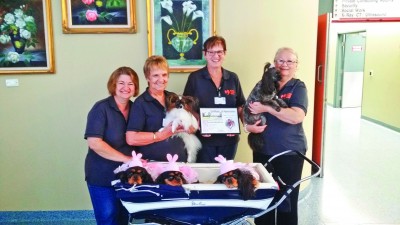 Dogs are dancing in the street
When the global financial crisis hit, San Diego filmmaker Jude Artenstein began to see stories of abandoned dogs and cats and overflowing animal shelters, as families were no longer able to care for their pets. The Doggie Street Festival was born as a way to connect dog and cat lovers with rescue groups and the animals in need of new homes. The event has all the usual trademarks of a festival — market stalls, great music, yummy food, and lots of fun — but it also provides a platform to increase adoption and awareness of spay/neuter options. There are veterinarians, pet professionals, trainers, and health and nutrition experts at the festival to provide information and improved care to the attendees — both two-legged and four-legged. This year was the seventh festival in San Diego, the fourth in Los Angeles and the inaugural Phoenix Doggie Street Festival will take place in November.
Working Dogs Got Talent
The search is on for the best working dogs in Australia. The University of Sydney is conducting a study to determine which genetic markers predict the trainability and success of farm dogs. Researchers will measure and record the behavioural and health characteristics of working dogs, as they affect how successful young dogs in training will be, the length of the dog's working life, and whether it is ultimately chosen as a breeding animal. The outcome of this study will have an impact on the rural economy by allowing farmers to save money by increasing the competence of dogs admitted to training programs.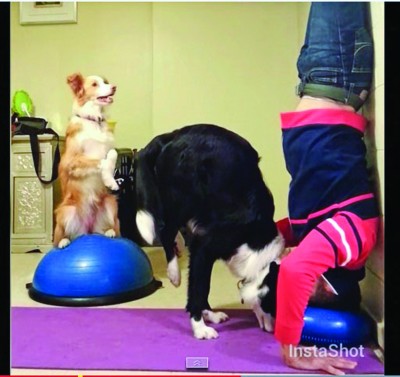 Border Collie acrobatics
A Sydney man has taught his two clever Border Collies, Holly and Ace, to do handstands. Dai Aoki runs Positive Dog Care in Waterloo where he uses only positive reinforcement to teach his dogs some truly impressive tricks. Check out Dai Aoki on Instagram or visit his Youtube channel (youtube.com/user/PositiveDogCare) to see videos of Holly and Ace doing handstands and yoga.
Did you know?
Some types of blue-green algae have been linked to poisoning and even fatalities of dogs. Watch out for blooms of blue-green algae, and don't let your dog enter or drink water that is affected. Be sure to wash your dog thoroughly if it does enter algae affected water and dry them off to avoid self-grooming. If you have any concerns, take your dog to the vet.
Courthouse dogs support kids on the witness stand
Courthouse therapy dogs have long been used in the United States to calm and provide comfort to child witnesses. However, it is only this year that their services have been extended to adults, when Paz, a five-year-old Labradoodle, was allowed into a New York courtroom to assist a woman testifying against the man who abused her. With proven success in other countries, here's hoping that therapy dogs start appearing in Australian courts, giving comfort and support to Aussie victims of abuse.
Talk to the paw    
Japanese researchers at KyotoUniversity have discovered that dogs will refuse food from someone who is mean to their owners. In the study, the dogs watched as their owner worked to open a box, accompanied by two strangers. Afterwards, the dog was offered food by the two strangers from the role play. The study found that when the unknown people assisted or did not interact with the owner, the dogs showed no preference and would take food from both. However, dogs who witnessed their owner being refused help by one of the strangers were more likely to take food from the neutral observer, and ignored the person who had rebuffed their owners. This just goes to show that man's best friend has got your back.
Want more articles like this? Subscribe to Dogs Life Magazine
Make sure your furry friend is always looked after at our
DOGSLife Directory