November 11th, 2013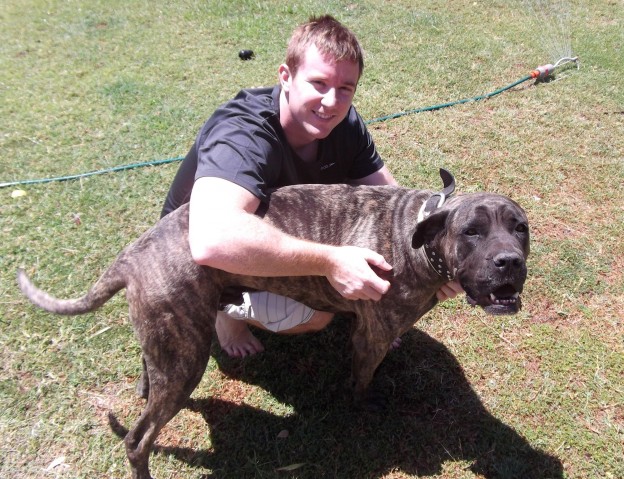 Large dogs are the gentle giants of the canine world, but some people and other dog owners remain wary or even fearful of bigger breeds. As Tim Falk discovers, there's no need to be afraid of big dogs.
When Jodie Mason takes Diesel, her eight-year-old Mastiff x Great Dane x Bull Arab, for a walk, not everyone she encounters is as happy to see Diesel as he is to see them. "People comment that he looks like a horse. He intimidates parents with children from his looks, but we always encourage kids to pat him because he always seems to win them over. Other dog owners generally cross over [the street] to walk away from us," Mason says.
Despite Diesel's friendly nature — Mason describes him as the "sweetest boy" who only ever wants cuddles and affection — people take one look at this imposing pooch and decide he's dangerous. Sadly, this is a problem many owners of larger breeds can relate to.
Cat Saunders, Animal Aid's animal training co-ordinator, has always had a soft spot for larger breeds. "I grew up with Bull Mastiffs and spent most weekends travelling Australia exhibiting them alongside my mother," Saunders says.
"I have always been partial to the larger breeds. When I was looking into a breed of dog to own myself, I researched the Great Dane, Boxer and German Shepherd the most, all of which didn't suit my personal requirements and wants in a dog. I came across the Rottweiler, which seemed to fit all of the requirements I was after:
Trainable and eager to learn
Short-coated
"Affectionate, intelligent and easy to train, they are extremely faithful with great courage and a dignified demeanour."
As a Rottweiler owner, Saunders has experienced first-hand the negative attitudes some people have towards larger dogs. She says education is the key to transforming the way people see these gentle giants. "Australia has a multicultural population and we need a proven and researched education program to assist all residents, including dog owners, on responsible dog ownership. Each dog should be taken on its own merits. There are some truly amazing large-breed dogs in our community, not only as family pets but also in multiple service industries, such as visiting hospitals and nursing homes," Saunders says.
Responsible ownership
Just because a dog is big does not mean it should be feared. As Saunders points out, owners are responsible for the way their dog behaves — the dog's size doesn't even come into the equation. "It is the sole responsibility of the owner to ensure their dog/s is well behaved and under effective control at all times, in my opinion," she says.
"I own three Rottweilers myself, all of which are trained to different levels yet are always under effective control. If you can't recall your dog on the first command and have them return to you immediately, regardless of the distraction, you shouldn't have your dog off lead. This is for the safety of your dog and the community."
Training your dog is critical to ensure you are doing all you can to be a responsible dog owner and also provide stimulation for your pet. For example, an "excitable" large-breed dog that loves jumping up on new people it meets could knock someone over and injure them, so training your dog to greet people in a calm and relaxed manner is vital.
"Every interaction you have with your dog is teaching them something," Saunders says. For example, if you pat your dog when it jumps up to greet you, you are rewarding this behaviour. If you teach your dog to sit in order to gain pats and cuddles, you are rewarding the more socially accepted behaviour of the sit."
For Diesel, Mason's imposing crossbreed, curbing his boisterous enthusiasm was the main stumbling block to him becoming a well-behaved member of the family. "When he was a 'teenager' he used to get quite excited when we got home from work — after being on his own the whole day — and would sometimes bowl me over. We decided to get another dog so he wasn't so bored, and this worked perfectly," Mason says.
And for anyone who may be frightened of big dogs, Mason has some simple advice: "Generally, the bigger the dog, the gentler the giant," she says. "I would always ask the owner first if their dog is friendly and, if you get the all-clear, give it a big cuddle."
Cat Saunders offers some of her favourite training tips for dog owners, no matter what size their pooch may be:
Start your training as soon as you get your dog. It is so much easier and less stressful for both you and your dog if you get in early, as opposed to having to "fix" behaviours after they have become established.
Your dog is never too old to start training — you can teach an old dog new tricks.
In regards to particular areas of behaviour, all dogs, regardless of size, should be taught to walk loosely on a lead — not just drag their owners along behind them. They should be taught a reliable recall under multiple and varied distractions and have a bullet-proof drop/down position as this can work as a "safety switch" should you need your dog to stop immediately for its own safety.
A big sook
Alaskan Malamute Kako may be one of the bigger dogs you're ever likely to come across, but Kako's owner, Narelle Lee, describes her imposing pooch as "a big sook". "She adores people, and yet there are some who are afraid of her because of her size," Narelle explains.
Kako is now approaching 14 years of age, and was rescued from the RSPCA some eight-and-a-half years ago. "We had always liked medium to bigger dogs, and when we spotted her looking very forlorn in the cage, we had to meet her. She took to my husband straight away and there was no turning back," Narelle says.
"She is not an off-the-lead dog so I always have control of her, and I am careful with children around her because they scare her if they wave things at her or are too harsh with her. But I am always happy to have children and adults pat her — we take her to the shops down the road where she regularly picks up people. I have had people stop me on the street or pull up beside me to ask what breed she is. I find that some immigrant groups are less confident around her, and if I get the chance I tell them that she is friendly and encourage them to pat her."
Kako's size hasn't been an issue for Narelle too often, but it did take a little while to learn how to walk this strong pooch. "She gets tired of being dominant after about 50 metres and settles nicely, but someone who doesn't know how to handle her could get dragged off down the street," Narelle says.
"If people are afraid of large breeds and they want to change, go to events like the ones the Malamute Club has where owners take their dogs and we are more than happy to let people meet our dogs in safe circumstances," she advises. "Go to some of the local dog shows and talk to the breeders, or visit the rescue groups — there are always people there who can show how magnificent the dogs can be."
Make sure your furry friend is always looked after at our
DOGSLife Directory