October 30th, 2013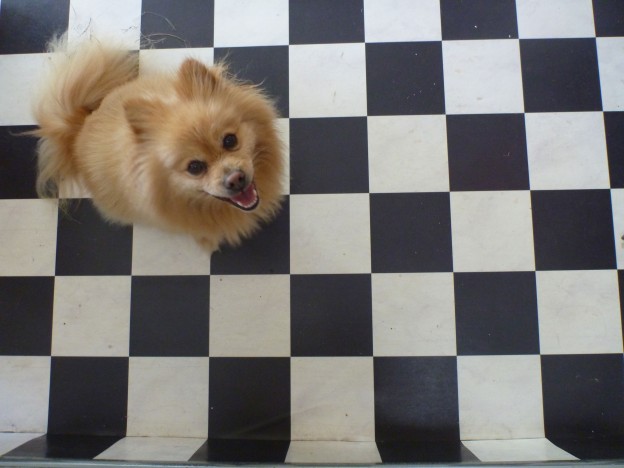 Adopting a dog from a pound or shelter isn't just good news for the pooch. Laura Greaves meets seven dog owners whose lives were forever changed by their 'second chance' canines.
"Life is all about second chances!"
Karleitia Bodlovic's family adopted an "extremely shy and troubled" seven-year-old Chihuahua, Buddy, from Sydney's No Kill Pet Rescue in February.
"Buddy was physically abused and left behind by his previous family at their rental home when they moved out. He was undernourished, scared, and had lost a lot of his hair and a few teeth. He was picked up by a local pound and, due to his aggressive, scared behaviour, he was due to be put down until No Kill Pet Resuce took him on.
We already had a Chihuahua, Pedro, and I'd wanted another little guy for a while. When we visited Buddy at his foster home we took Pedro with us as I wanted to make sure both boys were comfortable with each other. Buddy barked anxiously when my husband and I first went in — until he saw Pedro. They started playing together straight away and Buddy's foster carer, Michelle, was happy for us to take him home on a two-week trial.
I cried for days when we first took Buddy home as I was so upset and ashamed at how cruel people can be and how much damage had been done. Buddy was very anxious and would cower on his back and pee if anyone moved too quickly or a door slammed. He needed a lot of care, but I knew we were in a great position to help him.
I never had any doubts that Buddy would become a permanent part of our family. I knew he just needed time. Because he had been physically abused and neglected, my approach was to give him space and love from afar so that, when he was ready, he would come to us. Sometimes people are overly affectionate with rescues, but being overprotective and "babying" can cause further anxiety and harm in the long term. It's important to give them confidence and support.
Buddy has absolutely changed our lives. Buddy is now a happy and healthy little guy, although he doesn't trust anybody but immediate family right now and has a skin condition from the neglect that requires weekly treatments. And he is Pedro's best friend — they are thick as thieves and follow each other around everywhere. Buddy has helped make Pedro more patient and caring towards other dogs and people, while Pedro is Spanish for 'two crazy Chihuahuas!'
Life is all about second chances. Buddy had a traumatic first few years but he will be loved and cared for by our family for the rest of his days."
"My rescue dog inspired my new career!"
After her beloved rescue dog, Danny, passed away, it was almost a decade before Sydney's Lena Seeto felt ready to share her life with another canine companion. She says her Pomeranian, Teddy, adopted in 2009, was well worth the wait.
"My family has always adopted animals and my first dog, Danny, came from Sutherland Shire pound in 1988. Nine years after Danny died, I finally reached a point where I wanted a dog again. I only considered rescue organisations for getting a dog.
Teddy had been at the RSPCA's Yagoona shelter for a month when I met him. I wondered why he hadn't already been snapped up, but his age had been estimated at four-and-a-half and lots of people considered him to be too old. As it turned out, Teddy was actually closer to seven. For me, it was the perfect age as I didn't want to go through the puppy phase and I felt that older dogs were often overlooked.
Teddy had been surrendered by his owner as she was physically unable to look after him. He is so well behaved and quiet and fit in straight away. Although I knew he missed his previous owner, it was like he knew he was supposed to be with me and followed me everywhere. I fell in love with his beautiful personality and nature. He is a gentleman, but he's also such a goofball. He snores and sleeps in funny positions and runs around in circles for the sheer joy of it.
When I adopted Teddy, I had just moved back to Sydney after several years overseas and wasn't sure about what career path I wanted to take. Once I had Teddy, I knew I had to have a job where he could come with me. Dog grooming was an obvious choice and I enrolled in a class and worked in the industry.
The place I was living in at the time didn't have a backyard and I had to take Teddy outside for toilet breaks four to six times a day. I realised that even going for small walks required a lot of 'stuff' like keys, phone, poo bags, as well as the leash. That's when I came up with the idea of the DogPack hands-free leash, which is today professionally manufactured and being sold around Australia.
Three years after I adopted Teddy, his previous owner found us after seeing a video of him online. It was so amazing to meet his first 'mum', as I knew how loved he had been. She had been racked with worry about him all those years. We have since swapped photos and stories and he has had play-dates with her.
Adopting Teddy has taught me that I do have room to love another dog like I did my first dog. I've also learned that I have a lot more determination than I realised and that I can take on many challenges that at first seem too difficult and terrifying on the outset."
"My rescue dog chose me!"
When Australian author Andrew Webber moved with his wife to Abu Dhabi, the animal-loving couple was resigned to a life without pets — but rescue dog Rusty soon changed that.
"My wife and I have been together 17 years and have always had animals, but when we moved to Abu Dhabi we decided not to have pets. We thought we could make up for it by volunteering for a couple of rescue organisations here in the Middle East. Then Rusty's sad little face popped up on the adoption lists and we both just gave in. He was ours before we even met him. We just knew it.
Rusty was a year old when he came to us. He was so thin that his hips were wearing holes in his skin, he was blind in one eye and missing teeth from a savage beating he had taken some time in his short life. He was also unable to straighten his back legs fully, probably from being kept in a cage far too small for him.
I sat on the floor of the foster carer's lounge and Rusty came right up to me and lay down with his head on my knee. It was an emotional moment. His carer had not seen him trust someone so completely before. We fell in love with him, took him home and set about turning him into a happier animal.
The first thing we had to do was work out what scared him. The answer was simple enough: everything scared him. I think he was so used to bad things happening to him he just figured he lived in a world where only bad things happened.
One of the things that really worried him was feet, so I set about desensitising him by making a point of giving him a tummy rub with my foot every time I passed. It took a while, but he soon came to realise that he wouldn't ever be kicked again and took to rolling onto his back and wagging his tail to let me know that he was up for a rub. If I didn't, he would follow me to my writing desk and crawl under it to nudge at my foot until he got what he wanted!
He's three now, and so unlike the shivering, petrified animal that we had coaxed into the back of our car on that first day that people simply don't believe that he could ever have been anything other than a happy, loving dog. He is the kindest animal you will ever meet.
Every time I interact with Rusty and our other rescued pets, I am reminded that they have nothing to offer but love and trust. There is no agenda on their behalf, other than to trust that I will do my best for them. Treating animals with dignity and no small amount of humility reminds me of the best part of human nature."
"I've learned so much from my dog!"
Melbourne's Karen Uden had never owned a dog when her husband, Dan, persuaded her to adopt a canine companion in 2011. She says meeting Border Collie Tux was "a turning point" in her life.
"Tux was from a litter of 10 dumped puppies and three of his siblings died of Parvovirus. As my husband was at work, I was the one to collect him from the shelter when he was three months old. He looked up at me fearfully and I realised that he was relying on me now; I'd better not let this little guy down.
I fell in love with Tux quickly and deeply, but I don't think I realised this until he was eight months old and we went away to a dog-friendly B&B for the weekend with friends and our dogs. We left our dogs playing happily while we went to town for breakfast. On our return, Tux and Andy, his Golden Retriever mate, were bleeding and limping. Someone had shot these two beautiful dogs with a high-powered air rifle.
The pellet went into Tux's hip and lodged in his pelvis. We weren't sure if he would make it through the night. My world closed in. Miraculously, the shot missed all of his organs and Tux had another chance at life for the second time in five months. Andy had gruelling surgery, but is also fighting fit today.
Tux has opened up the world of dogs for me. We're now involved in Flyball — it turns out Tux is a natural and has already won a ribbon! From being 'dog ambivalent' before, I am now a dog tragic. Although it's hard to admit sometimes, your dog is your mirror, so during the times I was frustrated with him, I learned that I had to work out what was going on with me.
Rescue dogs have often been in environments where their surrounds are inconsistent and changing, or they have had poor or no leadership. This can cause undesirable behaviours, leading a dog to be perceived as problematic. The great thing is that dogs are very receptive to change, and a move to a completely new environment is the perfect time to set new expectations and boundaries."
"We're the lucky ones!"
When a scared and injured Poodle appeared on Penny McKee's doorstep during a storm, plenty of people told her what a lucky dog he was. But Penny knows she's the lucky one.
"One dark and stormy night in March 2002, we found Charlie in the front yard of our Brisbane home. He was so badly injured he couldn't walk, his curly coat was matted and he had no collar or microchip. His appearance suggested he'd been 'on the streets' for a while.
Despite his injuries — we later found out he had a fractured pelvis — Charlie scoffed down some leftover spaghetti bolognese. The next day we took him into the RSPCA where he was to stay for a week in the hope someone would claim him. If not, we could legally adopt him. The thought of someone looking for a lost pet was uppermost in our mind.
A week later, we got the call that Charlie had not been claimed — and therefore ours! Charlie fit right in, although his injuries initially dictated how his days went, as the vet had recommended quiet time for a couple of months.
After an interstate move and the births of our two daughters, Charlie took to the role of firstborn with grace and kindness, and could often be found sitting on the bunny rugs beside each daughter when they were babies.
Charlie is now 16 and his days are marked by morning and afternoon walks and long sleeps in between. He still wears a hand-knitted red jumper our Brisbane neighbours made for him shortly after our adoption.
Charlie is a constant reminder to be mindful of others — a lesson we instil in our children. As his needs change with age he is a 'lesson on legs' in terms of treating lives with dignity, kindness and empathy.
Some people say Charlie is a very lucky 'second chance' dog. But we are the ones who feel blessed to have such a wonderful pet in our home and in our lives. We love him enormously."
"Foster care is my calling!"
Adopting a "skin and bone" Koolie, Yota, three years ago set Colette Smedile on a rescue journey that has seen her care for a further 25 dogs.
"I happened upon Victorian Dog Rescue and Resource Group, the largest foster care network in Victoria, on the internet. I filled out the application form and, after a phone interview and property check, I was approved to foster for them. Yota arrived the next day.
My first days with Yota were a real struggle. I had only ever raised dogs from the puppy stage and I just expected a normal, happy healthy dog that I could feed, walk and cuddle. Yota was a full grown blue merle Koolie, but her coat was dead and brown with dust. It took three shampoos before the water ran clean. She should have weighed 22kg, but she came into VicDRG's care at 14kg. Her eyes were sunken and she had no peripheral vision. She had rope burns around her neck and big chunks of her ears were missing.
But the physical issues were not her greatest problem. Yota was so scared she cowered every time anyone went to touch her. She spent the first three days with me cowering in the dirt in the furthest corner of the yard and every time I put her on her bed she would rush outside again in a blind panic. Of the 20-plus foster dogs I have had since, Yota was the most extreme case of neglect and cruelty.
Yota had three turning points: the first was meeting a wonderful blue merle Australian Shepherd called Chyna. We used to meet at the park and Chyna gave Yota confidence and taught her to love open spaces and free running.
Her second turning point was when I decided to foster care other dogs for VicDRG. She became the matriarch of all the foster dogs that came through our doors, modelling responsibilities and establishing herself as the top dog.
But the best thing I ever did for Yota was to take her to herding lessons. It was there that she discovered her inner working dog. Herding is validating and gratifying for a working dog. I encourage anyone with a working breed to give it a go.
During the first four months I had Yota, she only had one 'meet and greet' with potential adopters and she didn't get on that well with their Spoodle. By the end of the meeting I realised that I didn't want to give her up because the journey we had taken to get to this point had been too hard and too meaningful, so I decided to adopt her.
I also adopted another foster dog, Satin, and have given up work in the corporate world and now donate a large part of my time to doing volunteer work for rescue. It doesn't pay as well but it gives my life meaning.
My foster and adopted dogs have taught me so much about resilience, hope, courage and gratitude. Every foster dog that I have had remembers me when we meet, sometimes even years later. They always greet me as that special someone who helped them transition into a future filled with certainty and love. That feels pretty special. Don't pity a rescue dog. Adopt one. And be proud to have their greatness by your side."
"My dog is a life saver!"
Dianne Ferrara says she'll be forever indebted to 10-year-old Cavalier cross, Monti, after he saved her mother Lucy's life.
"Mum adopted Monti from Melbourne's Lort Smith Animal Hospital in 2009. The bond she shared with him was incredibly strong. Monti took away a lot of loneliness for Mum and really made her happy. He'd been abandoned by his previous owner so he really took to our family. He was Mum's constant buddy and basked in her attention.
Not long after she adopted Monti, Mum came out of hospital after a near-death experience with a perforated stomach ulcer. I had put her to bed and went to bed myself, exhausted by the ordeal of the previous weeks. Monti slept on Mum's bed, acting as sentinel, and I had left the bedroom door ajar in case she called out.
I was in a deep sleep when I awoke to Monti trying to lick my face. I was so exhausted that I shooed him away but he persisted, which was really out of character for him. Suddenly, through the veils of sleep, I heard the faintest of voices calling out for help. I leapt from my bed and rushed to the bathroom where I found my mother almost unconscious and covered in blood. Her ulcer had ruptured and she was again in a critical state.
I called the ambulance and she arrived at the hospital without a pulse. It was touch and go but the medical team was able to revive Mum and gradually she made a full recovery. We were blessed to have her in our lives for another three years. Were it not for Monti's efforts that night, I know we would have lost her.
After Mum passed away in 2012, Monti was distraught. He couldn't find peace and constantly searched for her. Shortly after she died, he developed a facial palsy that paralysed half his face. I honestly believe it was due to his stress and the heartbreak of missing my mum.
I love shelter dogs. They are certainly different to other dogs — not because they are 'damaged', but because they are grateful. They somehow know they have been given another chance and they love you for it.
Monti has now adjusted to his new life with me and my two dogs, one of whom is also a rescue. He is happy and content and has made an almost full recovery from the palsy. My family will be forever grateful for his heroic deed that granted us that extra precious time with our mother."
Make sure your furry friend is always looked after at our
DOGSLife Directory