January 9th, 2017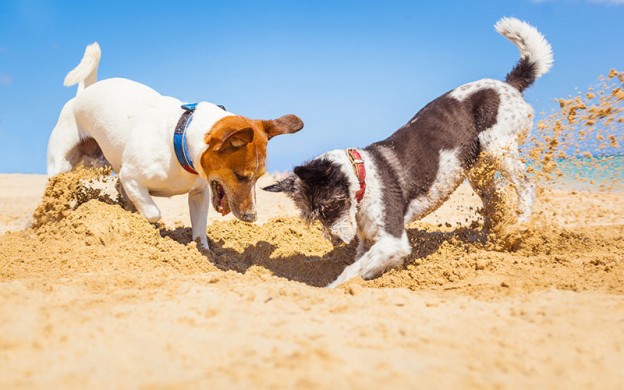 By Dr Katrina Warren, PAW by Blackmores ambassador
Warm temperatures means spending more time outdoors, but for pet owners, it can also mean more frequent visits to the veterinarian. Summer is all about swimming and although taking a dip with your pooch can be loads of fun, it can also bring an abundance of unforeseen ear and coat issues. Veterinarian and PAW by Blackmores ambassador Dr Katrina Warren, shares her intel into keeping your furry friend cool, calm and collected throughout the summer period.
Sun Protection
Dogs and cats also suffer from skin cancer and sunburn. This is most common in white animals with pink skin on their noses and ears. Prevention is the best cure and dogs should be kept out of sun between 11.00am and 3pm. You can try applying zinc to the nose and also using protective sunsuits if your dog likes to bake belly up.
Avoid heatstroke
Dogs can also overheat after too much exercise and over exertion, which can result in heatstroke – a very serious condition caused by a marked elevation in body temperature. Brachycephalic breeds (those with short muzzles) such as Bulldogs, Pugs and Staffys have short airways and develop heatstroke more easily than other breeds. Special care must be taken to prevent these dogs from overheating during summer.
Signs to look out for which indicate your dog could need a break:
Elevated body temperature – greater than 39.5°C
Panting persistently and quickly
Looking stressed and agitated
Vomiting and diarrhoea
Weakness and muscle tremors
Bluish purple or bright red gums
Collapsing or having a seizure
If you suspect that your dog has suffered heatstroke and has an elevated temperature you should try to cool it down and take it to your veterinarian as soon as possible. The following tips can help in this situation:
Offer them cool water
Wet their coat with a cool shower or hose (not ice)
Place a cool wet towel over them for transport
Turn on car's air conditioning to maximum
Scratchy ears and coat
It is important to consider your pooches ears and skin. Ears become an issue when dogs swim as some may develop ear infections from moisture build up in the ear canal, leading to overgrowth of normal flora. Signs of  an ear infection include head-shaking, ear-scratching and even very smelly ears.
The use of a good quality ear cleaner after swimming can reduce the risk of this ailment. If you notice that your dog's ears are looking red, or if you notice a bad smell or discharge, see your veterinarian as soon as possible. PAW by Blackmores has a gentle ear cleaner that does the trick.
Stop the itch
Skin is the largest organ in a dog's body. Some dogs have more sensitive skin than others and are prone to inflammation or infection (dermatitis). This is often associated with itching, which can be constant in some dogs. Pool water is usually not a problem for dogs, but it is important not to allow dogs – however keen they seem – to swim in, or drink, dirty pool water. This can result in skin infections or gastrointestinal upsets. To remove residual chlorine or sand from the coat, give your dog a post-dip rinse under the hose and a gentle towel dry. Use a face washer or similar to dry the ears.
Schedule exercise wisely
Try to exercise your dog early morning or evening to avoid exercising during the heat of the day when the sun is beating down. Be aware that the pavements can also get extremely hot and burn your pet's feet.
Dog afloat
Water safety applies equally to dogs, too – never allow a dog to swim unsupervised. When it comes to ocean swimming, remember that pets can get caught in rips, too, so avoid swimming in rough conditions.
Protect their paws
If you are spending time with your dog by the ocean, take care around rocks and oysters which can lead to abrasions and cuts. And remember that paralysis ticks love the coast, so make sure your best mate's tick prevention is up to date.
About Dr Katrina Warren
Dr Katrina Warren is a veterinarian and best known for her work in the media as a presenter and spokesperson. She has worked across all media platforms, including TV, radio, print and online. She has also authored four books, hosted many events and most recently created an online education program for dog owners. Her real passion is helping pet owners enhance the special bond that is shared with pets. She is a proud ambassador of PAW by Blackmores.
You can catch Katrina Warren via Facebook, Twitter, Instagram, her YouTube channel. Visit www.drkatrina.com for more information.
Make sure your furry friend is always looked after at our
DOGSLife Directory