December 9th, 2015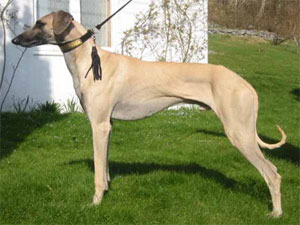 Also called the Arabian Greyhound, the Sloughi dates back to Ancient Egypt where mummified dogs have been found. Treated with respect, dignity and loyalty throughout history, the Sloughi is a breed which carries itself with great poise, grace and honour. The breed is characterised by their short coat and lean frame. The Sloughi loves its human family but can be clumsy and hesitant around younger children.
Facts
Personality: The Sloughi is a stubborn dog who can be difficult to train at first. The Sloughi possesses many of the hound's qualities including a devotion to family and love of children as well as the need for an active lifestyle. They are an extremely active and intelligent breed who thrive on training and games from a young age.
A great dog for: The stubborn nature of the Sloughi make this a tough breed to handle for first-time dog owners or families with very young children. The Sloughi doesn't like to change families either and is a definite dog for life. Owners with active lifestyles will enjoy the company of the Sloughi.
Favourite activities: Running after scents, fetch, training and spending time with their human family.
Backyard requirements: A large secure fence is necessary for this active breed. The Sloughi is a sighthound and needs its space and room to run. The larger the backyard, the better.
Breed Care
Grooming: The Sloughi don't like dirt and will often take it upon themselves to groom like a cat would. A regular brush with a rubber mitt will help keep their coat shiny and clean.
Want more articles like this? Subscribe to Dogs Life Magazine
Love our breeds? Find your new best friend on our
DOGSLife Directory