April 9th, 2017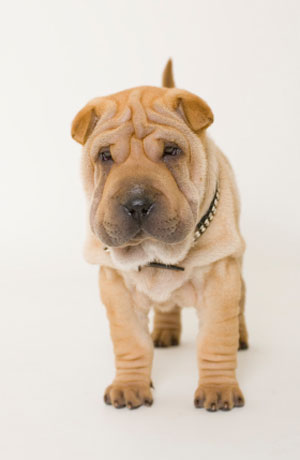 From a wrinkly beginning, a Shar Pei pup will grow into a fully fledged member of any household, securing a special place in the hearts of all members of the family.
Hey, hey, Roley hang on!
Yes that's right this adorable pooch is well known for toilet tissue commercials, and even wrinkle creams. With such an adorable face and easy going nature its no wonder this breed is such a big hit with the general public.
Ask Shar Pei enthusiast Wayne Grace from Sydney, NSW, about the breed and he'll soon have you thinking seriously about welcoming one of these dogs into your family. "They have the most wonderful natures," Grace enthuses. "They are intelligent, not yappy, lovable, affectionate and they make me laugh."
Grace has been involved with the breed for more than 10 years and had the first Grand Champion Shar Pei in Australia. Wayne points out that, like all dogs, some Shar Peis can be temperamental — but with the right training and correct treatment, they make outstanding family dogs.
"This breed loves attention," says Grace, "and is not your backyard dog. It wants to be part of the family."
Originating in China some 2000 years ago, the Shar Pei was originally unknown outside that country. The breed was initially used as a farm dog for herding, hunting, guarding and as a companion. By the time communism arrived, the Shar Pei became almost extinct. And by the 1960s, there were very few left worldwide. In fact, the Guinness Book of Records listed it in 1978 as the worlds rarest dog and it was this mention that attracted some dog breeders outside China to begin the long, slow process of reviving this very distinctive breed. In the 1970s Matgo Law, a Hong Kong resident, called for international help to revive the breed and slowly the Shar Pei crawled back from virtual extinction to become one of the rarest but trendiest of dog breeds.
Wrinkled wonder
This interesting dog has a number of characteristics that make it unique in the dog world. Of course, the famous Shar Pei wrinkles spring instantly to mind. While these wondrous wrinkles may be the first thing that attracts prospective owners to the breed, the wrinkles remain only during puppyhood and then begin to disappear.
The Shar Pei, whilst in its state of redevelopment, became known for its suspicious and aggressive temperament, but with careful and responsible breeding, this problem has largely been solved. One rarely encounters a nasty Shar Pei nowadays, but puppy-seekers should ask to meet both parents, and as many other related dogs as possible, to make sure of their dispositions. The Shar Pei should be a calm, even-tempered, well-mannered, friendly dog with humans, but may retain some dislike of other dogs and a tendency to stubbornness. Its rather loose, wrinkly skin should have a harsh, bristly, short coat to protect it. It comes in solid colours only black, red, and light or dark shades of fawn or cream. Its adult height is in the range of 46-51cm at the shoulder and weight 18-25kg. The Shar Pei makes a good housedog and watchdog.
Care tips
The Shar Pei has a padded head and is very sensitive to heat. On hot days, make sure your pooch is kept cool and has plenty of fresh water available. Shar Pei owners should also ensure their dog eats a balanced low-protein diet with few table scraps as too much of these can lead to skin and kidney problems.
This breed can have a sensitive skin so breeders suggest owners use only dog products on their Shar Peis and not products made for humans. Experts warn that the Shar Pei's skin can easily react to perfumes and other ingredients in conventional products.
Fergus strongly recommends new or potential Shar Pei owners familiarise themselves with this breed and its needs before they buy a pup. "You need to research the breed before you buy a Shar Pei and make sure you are able to provide the proper care and environment to maintain a healthy, happy dog," she says.
She also strongly advises potential owners to deal only with reputable, ethical and registered breeders as this should lessen the chances of buying a Shar Pei pup with health problems.
Facts
Care and exercise
Regular exercise in reasonable amounts is the order of the day with the Shar Pei. When exercising in public, the Shar Pei should be kept on a lead it may otherwise try to protect you from any other dog it sees. Regular brushing and the occasional bath should keep the Shar Pei's unique bristly coat in good condition, but more important is frequent attention to any deeply wrinkled areas, especially around the face, to minimise skin problems.
Suitability
While the Shar Pei is one of the most unusual and distinctive breeds, it should not be purchased simply because we wanted something different. It can be an excellent, appealing family dog and a worthy watchdog and will accommodate itself to most living situations. It can also be stubborn, self-willed and try to dominate its owner. The heavily wrinkled skin which gives this breed its unique appearance brings with it a heavy responsibility to take care of it. The Shar Peis propensity for arguing with other dogs also must be taken into account. This is definitely not a breed for novice dog-owners.
Love our breeds? Find your new best friend on our
DOGSLife Directory