July 1st, 2008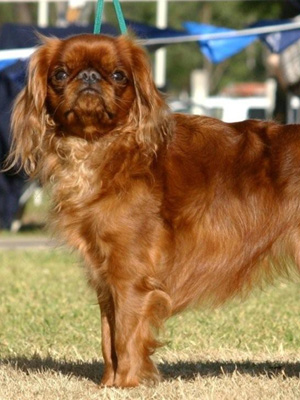 Facts
It's no wonder this gorgeous breed is winning the praise of thousands across the globe. Lauren Nethercote discovers the wonderful King Charles Spaniel that has heads turning and hearts melting.
The oldest English breed in the Toy group, the King Charles Spaniel carries the Kings name by royal request. King Charles II of England owned quite a few of these charming little comforter dogs. During the 19th century, the King Charles Spaniel underwent several changes. It was bred smaller, with a flattened upturned face, protruding eyes and a more rounded skull. The result is today's King Charles Spaniel, known in America as the English Toy Spaniel. The King Charles Spaniel, which ranks among the rarer breeds in Australia, should not be confused with its larger cousin, the Cavalier King Charles Spaniel. Today, the King Charles Spaniel is a popular family companion, being extremely affectionate and loyal.
A person who knows the Charlie all too well is enthusiast Blair Edgar, who has been involved with the breed for 15 years. He is also vice president and patron of the King Charles Spaniel Club Victoria. King Charles Spaniels are independent, autocratic, aristocratic, very loving and attentive. This breed is first and foremost a companion dog; they thrive in that role and are companions par excellence, Edgar says. Dogs Life also speaks to Ken Ball, who for 25 years has been involved with the breed and imported breeding stock from New Zealand and England. King Charles Spaniels are for the connoisseurs, a person who wants a companion dog, he says.
Loyalty plus
This delightful breed gets along wonderfully with children and other dogs, but will do better with older children early socialisation is a must. As with all breeds, children should be supervised.
Charlies are often used as companion dogs; they are bright, happy, full of fun and love nothing more than a cuddle on your lap. They are excellent family companions, howe'ver due to their small size and flat faces, they are not suitable for young children, Ball tells Dogs Life.
Despite their gorgeous looks, King Charles Spaniels make good watchdogs; they are fiercely protective of their owners and their own space. The King Charles develops a distinct rank and pecking order. Once you have its confidence, a Charlie is your friend for life.
They will set off the alarm system loudly and will defend their favourite person. King Charles Spaniels are brave, unafraid and will give their lives for the person they love, Edgar says.
Ball also mentions to Dogs Life that the King Charles Spaniel will certainly let you know of anyone approaching the front door and will bark loudly to protect their house.
The breed loves human companionship and does not adapt well to solitary life in a backyard. If they do spend time in the backyard, ensure it is safely fenced. They like exercise; they will also like sitting or lying on the very best sofa, chair or cushion and claim it their throne, Edgar says. They will walk as far as you will. It is important to keep their muscles toned and minds occupied. The King Charles loves to run, play and chase butterflies.
Small, agile and smart
The King Charles Spaniel is extremely intelligent and responds well to training, but can be stubborn at times. They need to be taught basics in fun, short, 10-minute bursts, and they respond well to the positive-reinforcement method. The breed is naturally well-behaved, but can be wilful. They have incredible, extraordinary and very acute memories; they do not forget anything, Edgar tells Dogs Life. The King Charles is easily trained and can perform at any level. Charlies do not follow other peoples rules; they do it their way. They sit when you want them to stand, they will turn their heads away when you want them to look at you, but produce a camera and just watch them pose.
To keep their beautiful, long, silky coat free from mats, regular brushing is required. The King Charles Spaniel should be brushed daily with a bristled brush and comb, and its advisable to keep the area around its eyes clean with wipes. There is no need to clip their coat in summer, as it is a natural insulator. The King Charles Spaniel is generally a robust and healthy breed, with no hereditary diseases recorded. Purchasing from a responsible breeder is recommended. Most breeders take time to study the bloodlines with the intent of eventually breeding any problems out of their bloodlines. The lifespan of this loving breed ranges from eight to 12 years, although it is not unheard of to see the King Charles Spaniel reach 15 years.
Breed Contacts
The King Charles Spaniel Club of Victoria: http://members.optusnet.com.au/kingcharlesspanielclub/
For more information or a breeder in your area, contact your state canine council via the Australian National Kennel Council (ANKC) website at www.ankc.org.au
Love our breeds? Find your new best friend on our
DOGSLife Directory