February 24th, 2008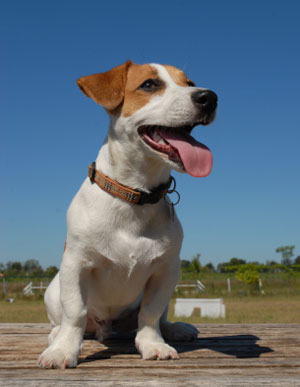 Jack Russell dogs are full of energy, are fun-loving and are suitable for dog obedience games like agility.
Facts
Personality: The JRT is lively, enthusiastic, fun loving and eager to please. They will thrive if exercised daily and included as part of the family.
Suitable for: Active people who enjoy spending time with, exercising and training their dogs. The JRT is a great family companion but is not suitable for children under five. The breed is great for older children as its always on the go.
Favourite activities: Running, playing fetch, agility, obedience, racing and hunting mice in the backyard. They love to play and their little legs will keep up with the best of you!
Watchdog qualities: Even though they're a friendly breed, they are a good watchdog and will bark at unfamiliar sounds or people entering your property.
Backyard requirements: A secure fence is a requirement, as this breed tends to roam. If they get bored they will dig and become destructive. Provide plenty of toys and a safe digging area, such as
a sandpit.
The Jack Russell Terrier, a lovable and eager-to-please breed, takes its name from the Reverend John (Jack) Russell (1795-1883), a founding member of England's Kennel Club in 1873. Reverend Russell, otherwise known as The Sporting Parson, was also a passionate fox hunter and it was this interest in fox hunting that lead to the breeding of the Jack Russell Terrier, in Devonshire, England, in the 1800s. With balanced proportions, intelligence and the ability to manoeuvre underground, the JRT became the perfect fox hunter, but nowadays he is also a wonderful companion and family pet.
Cheryl Burge, from Stoneybrook Kennels in Tamworth, NSW, has owned Jack Russells for the past 11 years and has been breeding and showing dogs for the past 35 years. Cheryl says, Jack Russells make great family pets. They love to play with children and are easy to train to play ball and fetch. This breed loves being part of a family, though their assertive and demanding nature makes them unsuitable for children under the age of five. They can also become bored quickly and therefore need an outlet for their considerable energy and intelligence. They're good for people who enjoy walking and I have sold puppies to people who go jogging, as their little legs can run all day, says Cheryl.
However, JRTs can get enough exercise playing with the family in the backyard. I do recommend a daily walk, if you live in a flat, but if you have a big backyard or children, they get enough exercise playing, says Cheryl. The breed enjoys burning energy through ball games and can keep up with the most active family. If left alone in the backyard and not included with the family, as with most breeds, they will become mischievous and destructive.
This alert and ready attitude means the breed is always on the go. They are a smart little dog and easy to train. There are quite a few Jacks that do obedience and agility, says Cheryl. JRTs are also intelligent and willing to please, says Cheryl. They do try to please their owners and enjoy training for food rewards.
The JRT is an excellent hunting dog, still possessing a natural hunting instinct; therefore owners must be aware that the breed may also roam. A secure fenced yard must be provided, along with plenty of attention and exercise. Even though sometimes, it seems, the breed forgets about its ancestry. Our old dog Sandy used to play with the foxes in the paddock instead of chasing them away, laughs Cheryl.
The JRT also loves being with people and will protect the house if it hears an unfamiliar sound. Jack Russells make good watchdogs. They will run to the door if someone knocks or if they hear a strange noise, although they are more than likely to lick and play should the person be invited inside, says Cheryl.
Cheryl loves the JRT and says she has many funny stories she could tell. We have a dog called Stoneybrook Brite Lizzy who loves to sing along when my daughter plays the mouth organ. Also, when we are at the field days, Lizzy gets so excited about chasing the fox tail, she runs to the starting boxes by herself, puts herself in and crouches down ready to race, she laughs.
Jill Clinch, from Bluepanda Kennels in Springwood, NSW, also has plenty of amusing stories to tell about JRTs. You must remember this breed is known for their hunting ability.
My oldest female, Login, is very much that way; in fact, I have found the females are more so than the males. I can remember getting up one morning to find a dead rat on the lounge and there she was sitting next to it with a big smile saying, Look what I caught for you, Mum, laughs Jill. Another time, when Login had a litter of six-week-old puppies, she was always looking for a way out of the yard to go hunting (that's why you need very secure fencing to own a Jack Russell). We back onto brush land and a valley, and the yard next door had, at that time, knee-high grass. I called and called for Login. Imagine my horror when I realised what had happened! Suddenly I heard the grass moving and there she was running through the grass followed by her puppies. Their little faces said it all: We've been hunting and, boy, was that fun. What could I do but be glad they were all back home safely, says Jill.
Jill has been breeding Jack Russell Terriers for seven years and has also been breeding Old English Sheepdogs for 28 years. She says the JRT is best suited to a person who is willing to give them plenty of time with exercise and training.
JRTs are a pleasure to live with as long as they receive training from day one. They can be hard to train if you do not show them who is boss. You must remember they are terriers. We have a number of them that are doing well in agility and enjoy it a lot, says Jill.
Even though the JRT is only 25cm high, what it lacks in height it makes up for in attitude, often forgetting its a small breed. Its size, stature and alertness suggest strength and endurance to function as a working terrier. It also has a harsh, waterproof coat that was perfect for its ancestors job of getting down and dirty in the foxholes. The coat is not hard to look after and grooming the breed is fairly low maintenance. There are three different types of JRT coats: smooth, broken and rough.
The smooths and brokens need a brush once a week to rid the coat of loose and dead hair.
The roughs, depending on how tidy you want them, need their coat stripped or trimmed on a monthly basis and this also depends on the coat thickness.
The hair on the tail will also need a trim and a weekly nail trim may also be required, says Jill.
The JRT coats can be white, white with black or tan markings, or a combination of all three, known as a tri-colour. Puppies cost from $400 each and must be wormed, microchipped and vaccinated.
If you purchase a puppy from a registered breeder they must supply the papers for the puppy, as all puppies must be registered with the Royal NSW Canine Council, even pet puppies, adds Cheryl.
Jill says the Jack Russell Terrier is a good family dog. I don't recommend the breed for young children but for older children its ideal because JRTs are always on the go.
Breed Care
Daily: Fresh water and a balanced diet designed for small active dogs is essential. Daily exercise is a must, and leash-free running is ideal as long as its in a fully fenced, safe area.
Weekly: Regular brushing of all coat types (smooth, broken or rough) is a must. The rough-coated JRT, which has a thick shaggy coat with eyebrows and a beard, requires the most grooming.
Monthly: The rough-coated JRT will need its coat stripped or trimmed, and the hair on its tail trimmed. Nails may also need to be trimmed. Bath when necessary and monthly heartworming.
Regular: Gastrointestinal worming every three months. Annual vaccinations.
Hereditary diseases: Jack Russell Terriers, like many small breeds, can be afflicted with luxating patellas, but this condition is rare.
Breed Contacts
More information
Websites
www.akc.org/breeds/recbreeds/jrt.cfm
American Kennel Club website lots of interesting information on the breed
www.ankc.aust.com/jackruss.html
Australian National Kennel Council many facts about the Jack Russell Terrier
www.barkbytes.com/breedbk/jckrt.htm
Features breed books, products and information about the breed
Love our breeds? Find your new best friend on our
DOGSLife Directory