October 18th, 2015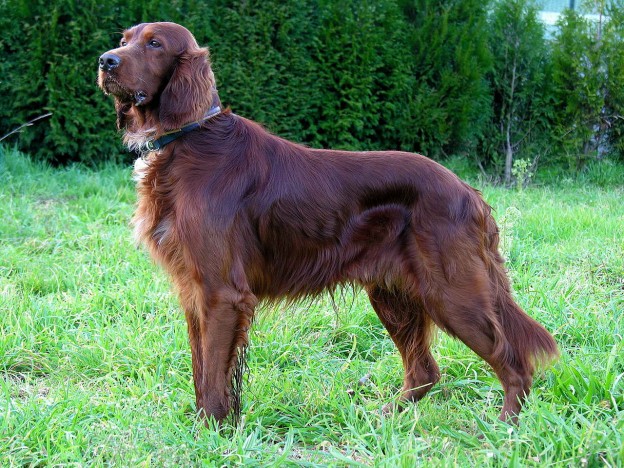 The Irish Setter originated as a gun dog in Ireland but their rich mahogany coat quickly attracted the attention of dog lovers everywhere. The Setter will carry itself with poise and grace but maintains a very muscular build and active persona. Popular in dog shows and competitions, the breed are very competitive and successful.
Facts
Personality: The Irish Setter is an incredibly friendly breed who gets along well with other dog breeds. Always a pup at heart, the breed thrive from early training and keeping active.
A great dog for: The Irish Setter makes a great addition to the family, especially a young and active family. The breed need to be exercised at least twice daily and with the family for as much of the day as possible. As a social breed, the Irish Setter can become destructive when left alone for too long.
Favourite activities: Playing, running, spending time with the family and socializing.
Backyard requirements: The breed need to be kept active to avoid boredom which will lead to destructive behaviours. A large and fenced backyard is required to keep this pooch active throughout the day. However the Irish Setter is not an outdoor dog. They need to be indoors and close to the family, especially at night.
Breed Care
Grooming: Daily brushing will keep the Irish Setter's coat from becoming tangled. The coat should be trimmed between the pads of the feet and around the ears by a professional occasionally.
Want more articles like this? Subscribe to Dogs Life Magazine
Love our breeds? Find your new best friend on our
DOGSLife Directory