September 3rd, 2008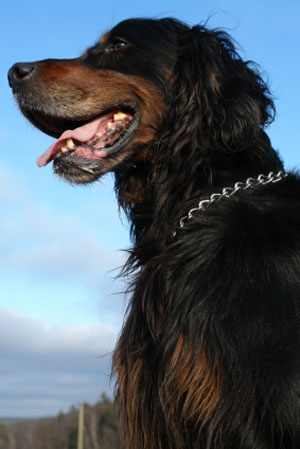 Facts
Personality: Gordon Setters are faithful and loving animals who will do anything to please their master. They can be aloof and wary of strangers until they get to know them. Gordons can be active dogs and love and excel in obedience and agility, mainly to please their master. All large dogs should have some form of basic obedience training so they can be controlled as they grow into an adult dog. Be warned Gordon's learn from watching as well as doing.
Suitable for: The perfect person for a Gordon Setter is someone who has the time to spend with their dog and will provide the love and care it deserves. You don't have to be particularly active as long as the dog is included in family activities and can be taken for walks. Gordon Setters love to play with balls and toys but most of all want to be with and thought of as part of the family. This is not a dog that is happy to be left in the backyard and fed each night. They are a large dog and should be supervised around children, especially toddlers, as they can knock them over unintentionally.
Favourite activities: Gordon Setters love to run and go for long walks but are also happy to play ball in the backyard or sit near you in the house. As long as they are included and doing things with you, a Gordon Setter is happy. Rigorous walks and exercise should be minimal when a puppy is growing but is essential for stimulation, weight control and general fitness of the adult dog.
Watchdog qualities: With their deep bark, a Gordon Setter will always let you know when there is something or someone unfamiliar around. Backyards need to be fully fenced with high fencing. It is advisable that the dog can't see through the fence as they can bark at strangers moving at the front of the house because of their guarding instincts.
Hereditary disease: Gordons are pretty healthy dogs but because of hereditary diseases like hip dysplasia, all responsible breeders in Australia have been x-raying and scoring their dogs to try to eliminate the problem.
Seeing a litter of Gordon Setter pups, it is easy to understand why people simply fall in love with this breed. You can see the trademark build they will grow up to have by simply looking at their amazing frame.
Their sensitive nature makes them an ideal family pet while their laidback personality ensures they are a pleasure to have around the home. It is common for Gordon Setters to display an intense loyalty to their owners although they may take a while to become friendly with strangers.
A black and fallow dog bearing similarities to the Gordon Setter is mentioned as early as the 1600s. Around this time, Alexander, the fourth Duke of Gordon, established a kennel of Gordon Setters and this aristocratic breed was named in honour of him some time later. At this time Gordon Setters were black, black-and-white, white and tan as well as black and tan.
Alexanders kennel was at Gordon Castle near Fochabers in the United Kingdom. Although the dogs were a working breed, it is believed Alexander would not shoot over them until they were five years old as they could be boisterous and took a few years to mature.
The British Gordon Setter Club reports a story that is often denied, that Duke Alexander was responsible for the first black and tan Setter. According to the folk tale, Alexander heard of a shepherds Collie bitch that became an excellent finder of grouse at a time when his own Gordon Setters were having trouble. He confirmed these facts and decided to breed from her and, as a result, the first black and tan Gordon Setter was born. Following the death of the 5th Duke, the Gordon Castle Setters were sold, but later re-established by the Duke of Richmond and Gordon, the 6th Duke.
Breed Care
Daily: Feed a well-balanced diet and provide clean, fresh water and shade in their outside area. Remember, your furry friend needs lots of attention and both mental and physical activity.
Weekly: Gordon Setters have long hair, but a single coat. You should brush them at least twice a week to keep the coat free from grass and burrs and to get rid of any dead coat.
Monthly: The basic necessities of trimming nails, cleaning ears and eyes apply. Because Australia has a lot of dry grass, it is advisable to trim the feet and ears to ensure the areas remain free of grass seeds which can enter the body and cause problems.
Breed Contacts
For more information
Australian National Kennel Council www.ankc.aust.com
Gordon Setter Club of NSW www.gordonsetterclub.com
Gordon Setter Club of Victoria www.members.iinet.net.au/~gscvinc
Love our breeds? Find your new best friend on our
DOGSLife Directory