March 10th, 2008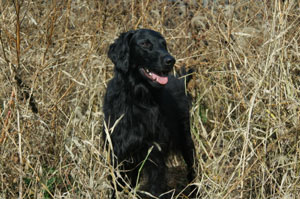 Flat Coated Retriever
The Flat Coated Retriever was developed in the late 19th century, when hunters found they had a need for an efficient dog to retrieve their game.
To develop a dog to meet their requirements, they experimented with the crossing of different breeds. It is believed that Sheepdogs were used for their trainability, Spaniels for their hunting skills, water dogs for retrieving wildfowl and Setters for their keen nose. Part of the Flat Coated Retrievers ancestry is thought to have come from stock imported from North America, from the now extinct St Johns Newfoundland Dog. This type of dog is thought to factor in the ancestry of both the Labrador and Chesapeake Bay Retriever as well.
High-spirited and loyal
The Flat Coated Retriever is known to be extremely affectionate, high-spirited and loyal. They are also very intelligent, active and friendly dogs. This breed loves everyone, said breeder Tina Corbell, who has been involved with the Flat Coated Retriever since 1990.
The Flat Coated Retriever has a sense of humour; it is often described as the canine Peter Pan, as it never grows up and has a constant wagging tail and love of life, she said. One moment I will never forget is when I took some of my dogs swimming in the river for the first time. One 12-month-old was splashing around in the water and looked like he was struggling. When I yelled out to him to come back, he stood up, as he was only shoulder height in the water! He looked at me with what looked like a laugh, then went back to his drowning antics. He thought it was great fun.
A child-friendly dog
These trustworthy dogs get along wonderfully with children and other dogs, but as with all breeds, children should be supervised at all times. The Flat Coated Retriever has a very stable temperament, making it a superb family dog, Corbell said.
Although they'll bark if someone is around, Flat Coated Retrievers don't make excellent watchdogs. They love everyone and are more likely to approach an intruder with a wagging tail.
Being a sociable breed, the Flat Coated Retriever loves human companionship and thrives on human attention. They do not adapt well to solitary life in a backyard and would prefer to be inside with the family.
It is best they have one to two walks a day, and they love to swim and retrieve. They can cope with missing the odd day of exercise, as long as they are part of your family. They should not be shoved outside with no company for long periods, Corbell told Dogs Life.
Eager to please
The Flat Coated Retriever is very intelligent, quick to learn and always eager to please, but can easily get bored. Breeders recommend keeping training sessions short and fun, without excessive repetition. Flat Coats are very versatile, Corbell said. They enjoy all activities, as long as its fun. They should be trained at least basic obedience, so they will be well-mannered pets.
The feathered coat of the Flat Coated Retriever needs only weekly brushing and little trimming to look tidy and reduce grass-seed problems.
Although the breed is generally healthy, a very small percentage can suffer from hip and elbow dysplasia, as well as glaucoma. Ensure you buy from a responsible, reputable breeder.
For more information or to locate a breeder near you, go to the Australian National Kennel Council website at www.ankc.aust.com and get the contact details for your states controlling body.
Love our breeds? Find your new best friend on our
DOGSLife Directory