June 9th, 2008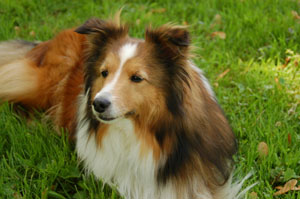 Facts
Personality: Active, alert, friendly and intelligent breed. Both Rough and Smooth Collies need regular physical and mental stimulation to ensure they grow into happy and healthy adult dogs.
Suitablity: People who accept them as part of the household and have the time to train their dog. Collies enjoy spending time with their family and can become great companions and watchdogs for all ages.
Favourite activities: Many Collies throughout Australia have had great success over the years in dog sports and have obtained ANKC-recognised titles for conformation, obedience, agility, tracking, herding, flyball, jumping and endurance, says Carol. They also enjoy lounging on the couch and playing ball with the family.
Backyard requirements: Collies don't require a large backyard as long as they are given daily exercise, whether that's a run in the park or playing ball in the yard. However, they are highly intelligent and will become destructive if relegated to the backyard for long periods of time.
Watchdog qualities: Due to the Collies original job of sheep herding and companionship, they make wonderful family members and watchdogs. They are generally not aggressive but will alert the family to strangers on your property.
Lassie, the fictional Hollywood canine hero, possesses qualities true to the Rough Collie: devotion, dedication, strong work ethic, loyalty and intelligence.
These qualities can be traced back to the Scottish herdsmen of northern Scotland, who developed the breed for sheep herding in the 1800s. The Rough Collie we know today is a refined, elegant version of this sheepherder and even though the breed may no longer be in demand for herding, they make wonderful companions, family dogs and watchdogs.
Lesser known is the Smooth Collie, which is very similar to the Rough except for coat type. Also possessing a friendly disposition, high intelligence and activity level, the Smooth is believed to have developed in 1873 from a tricoloured puppy called Trefoil and may also have originated from the Greyhound.
Collies are loyal, affectionate, always keen to please and can sometimes be the clowns of the canine world, says Carol Freeman, President of the Collie Club of Victoria Inc. Carol fell in love with the breed more than 30 years ago and has been showing and breeding Collies ever since.
An intelligent, good-natured companion dog, Collies need a kind, loving person or family to live with, says Carol, adding that Collies make devoted family dogs with a particular affinity for small children. However, as with all breeds, young children will need to be supervised when around the breed.
The Collie delights in adopting the duel role of family companion and watchdog, thus making an excellent all-round family pet, continues Carol. As Collies were originally bred to work, they like fulfilling a role and make wonderful watchdogs. Generally a happy breed, they are not aggressive but will certainly alert you to strangers or unusual happenings on your property.
Also highly intelligent, Collies are eager to please and take to positive reinforcement training quite quickly. Just remember to keep training short, light and most of all … fun!
Rough and Smooth Collies respond very well to all types of training, however, they can be a little soft when corrected, states Carol. Many Collies throughout Australia have had great success over the years in dog sports and have obtained ANKC-recognised titles. These include conformation, obedience, agility, tracking, herding, flyball, jumping and endurance, she continues. The Collie is a wonderful, strong, responsive and active dog if the owner is prepared to put in the training time.
Exercise
Due to their need to work, Collies require regular mental and physical stimulation. They are not a breed that will take kindly to being left in the backyard for long periods and enjoy getting out and about with the family.
Collies need regular exercise rather than a lot of exercise to keep them trim, fit and healthy, says Carol. Collies are most content when they are spending time with their people, whether its curled up in front of the fireplace, going for a car ride or jogging alongside you.
In hotter weather, remember to only walk your Rough Collie in the coolest times of the day. Their thick coat means they need extra care during the hotter months and even though the Smooth Collie has adapted well to Australias climate, like all of us they feel the heat too!
The thick coat of the Rough Collie requires daily or weekly grooming to keep it well maintained and free of knots.
The Rough Collies abundant two-ply coat, which comes in sable and white, tri-colour and blue merle, is without a doubt this breeds crowning glory and needs regular grooming to keep it clean and in good order, says Carol. Under ideal circumstances, Collies do not need to be bathed each week, and 10-minutes brushing once a day or half an hour once a week is sufficient.
The Smooth Collies short, flat coat with very dense undercoat comes in the same colours as the rough and requires a minimum of grooming, she says.
Hereditary diseases

Generally a hardy and healthy breed, the Collie, like most breeds, suffers from certain hereditary diseases.
Known hereditary diseases are Collie eye anomaly and rarer these days is hip displasia, both of which are found in other breeds, says Carol.
If you would like to adopt a Collie, Rough or Smooth, into your household, speak to the canine council in your state for lists of registered breeders and clubs.
A registered pedigree Collie pup will cost from $500-$700 and puppies can be purchased almost all year round, says Carol. Collie clubs in each state will have their own listing throughout the year and secretaries of any club will only be too pleased to pass on any information concerning puppy sales.
Breed Care
Daily: Fresh water and a balanced diet including fresh meat and raw meaty bones, vegetables and quality biscuits.
A daily walk or play in the backyard will keep the Collie trim and healthy. To keep the Rough Collies coat well maintained and strengthen the bond with your dog, a daily 10-minute brush is ideal.
Weekly: If time is precious, a weekly half-hour groom will keep the Rough Collies coat free of knots.
Monthly: Heartworm and flea treatments, nail clipping and ear cleaning. A bath once a month or when required for both types Rough and Smooth.
Regular: Three-monthly gastrointestinal worming and regular vaccinations.
Breed Contacts
Australian and New Zealand
Collie Clubs
NSW: (02) 6355 2446
Vic: (03) 9756 6819
WA: (08) 9390 0211
Tas: (03) 6248 9624
SA: (08) 8520 2585
For Collie clubs in New Zealand please visit the New Zealand Kennel Club website on www.nzkc.org.nz and type Collie in the search facility.
Canine control councils
Please visit the Australian National Kennel Council website www.ankc.aust.com and scroll down to the map of Australia. Just click on your state for more information about your local canine control council or contact the numbers below.
NSW: (02) 9834 3022 or 1300 728 022 (NSW Only)
ACT: (02) 6241 4404
Vic: (03) 9788 2500
Qld: (07) 3252 2661
NT: (08) 8984 3570
WA: (08) 9455 1188
SA: (08) 8349 4797
Tas: (03) 6272 9443
Love our breeds? Find your new best friend on our
DOGSLife Directory