January 12th, 2009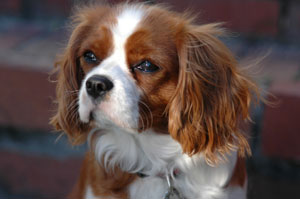 The Cavalier King Charles is a very friendly small dog breed with a happy disposition and a love for family.
Facts
Personality: Cavalier King Charles Spaniels are very friendly dogs that are affectionate and always willing to please. With a happy disposition, similar to many of the Spaniel breeds, the Cavalier loves to be included as one of the family. Happy to lie at home or easily pleased with a run at the park, these friendly dogs are more interested in being with their owners than anything else. They live for cuddles and are sweet in nature. Typically, the Cavalier lives without fear, is gentle and above all, affectionate.
Favourite activities: Being a toy dog, the Cavalier doesn't require as much exercise as larger Spaniels, but it can be a very active dog, depending on the owner. They are happy to accompany you on a walk and love to play in the backyard. Despite their petite size, they still need a good-sized yard and regular walks to keep them stimulated. For owners interested in training activities, Cavaliers successfully compete in obedience and agility, and have achieved titles in both of these areas.
Suitable for: Perfect for a family or for someone who is looking for a companion. Whichever the case, prospective owners must know they are buying a dog that expects their love and attention. A pleasure to own, the Cavalier is a great asset to any home, although, being an indoor dog, you must be willing to share the inside of your house. Some Cavaliers may have an ideal temperament for showing, while others can have too much of a personality to behave at all times in the ring.
Watchdog qualities: As with most Spaniels, if you are after a watchdog, you should choose a different breed. Cavaliers will bark to announce the arrival of any visitors and bark at strangers, but this is the extent of their watchdog capabilities. They are extremely friendly dogs and will play with anyone who will pay them attention.
Hereditary diseases: The Cavalier is generally a very active and healthy breed. There are some known hereditary diseases they are prone to, such as mitral valve disease (MVD), slipping patella, progressive retinal atrophy (PRA) and to a small extent, hip dysplasia. Ethical breeding practices can greatly reduce the risk of these diseases. To try and prevent any problems, make sure you buy from a recommended breeder, and check out the temperament of at least one of the paren'ts. Ask to see the hip and eye certificates of the paren'ts, and ask your breeder to explain them if you don't know what you are looking for.
The little Cavalier King Charles Spaniel certainly lives up to its reputation as a chivalrous, cavalier pooch, so beloved by its namesake, King Charles II, that the king was said to prefer the little dogs to his own courtiers.
The largest and most popular of the Toy breeds, the Cav is a small dog which makes a giant impact in any household privileged to accommodate one. The breed is known for its friendliness, unaggressive nature and adaptability.
Although the Cav is part of the Toy group of dogs, don't be fooled by its lap dog appearance. It may be small, but it is hardy and sporty. While the Cav will happily spend quiet times alongside its guardian, this pooch also thrives on playing games and will want a good outing each day. It is this combination which has endeared the Cav to so many worldwide. It offers the affection and great cuddle factor of an adorable lap dog, but is also sturdy and strong, enjoying a good game with the kids and regular exercise.
The Cav is a great dog for just about anyone. Because of its gentle nature it is well suited to older people, yet it is also the ideal family dog, wonderful with children and full of fun. Many consider the Cav as the ideal companion dog and when you stare into this poochs deep, pool-like dark eyes, it is easy to understand why so many become hopelessly attached to them. Experts often talk about this dogs wonderful facial expressions and their amazing ability to relate to humans. They have the most wonderful eyes they speak to you through their eyes, says one
great admirer.
While the Cav is often chosen by families because of its companionship qualities and toy-breed characteristics, it is certainly not a yappy dog. Experts also emphasise that this pooch does thrive on human company and needs to be an indoor dog, not relegated to the outdoors and left on its own in the yard.
When the Bale family were looking for a dog, they settled on a Cavalier because of its convenient size and reputation for being family-friendly. Georgy, a beautiful ruby-coloured Cav, is now so much a part of the Bale household that no member of the family could imagine life without her. Georgy is an integral part of our lives now, says Lauren Bale, who, as a stay-at-home mum, spends the most time with this precious pooch. She is great with other people and I never have to worry when the kids have friends over. Shes not only easy to manage, she provides us with many laughs, not to mention many cuddles! I would definitely consider getting another Cav if anything happened to Georgy.
The Cavalier comes in four colour combinations, all as beautiful as the other: Ruby, Blenheim (white with red mask and ears and red body patches), Tricolour, and Black and Tan. While the Cav is easy to care for, its coat will need regular brushing to prevent matts from occurring. This breed also sheds, so be prepared for hair around the house, although regular brushing will minimise this.
Royal privileges
Descending from the Toy Spaniel, a popular dog amongst royalty during the 15th century, the Cavalier King Charles Spaniel was a favourite of King Charles II, from whom this pooch got its name. King Charles adored the little spaniels, often to the chagrin of his courtiers who believed the king considered the dogs more important than them.
Allowed access to all public places by order of the king, these privileged pooches lived in luxury in grand palaces and often had their own staff tending to their needs.
They were also chosen by famous artists of the time, such as Van Dyck and Titian, to appear in their works.
In the days of King Henry the Eighth, Cavs were adored by the ladies of the court and would be carried in their laps as comforters, providing warmth and comfort. The belief of the day was that the little dogs served as flea hosts, so having one on your lap meant washing was unimportant!
Breed Care
Daily: This breed needs attention, affection and to be included in daily activities. Shade, a good-sized backyard, fresh water and a well-balanced diet are essential.
Weekly: Cavaliers require some maintenance with regard to grooming. Requiring a brush each week, extra care needs to be taken in the feathering, as this area is prone to knot. A well-balanced diet is crucial in making sure your dog stays healthy with a shiny coat.
General Care: They need a bath every couple of weeks or once a month – don't overdo it, unless they are particularly dirty or have rolled in something unsavoury. Use dog shampoo, as they can have sensitive skin, and rinse thoroughly. Never leave the dog wet, especially in winter. Make sure your Cavalier is wormed, vaccinated and regularly checked for ticks. Vaccination is annual and worming is done monthly if using an all in one product (for heartworm, intestinal worms, fleas, etc). Checking for ticks should be done daily if living in a tick-prone area.
Breed Contacts
Visit your state Cavalier King Charles Spaniel Club's website for more information on the breed.
Queensland: www.cavalierclubqld.net
Victoria: www.pacificcay.com/cavalierclubvic
New South Wales: www.cavaliersnsw.com
South Australia: www.members.optusnet.com.au/~sacavalierclub

New Zealand: Tiki Cavalier King Charles Spaniel Club
The oldest Cavalier Club in New Zealand.  Zone of influence is in the Northern part of the North Island.
Contact Secretary Mrs Elaine Maisey
5 Stanford Street
Albany, Auckland 1311, NZ
Ph: 09 415 4146. Email: elaine.m@xtra.co.nz
Or, for rescue details visit:
Cavalier King Charles Spaniel Rescue (Qld) Inc. : www.cavalierrescue.org.au
Love our breeds? Find your new best friend on our
DOGSLife Directory