May 11th, 2017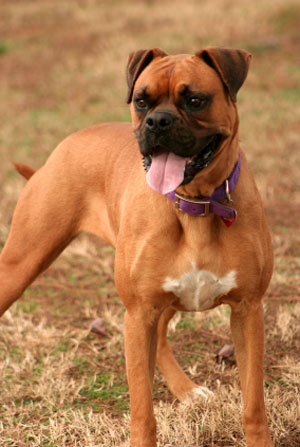 Boxer dogs are suitable for families as they are fun, smart and willing to please.
Facts
Personality:
A fun-loving family dog, the Boxer dog has a good sense of humour and a genuine willingness to please. A smart individual with energy to burn, the Boxer remains a puppy for most of its life.
A great dog for:
Families with children, singles or couples. The Boxer thrives in an environment where it can take part in most family activities. Not a leave in the backyard kind of dog, Boxer dogs are best suited to active individuals who will give it the physical and mental stimulus it needs to thrive. Not an apartment dog.
Boxer dog: favourite activities:
If there are people involved, just about anything. Boxers thrive on activities where they can stretch their legs and work their brain. Some become very adept swimmers, others sink like stones. Your pooch will let you know what it likes doing so follow its lead.
Backyard requirements:
A well-fenced backyard, but provided you are able to take your dog for regular walks, you don't need loads of space.
Watchdog qualities:
Very good. This is a thinking guard dog it doesn't bite first and ask questions later because it was bred as both a companion and a guard dog.
When a Boxer dog wiggles its way into your life for the first time, never expect things to be dull or lacklustre. This is a breed whose last name is hyphenated by the word FUN; whose sense of humour and readiness for a game is tireless; and whose good looks and huge heart will reach even the coldest corners of your own.
When a Boxer enters your life you don't gain a dog, you gain another family member. Talk to anyone who has owned the breed and they'll sing its praises. Spend time in the company of a Boxer and you'll probably find yourself making room in your heart and home for this fabulous dog, especially if you're looking for a medium-sized, short-coated breed which is great with growing children, adaptable and dependable.
Humble beginnings
Liz and Miles Gunter of Guntop Boxers in Pheasants Nest, New South Wales, are two of Australia's top breeders and have owned and loved the breed for more than 30 years. Liz jokes that she knows shes been involved with the breed for a long time because she is now selling puppies to the children of people she sold dogs to many years ago.
Liz and Miles decided to own their first Boxer dog after they'd heard about the fun-loving nature of the breed. We did all the wrong things. We bought one out of the paper and it had everything wrong with it under the sun wrong, Liz said. We thought we could buy a pet and show it. We thought she was a lovely colour and had nice feet, but we had a lot to learn. After having taken her to a couple of shows we became hooked. But when we bought our next dog, this time we did the right thing.
The couple went to a reputable breeder and bought a puppy sired by Champion Cherry Burton Playboy, imported from the UK. That dog, Champion Lalaguli Woowookurung, won five Royal Show dog challenges; and his number one son, Regal, won both a Sydney and Melbourne Royal Show challenge. The couples top homebred bitch, Champion Guntop Minute Maid, won four Royal challenges in succession.
The Gunters dogs give them a lot of pleasure, particularly when it comes to seeing the way their Boxers enrich the lives of those who buy them. They are the breed that people, once having had one, will always stay with. We know families who are now on their third Boxer from us and their children are coming to us for a Boxer, too.
The Gunters run a sizeable Boxer kennel but say that the breed is very accepting of being a kennel dog. However, at Guntop the Boxers are always kennelled with another dog because they do enjoy company.
Puppy purchase
Liz, who is secretary of both the Boxer Club of NSW and the National Boxer Council, recommends that when looking for a Boxer dog, it is important that would-be owners go through the right channels. They should contact their state canine council and ask for a list of registered breeders and the contact details of the secretary of the local Boxer club. If they do this, Liz says they stand a better chance of going to someone who will stand by the puppies they breed, and someone who has made sure their puppies have had the necessary vet check and vaccinations.
Liz recommends prospective owners don't see a puppy before it is three to four weeks old. And make sure, if possible, that you see both Mum and Dad. That's the best guide to see how your puppy is going to turn out in temperament, looks and everything else.
The breed is well known for its excellent temperament and should be stable and trustworthy. Even a bitch with her puppies should let a stranger approach providing the owner is there.
A dog or a bitch? Liz says there is very little difference between the temperament of dogs and bitches, and it really comes down to the personal preference of the owner. People tend to stay with what they're used to or what their family has had. Other than that the sexes should have much the same temperament, although the dog should be slightly larger than the bitch.
Owners have two colour choices, either red or brindle, with or without white markings. The Boxer should always have its characteristic black mask on its muzzle but there is no requirement for them to have white markings, although white on a Boxer dog can be very attractive.
The white markings should appear on the feet, legs, chest, on the back of the neck and on the muzzle. There should not be white markings on the body or the torso and the amount of white on the dog should not exceed one third of the whole body.
Loving and reliable
Shirley Dunn of Shirbel Boxers in Victoria, and the secretary of the Victorian Boxer Club, got her first Boxer as a pet in 1965. She says its the breeds loving nature and reliable temperament that have endeared her to this dog for the past 35 years. Originally a fan of obedience, Shirley got bitten by the showing bug many years after buying her first dog. She met Arthur Fry of Australia's well-known Lambda Boxer Kennels and bought a dog from him to start exhibiting in the conformation ring.
While showing is now one of the things she enjoys with her dogs, Shirley says she loves her Boxers at home just as much.
I love their temperament. They're such loving dogs and you always feel very safe with them. Each has its own distinct personality and I just love them. As companion dogs they always get between you and the door when someone is there. They come to the door and they just sort of inch in front of you you're not even aware that they're looking after you.
Shirley says Boxers are a great family dog and love romping with growing members of the household.
They don't mind the children dressing them up. They're also great with older people.
They are very much a person dog and keep you company. They like to be with you and are always one step behind you when you're moving around, or they're always lying across your feet or lap.
The expression in their faces when they look at you makes them hard to resist, she says.
Origin: Germany
The breed was developed in Germany in the late 1800s, where its ancestors were used by butchers for baiting bulls. The dogs were developed and owned by members of the Butchers Guild of Munich. Historically, butchers believed that the meat of slaughtered bulls that had been baited by the dog was more tender.
The butchers looked for a dog that had agility and strength of character as well as a willingness to serve. So the Boxer was born.
The first Boxer club, the Munich Boxer Club, was established in 1895; and the first breed standard, which specifies the breeds personality and physical characteristics, was written in 1902 and was adopted officially in 1904. In relative terms, as we know him, the Boxer is a fairly new breed having been developed only within the past 100 years.
The early ancestors of the modern Boxer dog were exported from Germany to America in the 1930s. Some also went to England, but predominantly they found favour in the US, particularly among some of the early stars of the big screen including Humphrey Bogart and Lauren Bacall.
The Boxer dog arrived in Australia in 1948, brought in by Fred Wheatland of Victoria, who imported dogs from England. The first American Boxer was brought into Australia by Rena Gerardy of Sydney in the 1950s. They were bred as companion dogs.
Boxer Dog: Breed Care
Daily: This is a drip-dry breed which doesn't need much in the way of day-to-day maintenance. However, the more you brush it, the more itll love you for it. This also gives you a chance to check for ticks and fleas. If your dog is swimming in the sea, wash the seawater out of its coat.
Weekly: A hard biscuit or a marrowbone (not small bones) should be given to help keep teeth clean. Ears should be examined and cleaned and nails clipped.
Monthly: A bath once a month should suffice.
Regular: Regular treatment for heartworm and other worms. Vaccinations and annual boosters.
Hereditary diseases: There are also some known heart diseases in the breed, so work with a breeder who screens their breeding stock. Puppies should be vet checked before they leave the breeder.
Breed Contacts
NSW Club
Victoria Club
QLD Club
Breeder quote
"There was a Boxer that became famous for his water-skiing antics on the Hawkesbury River. They're an all-round fun, family dog; whatever the family wants to do the Boxer wants to be in it" – Liz Gunter, Guntop Boxers
Love our breeds? Find your new best friend on our
DOGSLife Directory